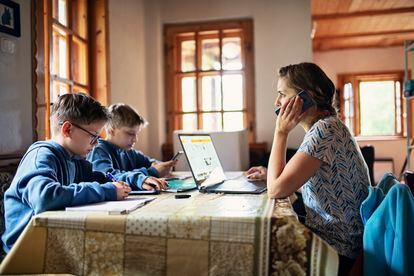 A mother telecommuting with her children Imgorthand (Getty Images)
Smartphones create a number of problems for families, especially children. Much of what is published and discussed is focused on its negative effects on children, families and society as a whole.
As a father of three and an expert in early childhood education, I know there are good reasons for discussions on this issue, but for policy makers to simply ban or regulate the use of smartphones is wrong. Many families no longer have a landline and need mobile phones to communicate with each other. Smartphones provide children with access to their families and emergency services, making them and their parents safe. Smartphones have also allowed many children to stay in class as the world grapples with the pandemic. They facilitate access to teachers and schools and connection with their peers, essential for them to continue to develop academically and socially.
Smartphones give children the opportunity to develop their digital skills and prepare to go out into the world and help build it as we adults never imagined possible. Don't get me wrong, I know smartphones they can have harmful effects on children and families. Make sure that both adults and children make the best use of these. Families must decide how to include them in their children's lives: when, how to use them, or how long to let adults and children use them. Some organizations, such as the American Pediatric Association, have proposed guidelines and recommendations.
Those who know the minors are not the political leaders, but the parents. And they should foster and maintain a positive and supportive relationship with their children when the topic of smartphones comes up. This requires that parents know what applications their children use and how they work and that they discuss with them how, why and when to use them or not on their phones. What policy makers need to do is collaborate with smartphone and app developers, the medical community, and childhood specialists to develop policies that help families understand the impact of these devices. Perhaps that will help families make decisions about smartphone access and establish controls at home and on their children's phones that encourage habits and use that have been shown to be beneficial for children's growth and development.
If you want to support the development of quality journalism, subscribe.
Subscribe
Translation by María Luisa Rodríguez Tapia.
Christopher P. Brown He is an expert in early childhood education and former president of a Child Development Special Interest Group of the American Educational Research Association. He teaches Leadership and Policy Education classes at the University of Texas.
Subscribe here to the weekly Ideas newsletter.
Sign in to continue reading
Just by having an account you can read this article, it's free
Thanks for reading EL PAÍS
---