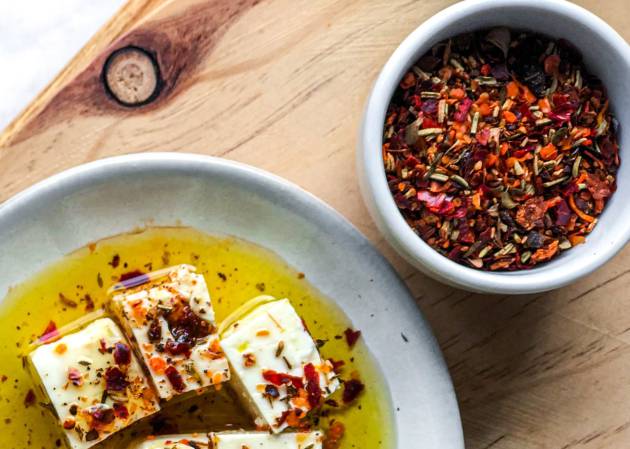 Jessica Ramos liked cooking as much as taking papers to the cadastre. But in 2012 she was fired shortly after giving birth, so, without a job and with a newborn son, she decided to start an online business selling spices. Life. Over time his culinary interest outweighed his profits, until the pandemic hit and All Spices, the company he started 10 years ago, became one of the main online condiments stores in Spain. Today they have a catalog of about 200 products that they send free throughout the country, from small quantities and at very affordable prices.
The Todo Especias warehouse, located in an industrial estate in Alcalá de Guadaíra (Seville), smells like curry as soon as you enter. As you enter it, the predominant aroma changes to that of the different jars stacked on the mountain range of pallets kept in the warehouse. From thyme to laurel and rosemary, from ras el hanout or tandoori masala to the Ethiopian berbere, from the classic paprika from La Vera to Mexican chilies or strawberry powder, also including some mixes created by influences from gastronomy on social networks. The offer is as wide as the thousands of recipes in which they can be integrated. Although this diversity is recent: in the beginning the catalog was much more basic.
Why sell spices?
If this Sevillian hated spending time in the kitchen of a vitro, why did she decide to start a business related to gastronomy? "Shortly after I was fired from work, a friend who has a recipe blog couldn't find a website to buy Argentine chili peppers, and she told me half-jokingly that I should create a page for the sale of spices. My reaction was: "Spice? If I don't even like to cook, "says Jessica.
That idea was saved in the folder "Things that maybe yes" that we all have in our brains. Perhaps there was a good opportunity in that proposal. "I investigated and saw that at that time Amazon had just landed and that there was only one online spice store in Spain, Spices Cave, which at that time only sold select seasonings like Himalayan salt and so on. If you wanted something more specific, like ras el hanout, you had to order it abroad. I thought that if there was a market niche, I could find my place there, "says Ramos.
Thus, a decade ago this former commercial representative used the money she obtained from compensation for unfair dismissal – prior to trial – to set up the online store that a friend advised her. "I started with the most basic ones, the ones I could buy in the stores in my city, and I got tired of reading and cooking with them. At the beginning there were about 20, and as I made a profit I gradually expanded the catalog ", recalls the founder of Todo Especias.
Investing a good amount of money in an online business when e-commerce was not yet established in Spain, and also in something as common as kitchen condiments, sounded risky. "Nobody believed in me, not even my husband or my father. "'Where do you go with spices, if nobody buys this online', they told me. But I had a hunch, I had something inside that told me to continue with this and put hours into it. "
Well no, it didn't give money
The thing was not going to throw sumac. All beginnings are tough, okay, but Jessica soon realized that spices, like petanque, are hard to live with. "The first year I had at most 10 orders a day or less, so I made it compatible with another backup job. I took it as something additional, and all the money that came in, I invested it, "he says.
Shortly after, her husband became unemployed. So why not open a store with this same idea? Neither. "I set up a physical store because many people told me that they distrusted online shopping. But in Alcalá de Guadaíra people are used to using pepper, bay leaf, nutmeg… It was a waste of money and we closed it after three months, "says Jessica.
Okay, well, e-commerce did not generate much income and a business of this type in a town of 75,000 inhabitants was not very profitable. Why not try nomadic vending in medieval markets? Spoiler -which could well be signed by the Ministry of Health recently-: better stay home. "We bought a van and my husband went to make routes through Spain with these markets, but the benefits we obtained did not compensate us," says the brand manager.
Salvation came with the covid
From 2012 to 2020 Jessica did not leave the web aside. He continued with his job for a German multinational, but without neglecting Todo Especias, which grew very little by little. Paradoxically, the coronavirus brought profitability to his company: "At the beginning of the pandemic, in March, we saw sales go up a lot. I started to take it seriously, I quit the job I had and invested in advertising, "says this alcalaína.
During the confinement, many approached or returned to the kitchen, tried new recipes, encouraged themselves with slow preparations and followed the advice of cooks on social networks. This brought with it that in 2020 the consumption of food in households increased by 11.2% compared to the previous year, according to ministry data of Agriculture, Fishing and Food. And there was Jessica's store, ready to send cans of condiments to anyone who asked: "People took to preparing dishes, and since many establishments had had to close, the easiest resource was to go online. With the arrival of the covid our income quadrupled ".
This boom allowed Jessica to earn her first salary at Todo Especias eight years after its creation, and to form a staff with several employees: her husband, her mother and a friend. In those months, many more people were able to know what, according to the founder of this company, are the keys to its current success: free shipping with no minimum purchase and quality products with formats in various quantities, from 40-gram sachets to jars of almost a kilo. "In addition, our mixes of spices -which are produced in Murcia following the proportions that we give them, so they are unique and original- do not contain gluten or carry flavor enhancers," adds Ramos.
The impulse of the networks
Contrary to what happens to fish, this Sevillian company did use nets. Specifically Instagram, where they have more than 20,000 followers, a very useful tool for them: "What people often need are ideas to know how to use spices, that's why we don't stop uploading recipes to our profile", he declares the owner of the company. This channel helps them to promote new launches or products: "A few months ago we released a mix for hummus, and in our profile we showed how to use it with avocado or in salads, for example."
Not sure what to cook with Turkish baharat? In the Todo Especias account they teach you step by step how to prepare a leg of lamb with this dressing. Do you have madras curry at home and can't think of which recipe to integrate it into? Well they show you how to add it to a rice with choco. And so with all the seasonings that they offer, both the cigars and the mixtures, which, according to Jessica, "come from Spain with the exception of the chili peppers, which are imported from Mexico."
The joy of triumph
After confinement, the business worked much better, but there were still a few months left for what was the definitive bombshell: the launch, in March 2021, of the seasoning of joy, made up of garlic powder, onion powder, oregano leaves, basil, rosemary, parsley and thyme, and ground black and white pepper. "A friend asked me if I sold the seasoning of joy. I didn't know what it was, so I started researching on the internet and found Rosa Arnau, the creator of this mix, who on her Instagram account I like to eat healthy He has thousands of followers, "recalls Jessica Ramos.
As Rosa did not sell it, this Sevillian businesswoman contacted her to be able to sell the seasoning that Arnau uses so much in the recipes that she uploads to her social networks. "We reached an agreement and I ordered 2,000 units to be produced. They sold out in less than a month, and to this day it is still the best seller, "says Jessica.
This led Todo Especias to collaborate with other influencers of gastronomy in networks. As a result of these agreements, they have released the mixture "Mediterranean Spices", with the account Savoring, or the aforementioned condiment for hummus, with Recipes to be happy.
A decade after the creation of Todo Especias, the outlook could not be better: from the 100 orders a month that they attended at the beginning, to the more than 40,000 clients that they claim to have now; from the hours Jessica put in without seeing a single euro, to the 12 employees who are part of the company; from the twenty-few basic spices, to the almost 200 different products they offer. "Now we are with the powdered fruit, and we have banana, lemon, orange, date or strawberry. People love it, they put it in yogurt or smoothie. I can't stop thinking, although many times my colleagues tell me not to bring any more boats, they no longer fit on the ship, "says Jessica Ramos excitedly. Until not so long ago, remember, all she made for lunch were sandwiches, salads, and fajitas.
.
---