With typically Dutch cold winter days approaching, you might be ready for some summer images. Netflix will arrange it for you with the arrival of the new series Temporada de Verão. The first trailer has just been launched and the Brazilian series looks promising. The trailer can now be seen.
Temporada de Verão is about a group of young people who find work in a beach resort on the beautiful island of Conchas. They get to know each other and soon there is love, passion, friendship and drama. Before they know it, they form a close-knit family. We follow them throughout the summer as they try to find a balance between their work and brooding relationships. Wondering if this series is for you? Watch the trailer now:
Temporada de Verão is directed by Isabel Valiante and Caroline Fioratti. The cast consists mainly of Brazilian talents, some of which we have seen before. Starring: Giovanna Lancellotti, Giovanna Rispoli, Cynthia Senek from the Netflix Original 3% (2016–2020) and many more.
Temporada de Verão will be available on Netflix from January 21.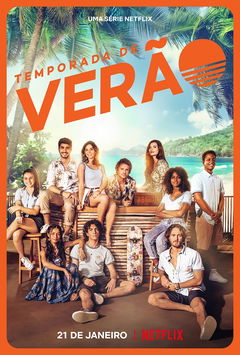 A group of young adults works in a paradise resort. They experience an unforgettable summer and discover love, true friendships and shocking secrets.
Beeld: Still 'Summer Season' via Netflix/Aline
Text: Netflix
.
---