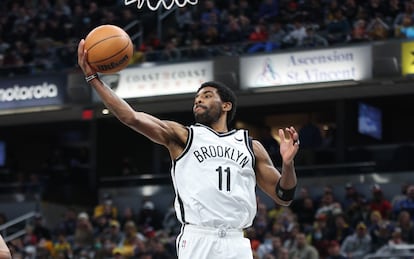 Kyrie Irving, during his comeback game between Indiana and Brooklyn.ANDY LYONS (AFP)
While the NBA dedicates a feverish and enormous effort to alleviate the effects of the escalation of contagions of covid-19, Kyrie Irving, the player who positioned himself against vaccines and who continues without being inoculated, has returned to the competition. He did it on Wednesday in the game that the Brooklyn Nets, his team, won on the Indiana court by 121-129.
Irving's case illustrates many of the contradictions that affect citizens and particularly athletes in relation to the pandemic. If Irving had not been able to play this season, it was not because the NBA prevented him from doing so, which, of course, requires strict protocols especially for unvaccinated players – 97% are – but because the New York health authorities, unlike those of other states, require the guideline to those who access a closed pavilion with an influx of public.
More information
Kyrie Irving returns without being vaccinated, but will only be able to play away from home
The Nets knew in advance that they would not be able to count on Irving in just over half of the scheduled games, since he could not play on the Knicks' court or in Toronto, because Canada requires vaccination when entering the country. Brooklyn decided in the first instance to remove Irving from team discipline. "Your choice restricts your availability. We will not allow any component of the squad to be only available part-time, "justified on October 12 the sports director of the Nets, Sean Marks, to leave Irving aside. But the casualties, many of them due to COVID infections, accumulated in the Nets' roster during December. On the 18th, they rectified. "We have reached this decision with the full support of our players and after careful consideration of our current circumstances, including players who miss games due to injuries and health and safety protocols. The incorporation of Kyrie will not only make us a better team, but will also allow us to optimally balance the physical demand of the entire squad ", they justified. In December, 247 players and 12 coaches entered the security protocol against COVID and the NBA has had to postpone 11 games.
Irving had to delay joining the team because the first day he tested positive for COVID. Finally, after missing all 35 games the Nets had played this season, he reappeared on Wednesday at Gainbridge Fieldhouse, home to the Pacers. You will not be able to play the 21 games that the Nets have left to play at home during the regular season, and neither will those that the Barclays Center hosts in the playoffsAs long as New York health laws don't change. The Nets are second in the Eastern Conference with 24 wins and 12 losses, behind the Chicago Bulls, who have 25 wins.
After the game, in which he scored 22 points, Irving responded ambiguously to the question about whether he would reconsider his refusal to get vaccinated. "It is something that I contemplate every day. It is not an ideal situation, and I always pray that things are resolved and we can reach a collective agreement, "he said. In October he was more forceful: "I chose not to be vaccinated, and that was my choice. And I would ask everyone to respect that choice. The American player, born 29 years ago in Melbourne, became a symbol for those who oppose being vaccinated. A group of people demonstrated in October against mandatory vaccination outside the Barclays Center and shouted slogans in favor of Irving.
Magic Johnson, a Lakers legend, criticized him then: "He said he was going to be there for his teammates, but it's something he can't do if he's not vaccinated. He's failing them and that affects his chances of winning a championship. I would never do that to my teammates. "
Charles Barkley, a former player and now television commentator, called Irving selfish: "It's not personal. You don't get vaccinated just for yourself. First you get vaccinated for your family, then you get vaccinated for your teammates ". Irving has two more years on his contract at a rate of € 30.2 million this season and € 31.5 million next.
A very special personality
Irving's stubborn attitude is not so surprising when it comes to his personality and some of his outlandish beliefs. But it is not convenient to put everything in the same bag. Many put a cross and a dash when in 2017 he defended that the Earth is flat. His explanations further discredited him. He drew his theory from an "investigation" on Instagram, he confessed. In October 2018 he asked for forgiveness. He said he expressed his theory as saying, "I'm a great conspiracy theorist." He is also a person committed to many causes. It tries to challenge, they claim, the way society is controlled. "Kyyrie wants to be a voice for the voiceless," one of her friends noted in October. Last season, when he was the vice president of the players' union, he strongly opposed the resumption of the League after the pandemic, taking into account the turbulent situation in the country after the police murdered Breonna Taylor and George Floyd in March and May 2020. And once the League resumed in the Orlando bubble, he emerged as a central figure in getting him to do his best to support the Black Lives Matter movement.
He bought a house for the George Floyd family. During the bubble of the Women's League, the WNBA donated $ 1.5 million to players who were unable to compete in Bradenton, Florida. Paid the debt of the students of the University of Lincoln. It financed 250,000 meals during the pandemic in New York. He donated thousands of dollars to the Sioux, was involved in their fight against a pipeline in Dakota, and got their logo tattooed on his neck. In 2018, the tribe named Irving Little Mountain. His mother, Elizabeth, a descendant of the Sioux, died when Irving was four years old.
You can follow EL PAÍS DEPORTES in Facebook Y Twitter, or sign up here to receive our weekly newsletter.
---