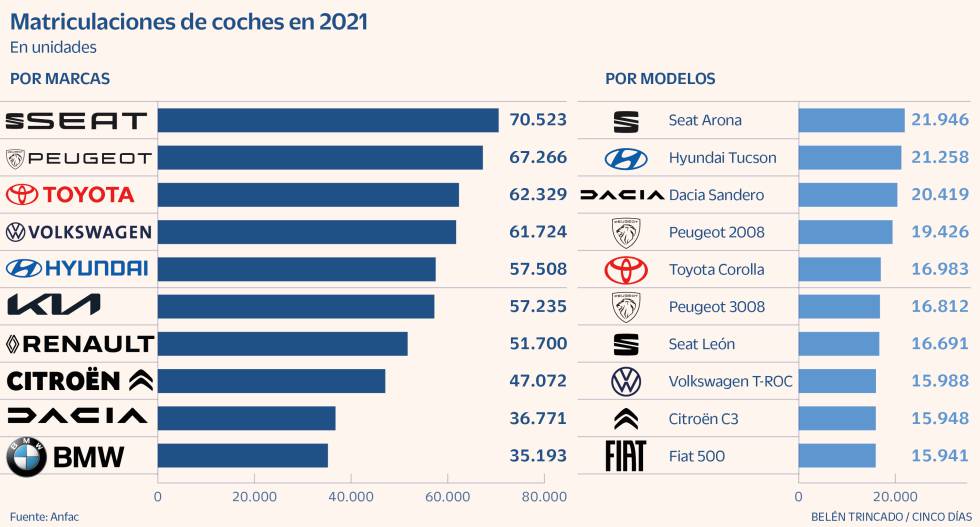 Seat has scored a double in 2021 by leading sales in Spain in both models and brands. His Arona (an SUV) has been the most marketed vehicle of the year with a total of 21,946 registered units, thus managing to regain the throne of the best-selling vehicles after in 2020 that honor went to the Dacia Sandero. Regarding the table of positions by manufacturers, Seat has been placed as the only firm to exceed 70,000 units in a year marked by the shortage of microchips around the world, a factor that has prevented sales from recovering and continuing in numbers similar to those of 2020 (they barely increased by 1%).
Two Seats and two Peugeot on the list of best-selling cars
In the list of the models with the most registrations, after the Arona, the Hyundai Tucson, another SUV, has been placed in second position, with 21,258 units. The podium is completed by the Dacia Sandero, which drops two places compared to 2020, with a total of 20,419 vehicles. To find the first car that is not an SUV on the best-seller list, you have to go to fifth place, which has been for the Toyota Corolla (16,983 units). Ahead of him, the Peugeot 2008 has been placed, with 19,426 units sold, placing it very close to the 20,000 barrier.
Below the top five, in sixth position, another Peugeot was placed, the 3008, of which 16,812 units were registered. The seventh place has been for the Seat León, of which 16,691 cars have been sold.
Closing the list of the top ten, with little difference between the three, are the Volkswagen T-ROC (15,988 units), the Citroën C3 (15,948) and the Fiat 500 (15,941).
The battle of the brands
As for the competition by brands, after Seat, Peugeot has managed to rise to second place, with 67,266 cars registered in our country. The podium is completed by the Japanese Toyota, with 62,329 vehicles sold. The Volkswagen firm has been placed in fourth place, being the last to overcome the barrier of 60,000, with 61,724 cars.
Hyundai and Kia appear in fifth and sixth place, very close to each other, with 57,508 and 57,235 units sold respectively. The French Renault was seventh, with 51,700 vehicles marketed in Spain. Citroën, from the Stellantis group, ranked eighth, selling 47,072 cars. Dacia, a firm that has a model that appears in the top 3 of sales, appears in ninth place, with 36,771 registered units, slightly above the luxury brand BMW, which closes the top ten with 35,193 vehicles sold.
.
---