Isabel Prieto has turned 37. Since she was operated on when she was 15 years old for a brain tumor that left a series of physical consequences, her dream has been to be a teacher. He has achieved this after adding two degrees (Business Administration and Management and Economics) and a couple of master's degrees to a brilliant curriculum. She is currently an interim professor of Economics at an institute in Cercedilla. It has overcome all obstacles except one that resists, that of the cold and cruel administrative bureaucracy of the Ministry of Education.
Isabel's life is full of limitations and she learns every day to overcome them. For example, going up or down some stairs: "As I advance each step, I need to hold onto the railing, or lean against the wall if there isn't one, but always on the right side. Leaning on the left side, because of the hemiparesis that I suffer (having less strength and sense of touch on the left side), does not give me stability, I am unbalanced. If there were no railing or wall, and there were more than three steps, I would lose my balance and fall ".
Or walking down the street: "I tend to walk quickly, because it is easier to keep my balance. Walking slowly, I zigzag, unbalancing to the right every little bit. I remember once walking down the street, a man passed me by saying what are you doing! It may seem like I had a drink too many. The downside of walking fast for cheat My balance is that I get tired earlier, which makes my left leg drag a little and it is easier to stumble; And that with the low visual acuity that I have, I do not see a change in level of a sidewalk, of a raised paving stone, of something fallen on the ground, and I trip. For this reason, I walk better in areas that I know ".
Or give a class: "When I get to the institute, if there are stairs, as I have already said, I need to lean against the right wall or hold onto the right handrail. That, if I go with class material (notebooks, books, laptop …) it is not possible. That is why the elevator is always better. There are still classrooms with platforms, and when they are very high I have leaned against the wall or the table next to it, to climb without losing my balance. The projected presentations that I put to give the class, I read them well from the front row. Further, it costs me. That's why I always go with my tablet, where I follow them. I try to move something around the room when giving the class, or just standing, it helps to attract the attention of the students. When I have had classrooms with platforms, I have not. And, anyway, I always sit down for a few minutes while I pass the roll call or something similar, to recharge my batteries for the next class ".
An institute with difficult access
Before being a teacher, Isabel held a position of responsibility at Unión Fenosa for six years. He came to that position after working in the Ministry of Industry. But she wanted to be a teacher before anything else. I thought that teaching teenagers would not be a problem. But Education did not take into account her physical condition (she has half of her left body paralyzed) and has sent her to an institute, in the mount of Cercedilla, difficult to access by public transport, which also has steep stairs, without railings and, of course, no elevator. After some time to fulfill her dream (the last three years she worked in other centers without problem), Isabel has had to request a leave due to stress and anxiety. And after many years he has made an appointment at the psychologist again. His ailments have not worsened.
What affects the most is what happens closer. To not miss anything, subscribe.
Subscribe
His new ailment is Administration. And against bureaucracy there is no prescribed medicine.
As much as it has asked for the change and has argued it in 12 emails, two appeals, two generic writings, with attached medical, neurological and psychological reports, to which EL PAÍS has had access, it has only received this response by email : "There are three months to respond to your appeal. Meanwhile, you must go to your workplace or give up the job. "
It all started on August 3, when he learned of his fate in Cercedilla. The Madrid system has a glaring deficiency for people with disabilities, because (like any temporary teacher) they have to fill out a form with their preferences, but blindly: while in cities like Seville they give everyone who requests it an inventory with a list of centers with the appropriate architectural conditions for people with physical disabilities (explaining if it has several floors, elevators, ramps or bathrooms adapted for wheelchairs), in Madrid the candidate tosses a coin without knowing what to do meet.
And the coin fell on Cercedilla's side.
"To go there I have to get up at 5.30, take two Cercanías, with their transfers full of stairs, and then a bus, with the problem that if one of them is late, as happened to me on the first day, I won't get to time to work because in the morning there is only one bus, "he laments. And then, of course, the center itself, made up of two outbuildings with two floors each and filled with staircases. A danger for someone like her, that the first day she arrived, and the only one, she sprained herself.
The environment of the school is beautiful. Pure nature for mountain lovers. But a danger for her, because in winter it snows and the land freezes.
72% disability
In her current medical report it is reflected that Isabel has a physical and sensory disability of 72% with three points of reduced mobility with different associated pathologies: left hemiparesis, alteration of the sense of balance, loss of visual acuity due to nystagmus in the left eye and facial paralysis right. In addition to chronic neuropathic pain, so you must take special care. Three years ago, he broke his leg and was unable to regain full mobility due to the after-effects. A sprain, like the one she did on the first day of school, does not mean the same thing to her as it is to someone else.
"With everything I have done in life and what I have shown … I have never wanted to be treated differently, but in this case I simply cannot go there and I only ask that the regulations for disabled people be complied with , that we have the right to work and to adapt the job, "he laments.
To achieve this, he has not skimped on trying. In the Administration they are perfectly aware of their situation, since they have been knocking on different doors since August. She has written and has appeared unsuccessfully at the offices of the General Directorate of Human Resources, where they replied that they could not meet with her and that they would already communicate the resolution in writing. He has also presented himself at the corresponding Area Directorate, the West, where he was told that he had to solve it in Human Resources. He has submitted new documents to Personnel Management, and has submitted a request for a work adaptation to his disability, which he has been told that they have later passed to the Occupational Risk Prevention Service, where of course they have not told him how long it will take to process that application, but they are one year late.
Isabel sees that the first term of the course has already passed "and they don't seem to have the intention of solving it," she says. Combat despair with anxiolytics and consultations with the psychologist.
The Ministry of Education has responded to this newspaper that "it is maintaining communication with the teacher and her relatives at all times to try to solve the situation."
She is amazed. And he shows the emails, cold and concise, in which they only inform him that he will already receive a response in the three months that they have time to resolve the appeal.
The Ministry also justifies to this newspaper that the computer assignment of the place "was carried out with criteria established in the regulations" and that "it is not possible to modify the destination unless there is a position adapted to its circumstances." It also ensures that it has already resolved the appeal "by informing its addressee."
Isabel, again, is stunned. "Aren't they supposed to tell me?" You have learned from this newspaper of the response that you have been waiting for several months. "The appeal has not been read," she adds, annoyed. "I do not question the assignment, I tell you that the Workers' Statute recognizes the right to adapt the job. And there are specific regulations such as the Occupational Risk Prevention Law, which regulates access to public employment and the provision of jobs for people with disabilities. Or the Madrid Strategy for Attention to People with Disabilities itself, which also recognizes the right to adapt to the job. Without naming the international regulations, which are skipping it all ".
Desperate, Isabel turned to the CC OO union. First they helped him with the writings on Prevention and Occupational Health and seeing that the problem was stalled, they have taken up the case from legal services. "This teacher has demonstrated competence and ability and has the right to work and the Administration has the obligation to comply with the laws," assures Isabel Galvín, union representative.
Urgency
Five months after this journey began, the Ministry assures that they have ordered that the situation be solved "as a matter of urgency."
But that "urgency" has not prevented his anxiety from intensifying, a problem that he had not suffered from since his adolescence, when he realized that a tumor had weighed down his life. To top it off, he has put on six kilos. She spends the day studying the laws, which protect her, and wondering if she has done something wrong. "They close the doors and tell you that you are not worth it, that you are not good enough. Is the problem mine?
"It is not easy to explain the limitations that I have when I have spent most of my life living with them, with the aim of always trying to lead a 'normal life", says Isabel, who sums up her current situation like this: "If I try to summarize the limitations a lot that my pathologies cause me, I would leave it in which way zigzagging, easily stumbling (with which I have sprained or broken a leg), I have poor visual acuity, which affects reading well anything over five or six meters, see it blurred, and that is normal in public spaces; and that I have a neuralgia that has peaks of pain the more physical effort or fatigue there is. Since I was 25, I only keep this, monthly physical therapy to remove contractures, and I have added the chiropractor to unblock vertebrae. With the neurological rehabilitation, I was no longer progressing, leading a normal rhythm of life is the best rehabilitation. And at that point I was among those lucky ones who lead a normal rhythm of life. As far as possible, I try to depend as little as possible on others to make my life, because it is the best rehabilitation I can have ".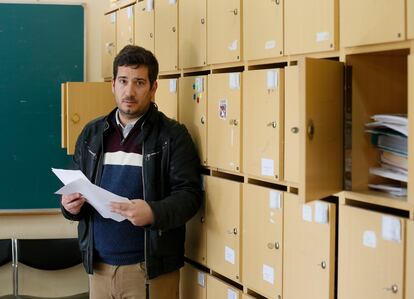 Pablo Colinas, Professor of Deaf Geography and History at the Pedro Duque Institute (Leganés). Kike Para
Fewer places than the legal ones for disability
That teachers with disabilities in Madrid do not feel well treated is not news. Last November, this newspaper published the story of Pablo Colinas, a deaf official with a specialty in Geography and History who had been asking for a sign translator for some time, especially as a result of the pandemic, with which the masks had arrived and, with them, the impossibility of reading the lips of their interlocutors. At that time, the Community of Madrid, which argued that the agreement only provided translators for students, made an appointment with him to discuss the matter after several complaints. The same day the article was published, the counseling postponed the appointment "for later." Two months later there is still no news. "I have the impression that the deadlines are running out. On February 17, the time to respond to my lawyer's claim expires, "he now says.
CC OO insists that the Administration does not comply with the law, since it does not allocate 2% of public places to teachers with disabilities. The Ministry of Education has not responded to this question. He didn't then and he didn't do it now.
Subscribe here to our daily newsletter about Madrid.
---