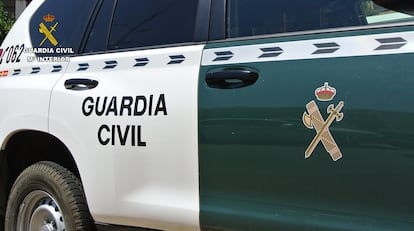 The Civil Guard investigates the death of a woman this Saturday in the municipality of Miramar (Valencia). CIVIL GUARD (Europa Press)
A woman in her 80s died this Saturday night when she hit the ground after being pushed by her husband at their home in Miramar (Valencia). The Civil Guard investigates whether it is an accident or a case of sexist violence.
Apparently, the couple, both with reduced mobility, started an argument late on Saturday and at one point the man, according to what he later stated, pushed his wife and she hit the ground and died, according to sources from the Local Police of Miramar, a town 77 kilometers from Valencia, have informed EFE.
The man went out into the street scared and told what had happened to a pizza delivery man who was on the public highway. The event occurred between 10:30 p.m. and 11:00 p.m. this Saturday, and the Civil Guard has taken over the investigation to determine if the death of the woman occurred as a result of an accident or is it a case of sexist violence.
The mayor of Miramar, Pilar Peiró, trusts "that it is not a case of gender violence and it is only an unfortunate event", since the man has a higher degree of dependency than the deceased woman, according to statements collected by the Local newspaper The Provinces. "In fact, it was she who took care of him, despite the fact that he also has reduced mobility and needed crutches to be able to walk," added the first mayor.
If the character of sexist violence in the case is confirmed, it would be the second victim in the Valencian Community in the last eight days after the death of a young woman on December 25 in Elche by a shooting, supposedly by the one who was her couple, now in provisional prison.
---