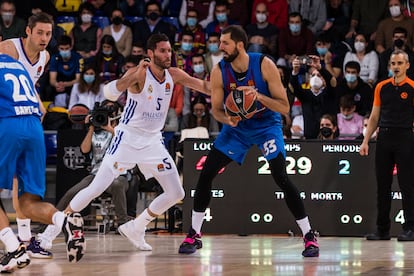 Mirotic and Rudy Fernández, in the last classic played on December 10.AFP7 via Europa Press (Europa Press)
The basketball classic between Real Madrid and Barcelona that was to be played this Sunday at the WiZink Center (18.30) has been postponed. The ACB has communicated this to the first of this Saturday, "in the face of the situation of positive cases pro Covid-19 that affect the Barça squad, after knowing the result of the PCR test to which it has been subjected this Friday." It is the seventh game of the 16th day that has been postponed, all for the same reason, the covid outbreaks that several teams have suffered. There are only two scheduled matches left, Unicaja-Zaragoza, this Sunday (18.00), and Valencia-Gran Canaria, this Monday (21.30).
Barcelona announced just half an hour before the end of the year bells that their coach Saras Jasikevicius, center Brandon Davies and point guard Nicolás Laprovittola tested positive for covid-19. Kuric, Oriola and Calathes were already out for this reason before last Thursday's Euroleague game against Baskonia. In addition, Abrines has been injured since the beginning of the season.
More information
Barcelona's positives came after tests carried out after the game they lost to Baskonia 94-75. The Croatian coach of the Vitoria team, the Croatian Neven Spahija, could not be present at the match because he had also tested positive. Hours later, Baskonia reported that several more positive cases had been detected in its squad. The ACB postponed the match that the Baskonia team had to play against San Pablo Burgos this Sunday (17.00).
Real Madrid also suffers numerous casualties from covid and injuries. On December 23, they beat CSKA 71-65 on matchday 17 of the Euroleague. He managed it despite the fact that he had 11 casualties and his assistant coach, Chus Mateo, had to resort to three juniors. The Euroleague postponed the match between Madrid and Fenerbahçe on December 29.
The wave of positives has also caused the Murcia-Tenerife, Fuenlabrada-Joventut, Andorra-Manresa, Obradoiro-Breogán, Baskonia-Burgos and Betis-Bilbao matches to be postponed.
On Tuesday, January 4, Barcelona host Manresa in a postponed match on matchday 14, and Real Madrid visit the Joventut field also on Tuesday in a postponed match on matchday 15.
You can follow EL PAÍS DEPORTES in Facebook Y Twitter, or sign up here to receive our weekly newsletter.
---