They have a light size and a reinforced structure to avoid breakage.GETTY IMAGES.
Drones are a revolution in terms of technology and even more so if we talk about an electronic toy with which to surprise the little ones. And it is that drones for boys and girls are a great idea for them to become familiar with the control and handling of a device in addition to promoting their psychomotor skills, hand-eye coordination and stimulating their ability to understand space, routes and routes. addresses. All this is added to the possibility of capturing incredible images and videos from above, transmitting them in real time on a mobile phone.
There is a wide range of models, but to make the search easier we have prepared a selection as a guide of the best drones for children available on Amazon, at affordable prices, with light and mini designs and with built-in LED lights, to control accurately your flight even at night. Discover them!
Dragon Touch kids drone
This drone for children has an adjustable wide-angle camera (120 degrees), which allows you to capture high-quality videos and photos in real time. And it is that it has a built-in Wi-Fi system that can instantly transmit the images captured by the drone. The purchase package includes two long-life batteries.
The underside of the drone features LED lights that provide colorful flight effects. It is operated very easily through three buttons on its control (take off, landing or return) or thanks to its APP through the mobile phone. In addition, you can choose between three different flight speeds (low, medium, high) and it features headless mode and the ability to rotate the drone up to 360 degrees.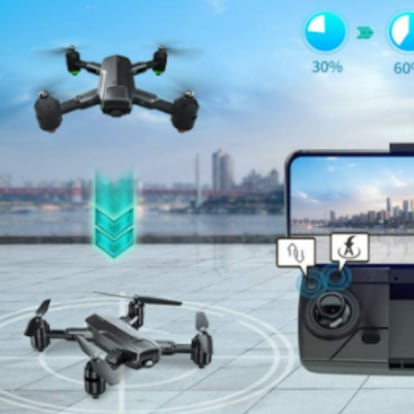 Foldable and lightweight
It is a drone with a folding propeller design as well as being very light, which makes it easy to transport comfortably. In addition, its propellers have protective housings to ensure greater durability.
AVIALOGIC kids drone
Remote control drone for boys and girls very easy to handle, making it perfect for beginners and to get acquainted with this device. The drone is accompanied by a control knob that has the takeoff, landing and return keys as well as being able to select the headless mode.
It has three types of adjustable flight, its speed can be adjusted (low, medium, high) and it has a 360-degree rotation function. It includes two detachable batteries that offer up to a 16 minute ride each. It is a mini drone, portable and safe to play with, and its propellers have built-in resistant housings.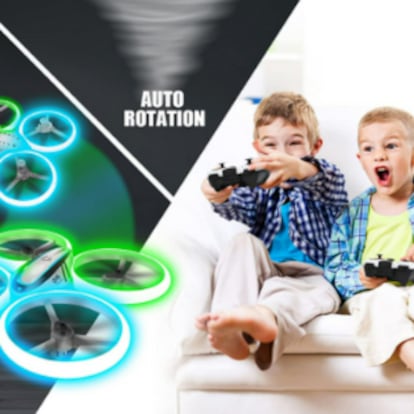 LED night light
This drone is equipped with a night light that can change constantly during the flight if desired, to generate a vibrant and original effect as well as being able to control its trajectory even in low light situations.
Potensic Kids Drone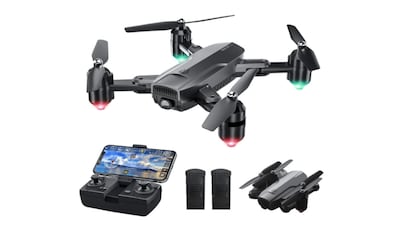 Mini drone for boys and girls very easy to control, since its control knob incorporates specific keys for each function: take off, landing, headless mode and altitude hold to control the drone easily and precisely. It guarantees greater durability, as it has been equipped with four round propeller guards to protect it against possible collisions
Kids will enjoy a long flight time thanks to the three batteries included in the drone. It also has a transmitter that emits a beep in case the battery charge is low. In addition, the drone has a support to place the mobile phone and virtual reality glasses (not included) to enjoy a more immersive experience.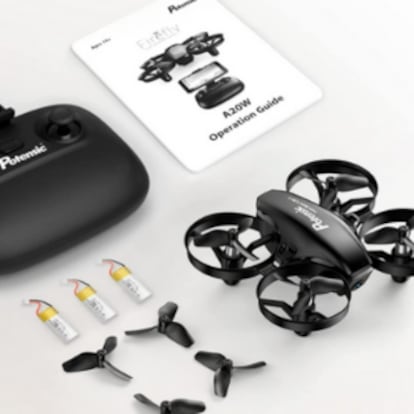 Real time remote control
The mini drone for children allows a live transmission of the images it captures through the Wi-Fi connection with the mobile device. In addition, the APP 'Flight Path' allows you to configure a specific flight route for the drone and thanks to its gravity sensor you can follow it precisely by making a video during the journey.
Loolinn Kids Drone, Two Colors
This drone is an ideal option to surprise the little ones with an original and very practical toy. It is mini in size and has high-power batteries (two included), with a total flight time of up to 20 minutes for each one.
All the propellers of the drone have been covered with a durable housing, to provide a more robust and secure structure. It is a very easy to handle device and can rotate in any direction in 360 degrees, allowing you to perform tricks and stunts. In addition, it has two adjustable speeds (slow and fast).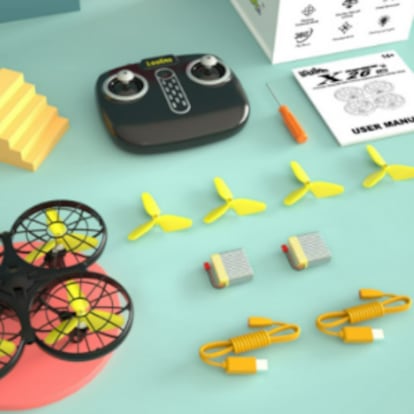 With anti-collision sensors
This drone has been designed with anti-collision technology that works automatically thanks to infrared sensors, which prevent the drone from colliding with walls or objects, avoiding breakage and increasing its durability.
---