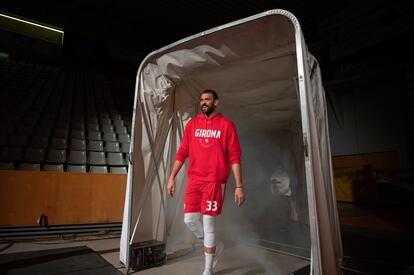 Marc Gasol, on November 25 at the Fontajau pavilion, in his presentation as a Girona Basketball player. SERGI GERONES
Marc Gasol multiplies to act as president and for a month he has also been a basketball player in Girona. At 36 years old, after 13 seasons in the NBA and a brilliant career with the Spanish national team, the Barcelona center has returned to Girona, where he played two years with Akasvayu before going to the NBA in 2008. He takes on an unprecedented project and very personal in the LEB Oro, the second Spanish division, with the firm intention of "contributing so that the young talents of the demarcation can develop their talent and achieve their full potential in Girona". The club is disturbed these days by several cases of covid, which have forced the team to confine itself and postpone its next game against Lleida, so the interview had to be carried out by video conference.
Ask. What is your personal ambition at this point in your career?
Answer. Many things move me at the same time. There is not a single motive, or a single thread to draw from. It is a combination of factors. High competition or the elite is not what drives my decisions right now. There are several other things, among them obviously the family, a project like Bàsquet Girona, and a combination of factors, of physical safety after a stage in which I could not invest the time I want to be able to be at the highest level. It is an accumulation of factors that in the end make you decide and see that the best option is Girona. Maybe you lose a part of the competitive elite, but you gain many other things that sport brings you.
Q. Isn't it like a Ferrari went from competing in Formula 1 to Formula 3,000?
R. I do not like to talk about Ferrari because it is very elitist. It is as if you have a three-star restaurant, but you want to do something closer, with feeling. I understand that it may be surprising to leave the elite, as Dani García did, for example. They give him a third Michelin star and he says, 'well that's very good, but we have to dismantle it because at this moment it is not what moves me'. It's a bit the same. You have to see the context, after having spent 13 years in the first level, of the last two difficult years for everyone. I am a professional player who places great importance on stability and family and who, between the Games and the NBA bubble, has spent a lot of time away from home and away from people who are very important to me. Right now, between the fact that I can't give the best version of myself and elite basketball doesn't give me the happiness it gave me, you keep changing priorities in life.
I am an observer and I have taken advantage of being in the shadow of Pau
Q. Has a model been proposed for Bàsquet Girona. Could Girona soccer or Villarreal serve?
A. The realities of soccer and basketball are totally different. One of the mirrors or references that I have is Manresa, above all because of the sense of community that Manresa city generates, how they identify with that project. I like the feeling it transmits, obviously with the personal contribution of me and Pau (his brother is vice president of the club) and our vision of the world of sport based on our experience. We see the desire that people have, how they push us to improve. It is a very alive model, which is constantly evolving. It takes dedication and time.
P. They occupy the 12th position of the table. Do you see promotion to the ACB League feasible?
A. Right now we are still in the process of meeting as a team, of finding that consistency. It is a young team, with many players who are new to the League. We still don't know what our roof is. We also have experienced players and eight players from here, something that is very exciting. We are there, a game or two away from entering playoff. It is something striking and very popular, but it must be accompanied by consistency and stability. We are still in a period of growth and as a club I don't know yet if we are ready. For me, what rules is what the fans demand of us. We will evolve according to the demands. Without them they push us and make us higher, I'm sure the club will react.
Q. You have already made a tough decision such as dismissing the coach, Carles Marco.
R. I greatly empower people in their positions. They are responsible because in the end they are the ones who live from day to day. I always end up deciding, but they propose certain paths and when they argue with me, if I have no arguments to change their mind, it is decided. Beyond the defeats, which accumulate and create a dynamic of more tension, the change was due to the fact that the group was no longer listening or interpreting the message it was giving and then you have to change the interlocutor. Surely, very unfairly, the coaches are the first to jump in these cases, but it is the law of sport. That also pushed me to play ahead of schedule because I obviously felt responsible for the situation of the team in many areas and I knew the boost I could give if I played.
Q. How is the relationship with your teammates and the coach?
A. My job as president is more separate from the team. The sports director is the one who takes the sports theme and the coach the track theme. In the end, on the court I am a player. Before and after the game I am a player. Obviously I am aware that, no matter how much my cap changes, they also see me as president. As president I am calmer. As a player I am much more demanding. The pulsations are higher and there the one who speaks in games and training sessions, the one who gets itchy and competes with each other and against the other team, is the player Marc, not the president Marc.
Some believe that playing in the NBA gives it away. Aldama is on the right track
Q. Do you regret leaving the NBA?
A. It was 100% my decision. The person who manages everything from there knows about my situation and right now, no matter how much they call me – because practically everyone calls me – I am indifferent. I would not change anything.
Q. What taste in your mouth did the stage in the United States leave you?
R. Very positive, and all the stages that I lived there, from the most colorful in which there were many awards, to those that were not so successful, and the hardest and most difficult. Because in the end everything is learning, the good and the not so good. And I leave very happy. I have not just closed it completely, far from it. I live a lot from day to day. But what I'm doing now is what I want and I'm where I want to be because I have the freedom to be able to do it. In the end he had this possibility and it was something he wanted to try. There comes a time when you don't know when basketball can be over. And I wanted to be close to mine, close to the club and lead it on the pitch.
Q. Isn't the NBA stage completely closed?
A. No. I already told Girona that I didn't feel like I was coming to retire. I understood it as a process, and one more step to see where I am and how I am. And from here, evolve and see how far I get. And it depends on where I arrive and how I am, I will decide at all times. But right now my head is working, improving and seeing where I end up.
P. Did he meet your expectations in the NBA?
R. We went there with Cristina as a young couple to live an experience without really knowing how we could go. But if we had to test it at some point, that was when we didn't have a contractual obligation. And I said, well we tried it. Memphis was a city that we knew, my parents still lived there and we felt comfortable, in a franchise that I also knew well and I said why not? We were going with those expectations. I am still not able to tie the knot to the rest or to reflect on how everything has been, but I am very happy, very calm. When you open the drawer of memories, it is to be very proud, above all, of how you have evolved as a person. Every time I have been a little better and I have gone from being a teenager to a parent who keeps trying to improve every day.
There will continue to be talent if we bet on the base and the young people here
Q. Did the rivalry you had with your brother Pau when you were little helped you?
R. Without a doubt. It gives you a reference. In the end we all need references or goals. It was not a consciously set goal, far from it. But having someone as close as Pau, having seen him when he began his path in the United States … I have always been very observant and I have been fortunate to be in Pau's shadow a lot. I have taken advantage. I have learned. He saw how the people on the track and around him functioned. That avoided an adaptation process for me. Then you make other mistakes, your own mistakes, because you are someone else, but when it came to living in a team I was lucky that it was not news to me. I have tried to make the most of the opportunities that have been presented to me, and I have been learning from my mistakes. It is clear that having a benchmark like Pau and having that emotion of playing against him and being able to win, that always makes you go higher. Then there came a point where it stopped being that. You mature more and you no longer see it as something so shocking. At first you see it with more nerves and then you live it differently. And you say to yourself: 'oysters, we are two brothers who play in the NBA and we are very lucky.' With maturity you are able to enjoy those moments.
P. Didn't you feel in the shadow of Pau?
R. But I have also taken advantage. I have been very observant. I have learned. when you take them for the reasons you think you can live with their consequences when they are not so positive.
Q. How do you see the new stage that opens in Spanish basketball after the end of the golden generation and the withdrawal of players like you, Pau and Sergio Rodríguez?
R. Everything complemented very well. Now, it will be different. I don't know what the next moment will be. It will follow your process. There is a lot of talent and there will continue to be if we continue to bet on the base and basketball here. Now we are looking at the number of young players at Barça. But if there were more like Sergi Martínez, who are from here, it would still be better. But that happens by betting much earlier. At 17, 18, 19 years old it is very difficult for a Pau or a Navarro to come out. That doesn't happen just because. Everything in life happens because you have tried and worked and because you have an intention. Later, some arrive and others do not. Because it is not easy for the need of the first team to coincide. We see it with football too. Now we are very proud because we see many young people playing. But that comes from a necessity. Maybe ten years ago we had them just as good and they had to leave. Why? because the team didn't have that need. Those coincidences turn into opportunities and have to be caught. Or you make them happen consciously. It can be done by a coach or a team like La Penya who does it consciously. Or you have to take advantage of moments when the club has to bet and you go for it all.
Q. What do you think of the path taken by the Hernangómez brothers, Garuba and Aldama, with hardly any minutes in the NBA?
R. We have to assess each case and control a little the expectations of each one. Now it seems that playing 15 minutes in the NBA gives it away. It is very valuable to play 15 or 10 minutes, or to be starting a path like the one Santi (Aldama) is doing, and I know it because I have a lot of relationship with the people of Memphis and they are very happy with him. You have to judge the least, without comparing. Usman, Santi, Ricky, Juancho, Willy, everyone who is there right now is already a super merit. Because playing in the NBA now we have normalized it, but a few years ago it seemed like a utopia. And having a role and being part of a team, and these players – Ricky aside, of course – are making a place for themselves, trying to find that consistency, which is often due to the team's situation, which will make them evolve or not.
Q. Do you see Aldama on the right track to become a front-line player?
R. He is in a very good place and in the minutes he has played he has seen an evolution. He is making a path that perhaps not many people have traveled. People there are very happy, they speak highly of him. I was in Memphis the other day, I got to chat with him and he's happy too. They have a very good working structure with young players that may be ideal for him. They can be positive if they evolve as they expect.
You can follow EL PAÍS DEPORTES in Facebook Y Twitter, or sign up here to receive our weekly newsletter.
---