Teachers approach him and say: "I have been teaching for twenty years, but I have never experienced this. I don't know if I can still do it. I just can't get them to learn the lesson material."
It is already December, says Rector Jan Paul Beekman of the Amsterdam Spinoza Lyceum, and the students, especially in the second and third grade, are still only busy with each other. Not with the teaching material, but with their peers. "Normally, that phase lasts about six weeks, after the summer holidays. We call them storms and norms – they come in and start exploring the others, forming groups, finding their place in the group. Once that has all settled down a bit and the class calms down, then you can really start learning. But now it's December and they're still catching up on the social."
On Friday afternoon, a day before the announcement of the latest strict lockdown, Lucas (14), Merlijn (14) and Siem (15) are at the Jumbo in Arnhem, bags full of sandwiches in hand. They are in the third year of the havo and have a break. Another hour of math and then it's the weekend.
They found it difficult, they say, to pick up again this school year after the long period of mainly online classes. Lucas: "Once I've started it works, but starting is difficult. And also keep focus for a long time."
Their whole class is affected by this, they say: it is noisy, everyone is busy. Siem: "That also makes it difficult to pay attention."
Lucas: "There is little structure. We sometimes spend 40 minutes on one assignment."
Merlin: "There is a lot of messing around and throwing things and stuff."
Is that because of corona or the fact that they are now a year older, Brechtje (15) wonders. Like Emma (14), she is in the third year of a HAVO/VWO class. "Due to the lockdowns, we are less used to sitting in a room and paying attention," says Emma while eating a frikandel sandwich. Brechtje: "It is more difficult to concentrate. The class is restless. Half of them are not paying attention and people sometimes suddenly become very angry."
Worse results
The figures of the first test week, mid-November, reflected this unrest in Amsterdam. They were much lower than normal. Rector Jan Paul Beekman discussed it with the other secondary schools in the capital and they concluded the same thing: going to and from school in the last year and a half, and much less interaction with each other, has had major consequences for teenagers.
The schools presented it to the Secondary Education Council – which represents secondary schools nationally – and it recognized it: second and third graders are working hard to make up for the social loss of sitting at home for a year and a half.
It is no different in Deventer, says Dutch teacher Henk ter Haar. He is team leader of the havo department at the Etty Hillesum Lyceum. "From the third grade it is dramatic," he says over the phone. Just this week, a teacher was sitting in front of him. Her students 'cannot be moved' and she is 'on her last legs', as are many colleagues.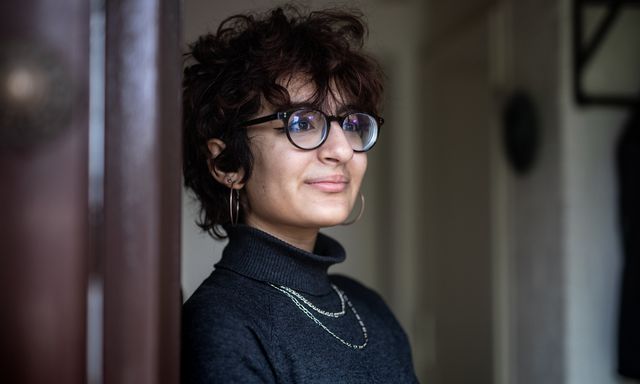 Also read: What's it like to be a teenager during the coronavirus crisis?
"It is too quiet in the lessons and too restless in the hallway", Ter Haar and his colleagues notice. Pupils sit quietly behind their tables, but glands in the hallway. "It's brewing. Like a storm is coming. Very unreal."
Lost feeling
The (semi-)lockdown has been going on for so long that 'normal' life has disappeared from sight for teenagers, says history teacher and mentor of havo 3 Ger de Haas in Bergen, North Holland. "There is a sense of loss in students, because there is no structure or regularity. They really enjoy coming to school, much more than in previous years, because at least they see peers here. They also hang around until 5pm. They really crave contact. I also see positive things: children helping each other with homework, in the auditorium, which you used to see less." De Haas expects that the learning delay will be okay. According to him, the social deficit is much more serious.
Secondary education inspector Rob Vink is not surprised. In the spring, the Inspectorate spoke to many secondary schools and surveyed 13,000 students. "We saw then that the motivation of students had dropped significantly." Now that he and his colleagues have returned to schools – since the summer – they hear it more often: "There have been problems in the classroom. Some students externalize – act difficult, restless. And others are silent."
Emma (14) in Arnhem: "Everyone is tired. People sometimes fall asleep during class."
Brechtje (15): "I am tired too. I'm really looking forward to the Christmas break."
Emma: "We are just not used to it anymore."
The inspectorate, says Vink, did see the risk after almost a year and a half of closure, "but we, and the school boards, did not know how lasting the effect would be. Because this has never been seen before, that teenagers do not go to school for so long."
Hanging out at school
Dealing with peers, with the opposite sex, with the group, with yourself – it's not a phase a teenager can 'just' skip, it's an important part of your development, says Jan Paul Beekman, who used to study biology and mathematics himself. but now runs a Dalton school (mavo/havo/vwo) at the Spinoza Lyceum. He also recognizes that students linger longer: "We have to say to a group of teenagers at half past five every day: guys, are you going home so slowly?"
They don't notice any difference in the first division, but they are also new, just like every year. And primary schools were closed for a shorter period of time. The final exam students were also allowed to come to school relatively often between May 2020 and the summer of 2021. But the second and third graders were at home.
Henk ter Haar of the Etty Hillesum Lyceum in Deventer wrote a blog about it and is now discussing it with other teachers, the AOb education union and the LAKS student organization. Because, he says, it's important for teachers to know that students' listlessness is not their fault. "We all face it. It's good to recognize that it sucks for everyone."
It is not the figures that disappoint him, says Ter Haar, but the 'consumer attitude' of his students. "It seems as if through all those months of teaching from behind their screens they are used to sitting back and waiting to see what the teacher does. They hang in their chairs with a 'bring it on' attitude."
We have to say to a group at half past five every day: guys, are you going home?

Jan Paul Beekman rector Spinoza Lyceum Amsterdam
What Ter Haar also notices is that social cohesion in the classroom has disappeared. Especially in havo 3. In those classes, the group feeling has barely been able to develop due to two years of corona. While that is crucial for how a class functions. Ter Haar: "A class corrects itself if it is right. If there are three annoying students in the group, they are often subtly reprimanded by the others. As a teacher you can normally claim this: 'What have we agreed on together?' That mechanism no longer works. The individuals are now stronger than the group. The 'together' is gone."
He says to teachers who don't know what to do anymore: 'Don't set the bar so high for yourself. Make it to Christmas with your class. Don't try to boost their vocabulary, but do something fun. A Christmas quiz or something.' We have to give each other space and not pretend that nothing happened."
Half of school already completely different
The closed school and the uncertainty whether that could happen again is taking a long time, says inspector Rob Vink. "Certainly for pre-vocational secondary education students who have only been in secondary school for four years. Half of their school days are already completely different from normal."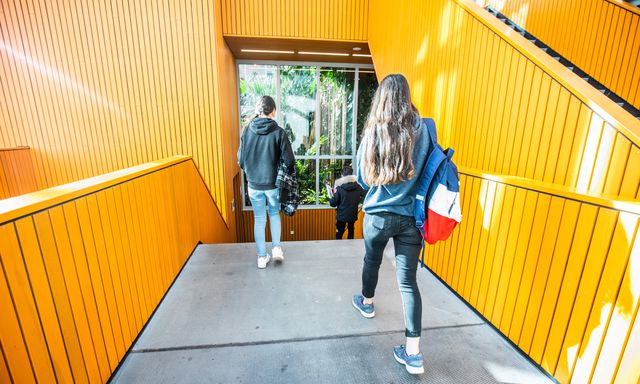 Also read: Learning disadvantages due to lockdowns at VMBO much greater than at VWO
What to do? Vink: "Almost all secondary schools have invested heavily in mentoring this year. The students see and speak to the mentor a few times a week, much more than before. That is good, because it has been proven that social safety for children is of great importance for their learning performance."
Rector Beekman of the Spinoza Lyceum has a more radical proposal: let this group go to school for an extra year.
A version of this article also appeared in NRC in the morning of December 22, 2021
---