The old quarter of the center of Almeria, especially the area delimited by the so-called Cuatro Calles and Calle Real, concentrates a series of bars in which the cane or the wine is accompanied by a free tapa. Exceptional places for the number of places that frequent them and for the high quality of the aperitif (the most elaborate ones usually require a supplement). Tuna mojama dishes, roe with almonds, mushrooms, cod, orza loin … and the typical local cuisine appetizers, such as pipirrana, San Antón soak and salmorejo. Bars with beautiful classic Andalusian decoration but also avant-garde places with beautiful design. These are some of the most celebrated by the people of Almeria.
01 Puga House
Without a doubt, it is worth starting the tour in this beautiful tavern founded in 1870 – the second oldest in Andalusia-, located very close to the cathedral. Spain is no longer that country "where children go barefoot and shrimp in a raincoat", as Chumy Chúmez said in the Hermano Lobo magazine in the 1970s, but this tapa is still served here among the hams that hang from the tiled walls . On the marble bar, between very well-drawn beers and wines from his private collection, tapas of ling roe with fried almonds, octopus, cod, lump of centerboard, artichoke with peppers, and so on. Casa Puga has a dining room where you can also have portions of clams, the prized red shrimp, fish and meat. And another of the points in favor of this century-old tavern is the kindness of its staff, especially when explaining the tapas menu to the clueless stranger.
Address: calle Jovellanos, 7. Web: barcasapuga.es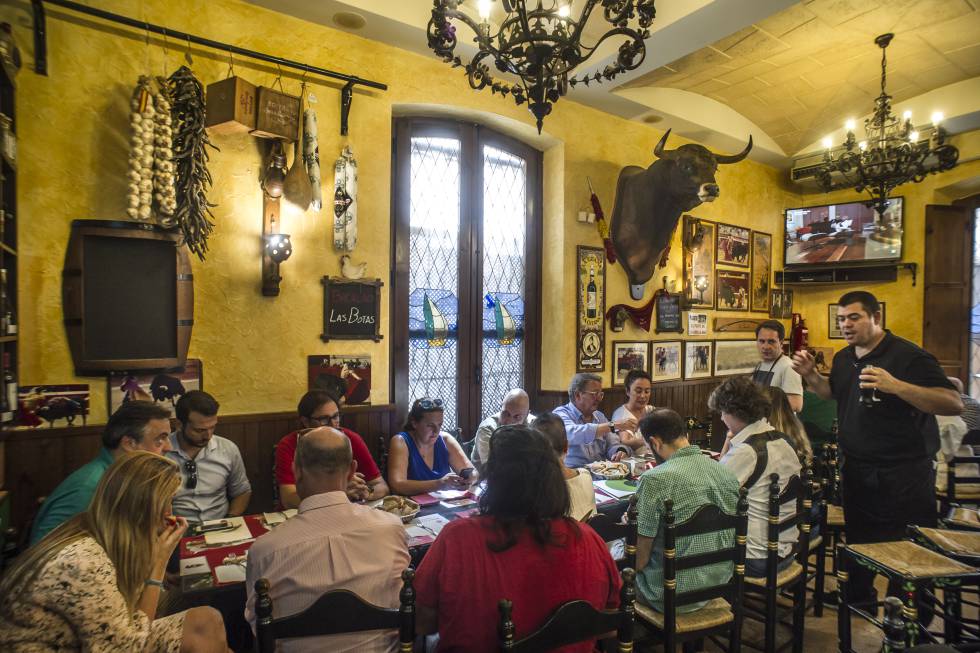 enlarge photo Bullfighting decoration in Bodega Las Botas. ALS
02 Bodega Las Botas
This is another traditional bar, with bullfighting decor and a convenient terrace that is a two-minute walk from Puerta de Purchena. In this place the most genuine tapas are those of cochifrito (fried Iberian pig suckling pig), salmorejo with ham taquillos, cured cheese and some with a more sophisticated touch of global gastronomy, such as pork cheeks with couscous and pancakes in tempura. Those that have won awards for their quality are not to be missed: stuffed mushrooms and fresh tuna delicacies. As happens in almost all these establishments in the center of Almería, some montaditos carry a small supplement of one or two euros, as in the Bodega Las Botas it happens with the scallops.
Address: Calle Fructuoso Pérez, 3. Web: bodega-las-botas.metro.rest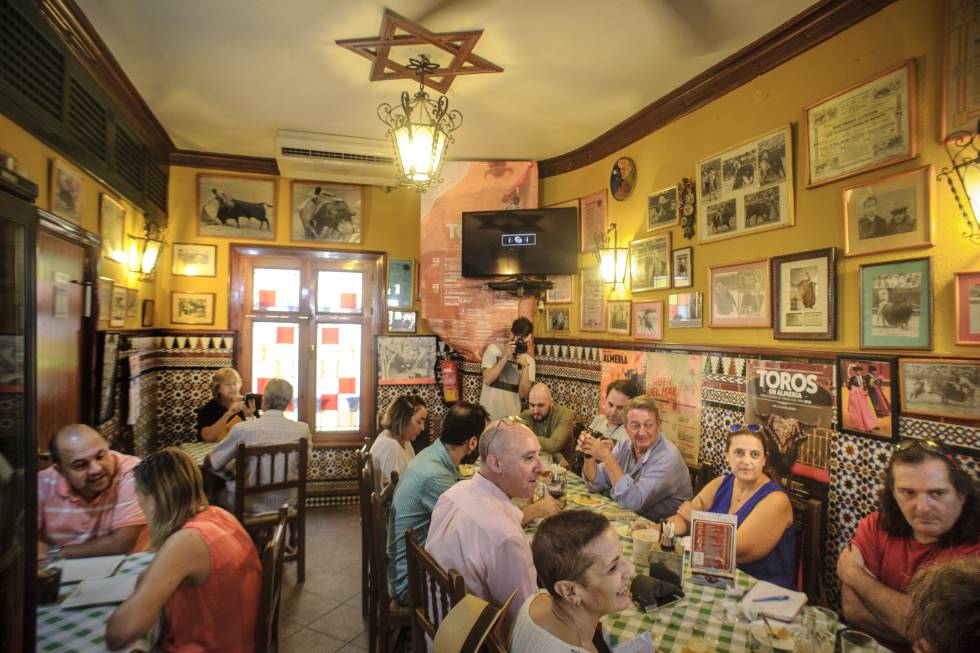 enlarge photo Atmosphere of the El Quinto Toro bar in the Andalusian city. ALS
03 The Fifth Bull
Establishment of bullfighting inspiration and among the favorites of the neighbors. One of its most special tapas is the San Antón soak, a delicious salad made with eggs, potatoes, black olives and Señora, that wet red pepper that gives it its characteristic color. Its customers are divided between the interior and the terrace (very popular on summer nights) to also taste gazpacho, pipirrana (salad of onion, tomato, green pepper and cucumber that they serve here with cod), octopus aioli, potatoes to the poor (with onion and green pepper) or lamb roast.
Address: calle Juan Leal, 6. Web: facebook.com/elquintotoroalmeria
04 Entrefinos
Located in an alley very lively by its many bars with a terrace, Entrefinos boasts of having won one of the editions of the Ruta de Tapas por Almería contest with its invention of the Mozarabic sirloin: pork in a crunchy bread roll, garnished with zucchini in tempura and a touch of mojo picón, of which they claim to have served more than 200,000 units. Among its other free snacks with the drink, those of cured ham, eggplant omelette, octopus in oil and chocolate cheeks stand out. It also offers those that it specifies as gourmet tapas and that imply a 3.5 euro supplement, such as ham croquettes with pine nuts and raisins, or 6, foie schnitzel with caramelized onion and tuna "al Red alive".
Address: Calle Padre Alfonso Torres, 9. Web: entrefinos.es
05 The Bad
La Mala tortillería is the groundbreaking place in this selection, especially for its atmosphere and rock music, decoration in red tones and dotted with skulls, and where the house brand is also put on its truffle tortillas, zucchini with chili peppers, octopus , blood sausage or a vegan, and the tapas of salmorejo, Iberian secret with brie, chili con carne … It is also a great place to end the night with a drink listening to 70s rock.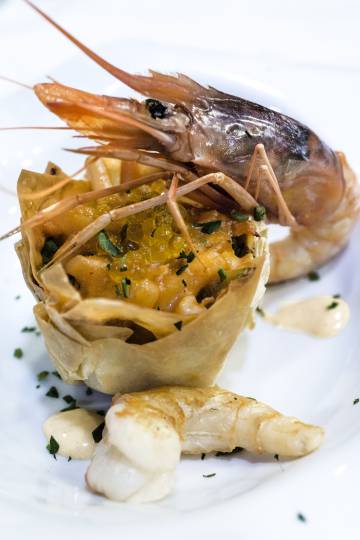 enlarge photo Tulip cover of squid and red shrimp from the Casa Sevilla bar. ALS
Address: Martínez Almagro street, 6. Web: facebook.com/tortillerialamala
06 Sevilla House
Across the Paseo de Almería going from La Mala, Casa Sevilla has been offering cold tapas of Iberian ham, smoked cod, tuna belly, melva with roasted peppers … and hot made with cuttlefish in its ink or meatballs ox. Also some very elaborate, such as its celebrated squid and red shrimp tulip.
Address: Rueda López street, s / n. Web: casa-sevilla.com
Find inspiration for your next trips in our Facebook Y Twitter e Instragram or subscribe here to the El Viajero Newsletter.
.
---