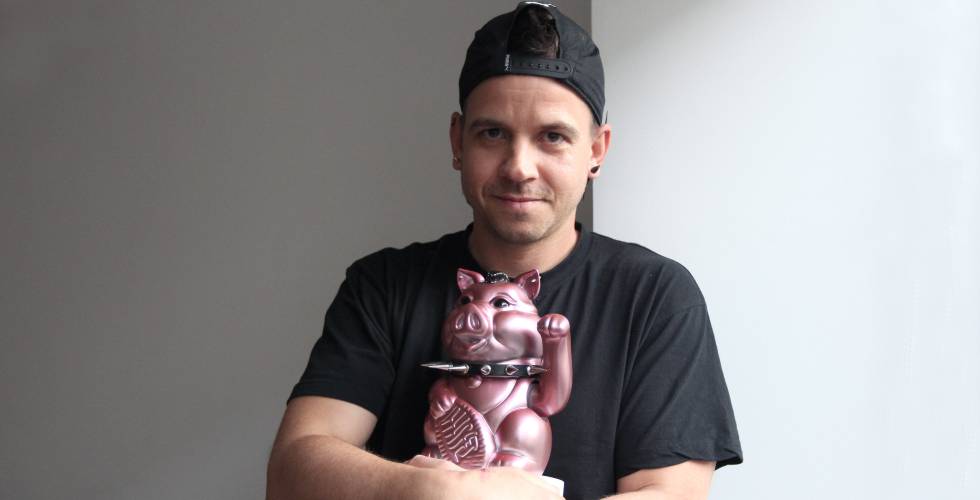 The documentary was released seven years ago. It was the first time that a Spanish chef visually captured in a short film all the emotions that are experienced in a restaurant like DiverXO, where the avant-garde is taken to the extreme. A year before the premiere of El Xow, Dabiz Muñoz had received the third Michelin star and was already considered an enfant terrible of cuisine in Spain. His battle cry Vanguard or die is taken to the extreme in this theatrical representation, which begins with images of exaggerated beauty, whose protagonists are the ingredients and their elaboration, in scenes in which the team appears on the stove, and the cook, as if from a unleashed artist it will be, painting a canvas.
In 10.42 minutes, the gastronomic universe of DiverXO is summarized, where the chef from Madrid seeks to make the kitchen the epicenter of the experience, both for the team and for the clients. The audiovisual piece shows a table with six diners, all of them different, with an eccentric appearance. Do not speak, they look at each other with a certain distrust at first. Until the show begins, the culinary overflow.
They go into ecstasy with each bite, there is even someone who spits butterflies from their mouths, screams, moans, explodes, madness is unleashed. Even the then sommelier of the restaurant, Javier Arroyo, spills a bottle of wine all over his body. And a voice-over reveals revealingly: "To stop me you will have to kill me", while a last shot shows the chef in the restaurant room, tied in a straitjacket, wry smile and a crazy face.
It is a totally aspirational video: it invites you to enter the XO universe and break all barriers. It is a case study in the ESIC business school, since it uses the art of attracting attention, of causing an impact. "Dabiz Muñoz is the typical case of rogue marketing, transgressor, that is passionate," explains Professor Jesús Charlán, director of the course specialized in product manager at the aforementioned school, who uses Muñoz's documentary to illustrate how a piece of marketing should be audiovisual.
"To begin with, the usual viewing time is exceeded, which should not be more than two minutes. They are more than 10 minutes, which hook from the first moment. It is groundbreaking, it plays with our senses, it sends us emotional impulses. It is very well assembled, which is an experience in which you reach the climax ", says the teacher, who shows the film to his students in the classroom as an example of what a brand image presentation should be. In this sense, he wonders how many presentation videos companies usually make without apparent result. "On the other hand, this cook, who is a monster, does not use what others do, the micro-moments. And it hooks you ".
Charlán also refers to the decision of the chef, who also has three Repsol soles and this year has been chosen as the best chef in the world in The Best Chef Awards 2021, to raise the price of the tasting menu for next year, from 250 to 360 euros. According to Muñoz, this strategy responds to the imperative need to make DiverXO a sustainable restaurant, in terms of financial resources and staff working conditions.
"Luxury is the inelasticity of the price. You are not going to eat at DiverXO, you are going to live an experience. In a normal restaurant, without all those conditions and these experiences to the limit that the chef proposes, this price would be a savage, but in this case it is justified, because you are not going to eat, you are going to experience, to experience unique sensations ", adds the teacher.
For another expert, Sergio Lafuente, category manager at Pikolin, as detailed in his marketing blog, the appearance of the cook is already a commercial tool. "It draws a lot of attention. All chefs have a classic image except Dabiz Muñoz. It is difficult to describe his look, but we could say that he is a rebel, a transgressor ".
And he also believes that the success of DiverXO lies, in addition to having Muñoz as a leader, in its marketing concept. "People go to restaurants to eat, but here they are going to have a good time. To live the experience, and it is one of those things that most people would like to do once in their life ".
Another fundamental pillar of DiverXO, adds the expert, in addition to exploiting an interesting marketing strategy, is innovation. Muñoz travels around the world looking for new recipes, spices, ingredients and techniques with which to create new works of art. "Innovation is a key element to improve in any area of ​​life. Many companies when they achieve success believe that they can always continue doing the same and forget to look for new recipes and flavors on how to carry out their business activity ". And this in DiverXO does not happen.
.
---