During the intermission of the Winter Wonderland Christmas concert in small St. Paul's Church in central London, Jeremy James is standing outside with some friends over a beer. James is jealous that this Christmas concert could go on. He also sings in a choir and all his performances have been cancelled. Their conductor has corona. "Otherwise we would have had four concerts this week. We have been practicing Christmas carols since September." He can't really laugh at the joke of one of his friends that he should organize a nice karaoke evening in March.
They wouldn't have come tonight if they hadn't known one of the orchestra members, says his friend Alice Young. The risk seems acceptable to them: the church is small but has a high ceiling and almost everyone inside is wearing a mask. Though they're likely adjusting their other plans, Young says: "We're now thinking about going to my mom's earlier instead of Christmas. In case they suddenly change the rules."
Inside the church, after the break, almost everyone sings along to 'O come, all ye faithful' and 'The first Nowell'. The conductor now and then turns around, so that he can also indicate the beat to the audience. James and Young rock back and forth on the wooden pews and sing along too, wearing masks. James' glasses fog up.
In few countries, Christmas is a holiday of greater importance than in the United Kingdom. In few countries are the Christmas wreaths on the front doors more elegant and the Christmas tree that you bring into your home more natural.
Problems in hospitals
But the Omikron variant of the coronavirus is putting the residents – and Prime Minister Boris Johnson – under great pressure. Can families, families and friends see each other this year? The Omikron variant is gaining ground very quickly. Estimates are that of the infections in England already 62 percent is Omikron and in the capital London already 80 percent. The infections themselves are also rising rapidly, reaching over 90,000 on Saturday.
The booster campaign is already further underway in the United Kingdom than, for example, in the Netherlands. Yet the number of hospital admissions is now rising
The booster campaign is already further underway in the United Kingdom than, for example, in the Netherlands. Yet the number of hospital admissions is now rising, especially in the capital London, where vaccination coverage is lagging behind. Hospitals Report problems with their occupation and mayor Sadiq Khan sounded the alarm this weekend.
But the Johnson administration and the Conservative Party are divided on whether new measures are needed. And Johnson's authority is on the wane. Last week he suffered a heavy defeat in the House of Commons when about a hundred party members voted against his proposal for new – relatively light – corona restrictions. The restrictions came with support from the opposition.
On Thursday, the Conservatives lost an important partial election, a loss that Johnson is blamed. And this weekend, one of his ministers, Brexit negotiator David Frost, resigned out of dissatisfaction with the new corona measures and current considerations for a stricter lockdown.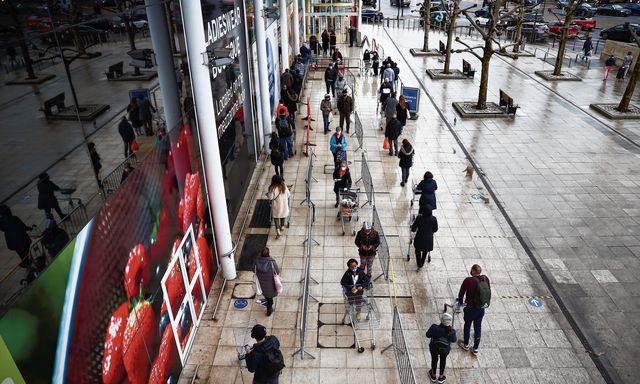 Also read this story from December 2020: From 'Saving Christmas' to a hard lockdown. How could it go so wrong with the British?
And so it seems that in England it will remain with the current measures for the time being. Face masks are mandatory in shops and in public transport, a corona pass has been set up for large gatherings. But pubs and restaurants are open and while working from home is the rule, Christmas parties with colleagues are allowed. The government would make plans for a circuit breaker with stricter restrictions after Christmas.
Many cancellations as a precaution
As a result, the English – each country within the UK has its own corona policy – ​​are now doing pretty much what they think makes sense in the run-up to Christmas. Restaurants, pubs and hotels report massive cancellations of reservations. Theaters cancel performances and hairdressers take it easy during what is normally the busiest time of the year. UK has entered 'secret lockdown and restrictions on itself to save Christmas' writes de Daily Telegraph.
News continues to leak about possible violations of corona rules by Downing Street officials and political staff
"As far as I'm concerned, the government and especially the prime minister have long since lost their credibility," says visitor Gus Franklyn after the concert in the courtyard of St. Paul's. "I think the science behind the decisions and what experts say is much more important, so I'm looking at that." In recent weeks, different news has been leaking out about possible violations of corona rules by officials and political staff of Downing Street. The latest news it concerned a meeting in the office of Simon Case, the senior official who was supposed to investigate the parties, but has now relinquished that assignment.
You can order self-tests for free from the national health service NHS
At such a concert "in a small church" Gus Franklyn is not worried. And at his home they do a self-test every few days as a precaution, which you can order for free from the national health service NHS. Celebrating Christmas with his sister and her family continues as far as he's concerned. But he postpones the visit to Hamleys, the largest and oldest toy store in the country, which he had promised his niece. "I think it's better to avoid those crowds of people. I adapt without living in exaggerated fear."
Not black with people
Further down Trafalgar Square, a children's choir in red Santa hats sings on 'Silent Night'. The Christmas stalls sell mulled wine and hot chocolate. Black of the people certainly does not see it here. On the steps in front of the National Gallery, mothers Olesea and Miki – they prefer not to have their last names in the paper – are having a picnic with their children. They drink wine from paper cups and on the steps are grapes and sushi from the supermarket. Since the start of the corona crisis, they have only met each other like this outside.
"Last year my son cried for two weeks when Christmas was cancelled, it was a disaster," says Miki. So yes, she really hopes that they can go to grandparents this year. "Of course we did presents at home, but it was not the same." They do self-tests before going and Miki got her booster vaccination last week. Olesea is from Moldova: "We're staying here, it's too much hassle to go home with all that testing before you can travel."
Saturday turned out that Sage, the team of scientists that advises the government on corona measures, urgently recommended that extra measures be taken before Christmas. Postponing until next year would "dampen the effectiveness of such interventions and make them less likely to prevent pressure on health care." Sunday morning Health Minister Sajid Javid said they are looking at the situation "hourly" and did not rule out new restrictions before Christmas.
Miki and Olesea hope the new restrictions won't come until after Christmas. But they have lost confidence in the government and that it determines what is right, says Miki. "Everyone has had it with them. We have always adhered to the rules quite well, and in fact the entire population. But whether we can handle that a fourth time, I don't know."
Newsletter NRC Today
Every morning an overview of our best pieces and all the important other news
---