Theater
Jibbe WillemsYou can't hide by closing your eyes– 14 x stage by Jibbe Willems. Publisher it&fb, 688 pages. € 26.50. Information: theaterboekhandel.nl
●●●●●
'Pain is what happens while you're busy making other plans,' observes one of the characters in Civilian Twilight dryly. Two women try to parry the blows that life throws. They do this, among other things, by purchasing a man on Marktplaats. The man still has "some good years in him", according to the previous owner: few kilometers and always washed at regular intervals (also "in the folds and under the skin").
In the dryly comical casualness with which the characters motivate their very unusual deeds, Civil twilight by playwright Jibbe Willems is absurd in a Pinteresque way. Willems creates characters that are obnoxious but that you come to love. They chat about the aphids in the sanseveria, engage in semantic discussions and appropriate scent and vision in the room. The second-hand man looks at things resignedly and submissively at first – although, when alone, he secretly declaims romantic sonnets full of restrained desire. Ultimately, the characters cannot maintain their facade of civilization, and may find liberation in it.
silver dots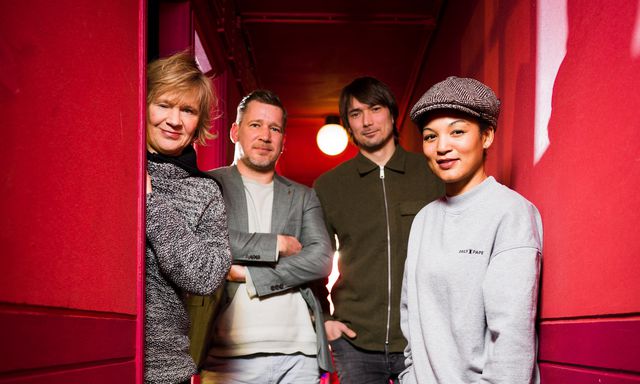 Read this interview with Jibbe Willems, among others: The playwright has been neglected
Jibbe Willems (44) is not only one of the most prolific playwrights in the Netherlands, but also one of the most versatile. The beautifully designed collection (almost 700 pages, with hard cover and ribbon!) proves this. You cannot hide by closing your eyes – in short: 'De Dikke Jibbe' – containing 14 stage texts that Willems wrote between 2005 and 2020 . In total he wrote 90 pieces during that period. His oeuvre spans the entire evening for renowned theater companies, short monologues, librettos and youth theatre. For the text of the six-plus performance Jabber, Willems received a Golden Cricket in 2019, the most important prize in youth theatre.
Jibbe Willems Photo Stephan Vanfleteren
Willems is a writer who cannot be caught on a signature: for each work he searches for a different form and gives his characters a completely different language. He dares to go far: in several pieces he even constructed a completely fictional language. In Eindland, in which two characters re-explore the world after an apocalypse, it is archaic and poetic: stars are 'silver dots' and nonsense is 'mess!'. For Kaapdiegoeiekoop Willems devised a 'neo-colonial language' for the protagonist: a mixture of Papiamentu, Sranantongo and Afrikaans ('vlme skroeie i mi nek, blood i mi bek') and the cheerful Jabber has a Koeterwaals mix with fragments of all kinds of foreign .
Hunter or prey
The collection opens with the diptych TestosterTony and Lola – two short, sensual works about the sexual drive, in which Willems wonders who is the hunter and who is the prey. He presents two men who compete for a woman: first in language, then in (the) deed and finally in an effective fight. The bidding ruff behavior is as appetizing as it is disgusting, flawlessly reflecting the interdependence of husband and wife. Willems poured the shameless desires of his characters into a rhythmic dialogue, completely in rhyme, creating a fascinating contrast between the aesthetic language construct of his characters and their instinctive, voluptuous motives.
What stands out in several pieces is the sensuality that Willems imparts to his characters: through a rich palette of scents, flavors and detailed images, he often works towards unexpectedly poetic observations. For example, in the very short monodrama Spit, written in 2020 in response to the first corona outbreak, in which a young woman craves saliva, snot and sperm – in other words: "someone to hide in" with everything she has in her. .
He also looks for extremes in form. The Truth About Kate is a drama text disguised as a documentary, including voice-over. The life of a pop star is reconstructed from different perspectives, in a frantic attempt to explain her sudden death. Various people eagerly share their version of Kate's life: her mother, a pop journalist, her ex-husband. There's a commercial and a bad talk show in which childhood friends rant about Kate's childhood. That form is exemplary: slightly sensational and above all unboundedly subjective. What eventually happened to Kate remains unclear, but doesn't stop the speculative masses from formulating their own truths. Jibbe Willems shows that people who talk about others give away a lot about themselves.
orphaned wandering
Where the flat land begins to fold is also wonderful: tranquil road trip theater about returning to your home. A boy drives with his pregnant girlfriend from Berlin to Heerlen, where he was born and raised and where his mother is dying, a place he tried so carefully to leave. His play The Polish Bride (after the film of the same name) is again very prosaic in the way in which the characters explicitly name their own actions and thoughts.
These are theater texts that remain excellent as reading text, but that does not apply to all works included in the collection. Texts such as Amusement Park (sinister youth theater about the urge for violence), Oscar and his mother (about the love-hate relationship between parent and child) and Onvrouw (a group of women encounter a helpless pile of human beings: the man) remain very straightforward on paper. Willems sometimes tends to lapse too much into literality, and that takes its revenge in these pieces.
It is the pieces in which Willems uses form and language in a creative and idiosyncratic way that makes this collection attractive for theater and language lovers. He reflects on radicalising youth (Age of Rage), fake news (The Truth About Kate), colonialism (Kaapdiegoeiekoop) and corona (Spuug), but usually stays away from literal current events. His themes are therefore universal and timeless: yearning, drive, characters who wander around orphaned and want to be protected by someone else. With humor and compassion, he observes the toiling human being, who likes to close his eyes but does not escape himself and the world around him.
Newsletter NRC Cultuurgids
What should you see, hear or listen to this week? Our editors review and tip
A version of this article also appeared in NRC on the morning of December 16, 2021
---