Monday, November 29, was a day that Richa Ojha's whole family had been looking forward to for a long time. Cheerful and in good spirits, she dropped her two sons off at school after no less than 21 months of home education. But three days later, Rudsranch (7) and Reyansh (4) were back at home behind their screens.
Until now, the children were not able to go to school for one full week in December. The flashing light policy is the result of the struggle of the New Delhi city government, which is confronted not only with corona, but also with dangerously poor air quality. "Hoorndol" becomes Ohja – she decided to stay home for the online classes after moving in corona time.
In the winter months, weather conditions and air pollution create a toxic blanket over Delhi. Besides the usual exhaust fumes from traffic, there is extra pollution from the rice farmers in the surrounding districts who burn their crops during this season, and then there is also the extra pollution from the fireworks during the festival of lights Diwali. Both fell in November this year. The month went down in the books as the worst ever measured by the Central Monitor (CPCB) of the Ministry of the Environment. On eleven days, the air quality meters measured 'very serious', whereby healthy people can also suffer from the concentration immediately. fine dust particles in the air.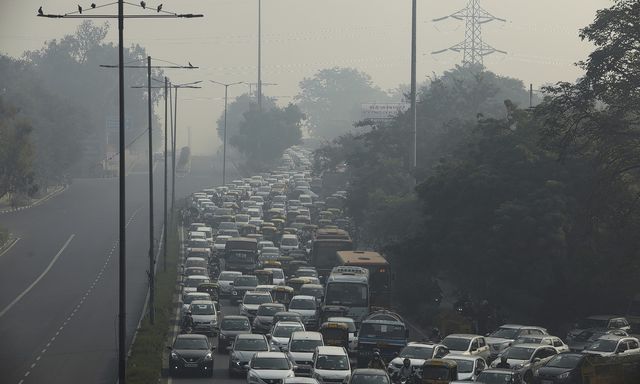 Also view this photo series: Exhaust fumes, factory emissions and smoke envelop New Delhi in a thick layer of smog
After that spike in air pollution, schools and colleges could reopen at the end of November, the city government said. But on December 2, the Supreme Court, which is hearing a long-running petition on air pollution policies, was highly critical of it. The city council was given 24 hours to take new measures and promptly decided to close the school again.
The daughter of dentist Pooja Bahl also has lessons at home again, she says on the phone. It's Friday evening, 12-year-old Isha can leave her homework for what it is. "My practice is at home, so I can drop in a few times during the day. But I don't wholeheartedly, check if she's paying attention online. I had hoped I wouldn't have to do that again."
For almost two years now
Many parents in Delhi are very concerned about the consequences of long-term online learning. Education in India was closed in March last year due to corona. Some children who started kindergarten then have never physically met their very first teacher. Richa Ojha's youngest son has just reached school age, but "Reyansh now does not understand what 'going to school' is, everything is done through a screen. While at his age it is important to do social things outside the home. And my oldest son misses his friends from class."
Ojha and Bahl are among the wealthy Indians who send their children to private schools and try to help with homework. But UN Children's Fund UNICEF calculated that only 60 percent of all students in India have the resources for digital education. The country had about 268 million school-age children before the pandemic; tens of millions of students therefore had to make do with only textbooks. In September, when the coronavirus was still the reason for the closure, Unicef research into emerging learning disadvantages. 76 percent of parents noticed that their young children (ages 5-13) seemed to be learning less; among the teenagers who answered themselves, this was 80 percent.
Closure of public schools in Delhi due to the pandemic would cause the dropout of some 30 percent of students, established a national parent council recently. Students who were unable to participate in the digital lessons would not have returned upon reopening. The organization warns against the isolation of children. Social inequality, child labor and exploitation may increase: "We must not lose sight of the fact that school is a safe place for many students."
But is school also a healthy place? Richa thinks that "the air at home or in the classroom is equally good or bad." She doesn't have any extra precautions in her house. Sound on Twitter, under the hashtag #Backtoschool, also other sounds. There, parents point out that some private schools have many air filters, but that public authorities often cannot take such measures. "downright sad"said one parent.
Structural approach
It is difficult to talk about air quality in specific places, especially when it comes to different home situations, responds Anumita Roychowdhury of the Center for Science and Environment (CSE), which conducts many studies into air pollution in the capital. She sympathizes with 'the dilemma' for parents: 'Children are vulnerable, their lungs are not that strong yet. They should be exposed to the pollution as little as possible. But that doesn't mean they have to stay at home."
In previous years too, temporary 'pollution lockdowns' or holidays were extended so that children could stay indoors during the worst pollution. But because of the recent ad hoc decisions, parents are running out of patience, thinks Roychowdhury. After the 'pandemic lockdown', parents want their children's lives to be easier again. "We could now give parents the choice. The students who come stay in the classroom and there are no outdoor activities. Due to corona guidelines, they must wear a mouth cap anyway."
Read also Flights from sepia colored permanent smokehouse Delhi
The CSE's main criticism: Occasional school closures do not change the actual problem. Roychowdhury advocates a structural approach. "We cannot change the weather. But local authorities can impose strict restrictions on polluting vehicles, the use of coal, or waste incineration. One should try to reduce pollution all year round, and not just take action when the meters go out in winter."
No end date was given for the school closure. After two weeks of tug-of-war, there was hopeful news for parents on Tuesday: the Department of Education in New Delhi states the immediate reopening of education for teenagers and students, and for the youngest from Monday. Ojha reckons that this caution will continue. "Now we also have the new corona variant," she sighs on the phone. "I can already see that it will be the next reason for another closure."
A version of this article also appeared in NRC in the morning of December 15, 2021
---