What would Prof. P. Akkermans have said in 2021? In the famous sketch by Van Kooten and De Bie from October 1989, he is the media and power-hungry expert who wants nothing more than a place in the new cabinet – at that moment the formation of Lubbers III is in progress in the real world. "I was not polled directly, but the name is mentioned", says the character played by Van Kooten, in the hope that his name will indeed circulate.
Apparently that was the atmosphere at the time: Lubbers only had to open the newspapers to read who did not want to be in his new cabinet. "You don't see that eagerness now," says political historian Anne Bos, after quoting the Akkermans sketch. Well, maybe with Ernst Kuipers, the chief coordinator of hospital capacity in the corona crisis. "If they ask me to become a minister, I would definitely consider it", said Kuipers in August this year.
But according to Bos, the 'Akkermans effect', as it was also called in 1989, is less strong than it was then. "These days there is a high risk of harm to the ministry," says Bos, who is affiliated with the Center for Parliamentary History. "The times when cabinets could fall back on broad majorities seem to be over and that means the popularity of the office is also declining."
Moreover, since Rutte III, the aura around it has deteriorated further: of the 24 ministers (ministers and state secretaries) who took office in October 2017, no fewer than 12 have resigned – that is without the shifts that also took place within the cabinet.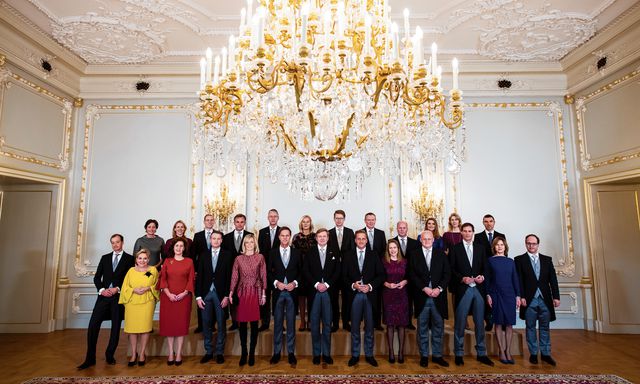 Also read: Changed, dropped out or left: always musical chairs at Rutte III
Bad advertising
Several ministers got burned out due to the high workload, others got into trouble because of tough dossiers, such as the Allowances affair or the chaotic evacuation from Afghanistan. Remarkably many prominent politicians, such as former VVD crown prince Klaas Dijkhoff and Wouter Koolmees (D66) – minister in Rutte III, now informateur – openly declare that they are leaving politics because they find it difficult to combine with their private life or simply no longer enjoy it. to experience. With so much bad advertising, who still wants to sit in a possible Rutte IV cabinet?
Hans Hillen, Minister of Defense on behalf of the CDA in the first Rutte cabinet (2010-2012), speaks of an increased 'burning risk'. He points in particular to the dynamics of (social) media – 'the communication revolution' – as a result of which ministers are constantly under fire. Hillen: "You used to swear in the car so that no one heard that you were swearing and then it was done. Nowadays you immediately send out a tweet when you are angry." Of course, Hillen says, there were also collisions ten or twenty years ago, but not every day, all the time. "There was more gradualness in discussions. There was more respect. People counted to ten before shouting."
Parties are shrinking and with it the training framework that was always there

Anne Bos, political historian
"The ministry was always known as a dog job, but an honorable dog job," says a former minister under Rutte who does not want his name in the newspaper. "It has indeed become more unattractive. They will find enough people to do it, but the people you really want will in many cases say 'no'."
Anne Bos thinks that the strongly increased emphasis on individual happiness in life has not made the ministry more popular. The historian is currently reading the biography of KVP member Pierre Lardinois, who was Minister of Agriculture in the 1960s. "Well, that man was never home, not even on Sundays to cut the meat, so to speak. You can see a cultural difference with the present time."
Rutte has always prided himself on the fact that his cabinets were relatively small, which fitted in well with his liberal pursuit of a small government. Ministers must alwaysjust a little too busy", he said in 2015. Due to all the failures in recent years, he has changed his mind. The new cabinet is said to have twenty ministers and ten state secretaries, significantly more than in Rutte's previous cabinets.
A hint of old politics
This may have alleviated some concerns about work pressure, but there are a lot of other concerns. The upcoming cabinet starts with bad cards. It already starts with the hint of old politics that hangs over it: the same four coalition parties led by, probably, the same prime minister, Mark Rutte, who has also been at the helm for more than ten years. While it is precisely now that the call for a new management culture is being heard loudly. Rutte recently expressed the hope at the VVD congress that the new cabinet will also get "new impetus". At least half of the new cabinet will consist of women, it is promised. Historian Bos: "A new culture starts with new people."
Also read this analysis about the upcoming cabinet: Rutte IV must form a break with the past. But Rutte III's crisis of confidence is not over yet
According to Bos, the fragmentation of the political landscape also hinders the recruitment of ministers and other policymakers in general. "Parties are shrinking and with it the training framework that has always been there: the reservoir of aldermen, mayors and other local politicians. That pond has now become smaller."
Moreover, the risk of harm in local politics has also increased. Due to the strong movement towards decentralization, local administrators have been given much more responsibilities. "But not always the corresponding money," says Bos. "And if you fail as an alderman, you are finished in The Hague."
Hillen is concerned about the current atmosphere. When composing a cabinet, he says, you can roughly choose from two types of people: hawks and doves. "You can always get the hawks. They just really want to. But what you no longer get in the current climate are the thoughtful administrators, because they know that they will be flared immediately. The kind of people who want to be ministers will be different from the wise people everyone always says they want."
Also read: The game for the posts and the dolls
Newsletter NRC The Hague Mood
Follow the formation closely and become an initiate in The Hague yourself
---