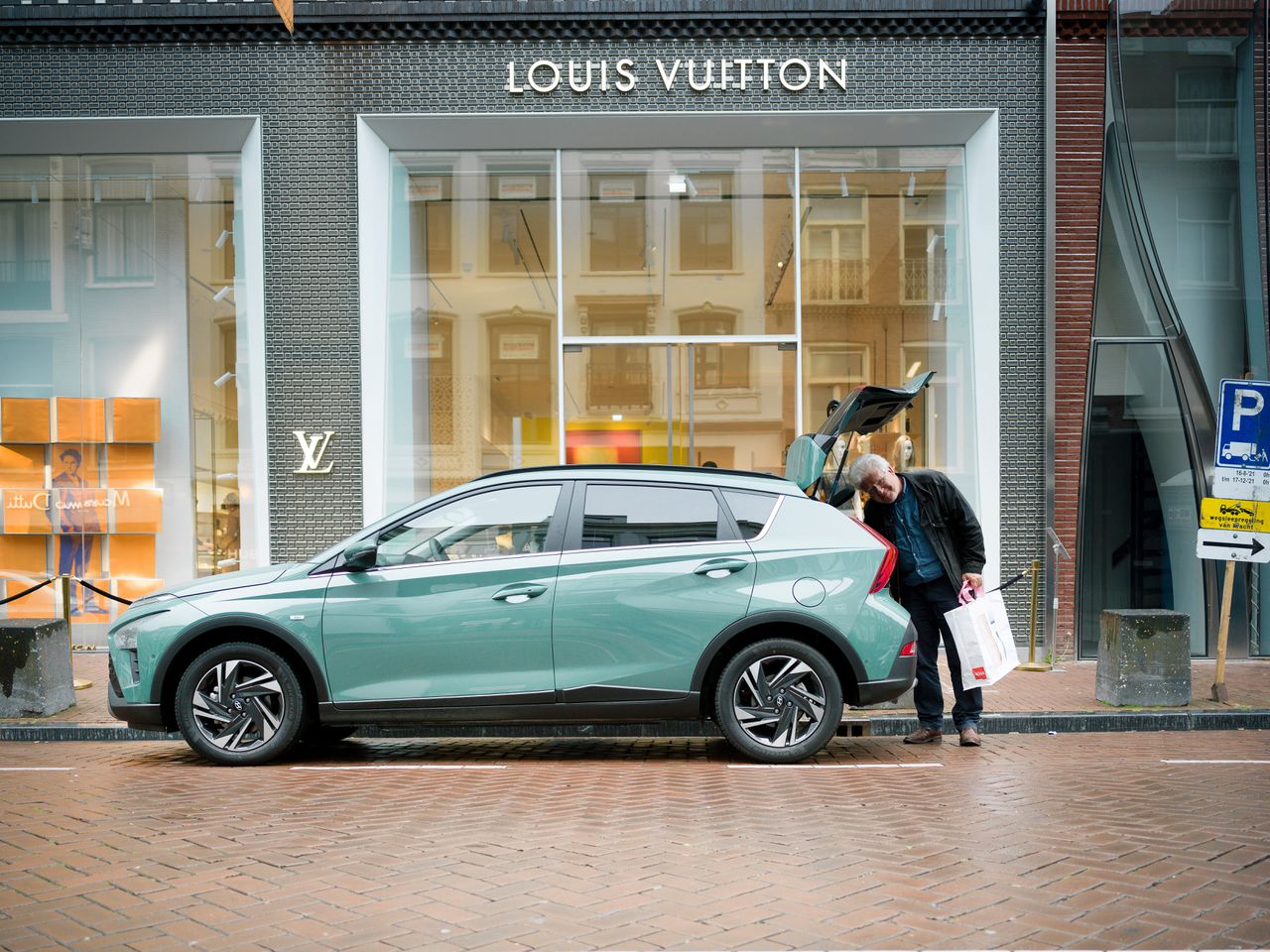 Hyundai gave birth to three children last year. Their unequal struggle was Darwinian. The first two, big and strong, were on everyone's lips. The Tucson with his piercing facet eyes did what is expected of an SUV, impress. The electric Ioniq 5, in Bauhaus outfit, entered the arena of good taste that had remained closed to Hyundai until then. The brand became premium. Qualitatively it was already that, but now you saw it too.
Hyundai's third pitch, the smallest and most affordable, fell a bit pitifully between two stools, as is the case with brave souls without big mouths – although its mouth-like grille does suggest some assertiveness. The youngster couldn't show off 800-volt charging technology, tilting lounge chairs in the front or futuristic insect eyes. With what then? Not with that sweetly humming three-cylinder, not with its size, which is adequate for four passengers, but outwardly modest. Not with the predictably contrarian LED fantasies in the lights at the front and rear, dash here and bend there – everyone has design. It wasn't even electric and what Hyundai dares to call mild-hybrid seemed very mild. The 48-volt technology to which the logos on the flanks refer gave some extra pep when accelerating, nothing more. It was just a little car for ordinary people, and the ordinary person sees no one. What is the people? An instrument for demagogues, cannon fodder, working capital of John de Mol – otherwise an unsaleable tragedy. It has no money, no glamour, no utopian urgency.
Tom Thumb
Before I forget, the child's name was Bayon and he was like the underdog in a fairy tale where no one saw his secret gifts, Little Thumb. That is precisely why I liked to get to know you, because I have a thing for lost souls. There was an immediate click. He actually looked the nicest. In its somewhat dachshund-like crossover shape, of which you immediately saw the usefulness from the remarkably spacious rear seat, it was reminiscent of a sweet little train compartment. Hyundai's house Corneille had mixed beautiful colors for it, bright blue and dragon red, even green. The nostalgic uni color of my test car with its sixties associations was to steal. But what really won me over was the wheel size. Correct: not the design but the average. My Bayon, the most expensive model, was on sixteen-inch wheels with ordinary tires. From those old-fashioned high, slightly protruding cheeks that you dare to park along the street in parking bays where you do not under any circumstances expose the fashionable but damage-prone pan lids of larger Hyundai youngsters. I almost always have the nerves in the city in test cars; not in this one. No light show can compete with that ease of use. There is a lesson in these wheels. They didn't want to shine with the Bayon. People wanted to act wisely. You have been thought of. How rare is that service. While outside in the world of talk shows and social media everything rages, threatens and condemns, the Bayon humbly keeps pace with the sense that we hautainly contest each other.
Hyundai makes 120 for the automatic transmission, but the manual Bayon has 100 hp, a psychological lower limit for those who hope to count. They decided to find enough enough. An unfashionable but wise decision. You never feel the three-cylinder getting out of breath. He grunts with satisfaction and can do with little. Consumption averages of 1 in 19 are normal, and those who handle it with velvety hands are rewarded with 1 in 24. This means that the car does not become a whirlpool for the household budget, even at current petrol prices.
He only does expensive behind the front door, where the top model has a very decent Bose sound system, a laundry list of active safety systems and a 10.25-inch screen with Apple CarPlay and Android Auto. The wireless phone charger is standard from the Comfort variant of 23,695 euros. That is not dirt cheap, but for a car with such equipment and that consumption, the prices are reasonable. For just under 30,000 euros, the most expensive Bayon with a seven-speed automatic transmission and sliding roof is an interesting alternative to larger and more expensive cars whose length and width are just in the way. Budget drivers can switch to the base model for twenty-one and a bit with air conditioning, ABS, power windows and the same consumption as my top model. The Bayon may be a boring fairytale, but at least it ends well.
Hyundai Bayon iMT6 Premium

Motor three-cylinder petrol, turbo, 998 cc
Power 100 hp at 4,500 rpm
Couple 171 Nm at 1,500 rpm
Drive for
Transmission manual, six-speed
top speed 183 km/h
Acceleration 0 – 100 10.7 seconds
Average consumption 5.2 l/100 km (manufacturer's specification)
CO2-emissions 121 g/km
Energy label B
base price 20.195 euro
Price test car 26.702 euro
A version of this article also appeared in NRC Handelsblad on 11 December 2021 A version of this article also appeared in NRC in the morning of 11 December 2021
---