Netflix has some good news for Outer Banks (2020– ) fans. The Pogues return for another season! The streaming service announces that the popular crime series can continue with season 3.
In a video on Netflix's social media channels, we hear Chase Stokes (who plays John B in the series) shouting that he has an announcement: "Season 3, Baby! Let's Go". The rest of the cast celebrates the good news with him. "Back like we never left," said Madison Bailey (Kiara).
Season 2 of the hit series saw the close-knit group of local teens deal with the deaths of their friends after a treasure hunt goes awry. However, John B (Stokes) and Sarah (Cline) are on the run in the Bahamas and back on the trail of gold, while the stakes for the rest of the Pogues at home quickly escalate. A staggering $400 million is at stake when a newfound secret reunites the group for a new mission.
Season 3 plot details are yet to be revealed, only that Carlacia Grant (who plays Cleo) has now been promoted to a regular cast member. It is also unclear when the recordings will start. Hopefully we can welcome Season 3 of Outer Banks to Netflix soon. Season 1 and 2 are now available on the streaming service.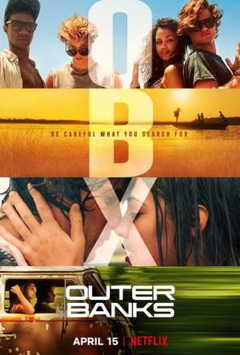 7.6 Watch on Netflix • 'Outer Banks' is a growing up story that follows a tight-knit group of teenagers (the Pogues) in coastal North Carolina.
Beeld: Still 'Outer Banks' via Netflix / Jackson Lee Davis
.
---