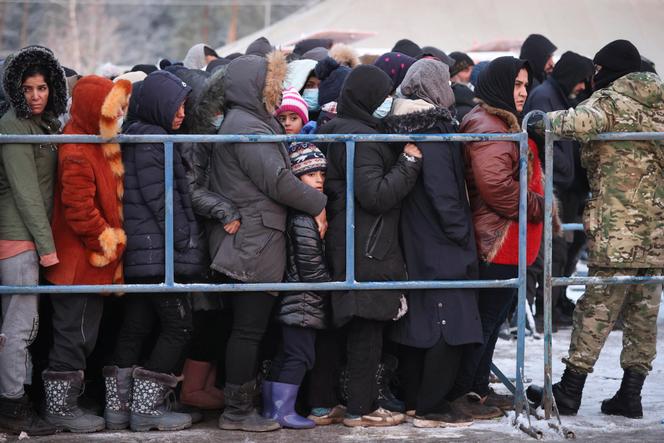 Thousands of migrants, mainly from the Middle East, are massed on the border between Poland and Belarus. OKSANA MANCHUK / AP
Belarus announced Tuesday, December 7, to ban food imports from several Western countries, in retaliation for new economic sanctions against Minsk, which is accused of fueling a vast migration crisis on the Polish-Belarusian border by issuing visas to refugees and sending them there.
A range of food products including fruits, vegetables, meat and dairy products from the European Union (EU), Canada, USA, UK and other European countries will now be banned from importation.
"Retaliatory measures have been taken taking into account the permanent attempts of the West to collectively exert illegal pressure with sanctions against our country," the Belarusian government wrote in a statement. The embargo will begin on January 1, 2022 and will be in place for six months, he said.
Also according to the government, Belarus, an agricultural country, imported more than 530 million dollars of these products in the first ten months of 2021.
Read also Article reserved for our subscribers Against Europe, the migratory weapon of authoritarian regimes
Heavy western sanctions
Some goods, such as baby food, will not be affected, the government said, so as not to harm the "interests" of Belarusians. "Importers, manufacturers and distributors will endeavor to replace products not made in Belarus with goods from friendly countries," the authorities added.
Since the crackdown on the opposition denouncing the contested re-election of President Alexander Lukashenko in 2020, the West has punished Minsk by imposing heavy sanctions against companies and regime officials.
Read also Article reserved for our subscribers Belarus: in Lukashenko's trap, Syrian migrants ready to do anything to enter Europe
Last week, the United States, the United Kingdom, the European Union and Canada further widened these sanctions to protest the recent migration crisis on the borders between Belarus and the EU. Minsk is accused of having encouraged thousands of migrants from the Middle East to enter the EU illegally – notably via Poland, but also via Lithuania – in order to destabilize it. Alexander Lukashenko strongly denies and has received the support of Moscow, his main ally.
Since 2014, Russia itself has stopped importing Western food products in protest against Western sanctions taken after Moscow's annexation of Ukraine's Crimean peninsula.
Our selection of articles on the migrant crisis on the border between Belarus and Poland
---