A relic that would have belonged to the bishop of Myra – better known as Sint-Nicolaas – was placed in the Sint-Nicolaaskerk in Amsterdam on Sunday. At the request of the basilica, the piece of bone was donated by the Egmond Saint Adelbert Abbey, which had owned it for more than a thousand years. The interment of the relic heralds the Nicholas Year, which the church has created to draw attention to the stories of the patron saint of Amsterdam through various activities.
It cannot be determined whether the bone, which was placed in a glass cabinet during a ceremony, actually belongs to Sint-Nicolaas. A pathologist examined a piece of bone from a human being more than a thousand years old. It is probably a jaw or shoulder blade. Pastors at St. Nicholas' Church emphasized the patron saint's "merciful" stories during the service. Due to the corona measures, 100 interested parties were able to access the service, which was broadcast via the YouTube channel Nicholas TV could be followed live.
According to tradition, Saint Nicholas, who canonized in 550, comes from a wealthy Greek family. In the fourth century he became bishop of Myra, present-day Demre in southern Turkey. In 1087 the bones of Saint Nicholas are said to have been taken from his grave and brought to the west by sailors. They feared that Muslims in the area would destroy the tomb. Most of the bones ended up in Bari, Italy, but the veneration of Saint Nicholas expanded further and further across Europe in the following period. That is how they ended up at the Abbey of Egmond, which, in addition to the donated relic, also has three relics of Saint Nicholas in its possession. The Turkish Ministry of Culture did in 2012 an attempt to get the relics back to Turkey.
generosity
Since the Middle Ages, property and physical remains of Catholic saints have been collected, exhibited and venerated as relics. These relics attracted many pilgrims, creating a lively trade in them. This led to many relics that were wrongly attributed to some saints. The University of Oxford already established in 2017 that relics from Bari and Venice may "possibly" be of Saint Nicholas.
Over the years, Saint Nicholas's generosity has made him the main character in many legends, including the Sinterklaas feast. In a well-known legend, he saved three poor man's daughters from prostitution by paying their dowry. Bishop Jan Hendriks emphasized during the service that "Sint has withstood the secularization and is part of our folk culture. There is discussion about the skin color of his servant, but Sint himself is above discussion," said Bishop Hendriks.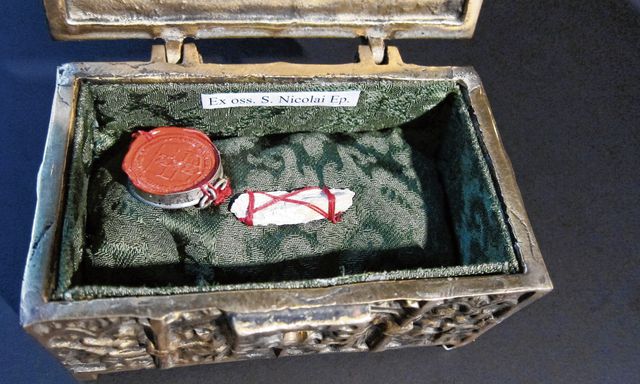 Also read: Surprise for Amsterdam – from Egmond.
---