From the age of 12, Neus Ballús (Mollet del Vallès, Barcelona, ​​41 years old) lived with his mother's partner, who worked as a plumber. This occupation, apparently anodyne, allowed him to penetrate into everyday life in an extraordinary way. Each day, the door of a different house was unlocked. From rich and poor, old and young, doctors, waiters, workers, immigrants, lawyers. "In this way, I could see the human diversity of our society, also its prejudices," the filmmaker explains over the phone. That effervescent idea of ​​polyphonic intimacy that is hidden when the curtains are drawn marked the starting point of a film that began to take shape six years ago. The story of a normal job, done with normal people.
Six days (Six days) follow the adventures of some plumbers on the outskirts of Barcelona. They are Mohamed, Valero and Pep, three actors who in real life are called Mohamed, Valero and Pep and are also plumbers. Ballús selected them from among a thousand candidates and then prepared them for two years "in weekly or fortnightly meetings." The objective was to "free them from fear" —a logical feeling in any amateur who stands in front of a camera— "so that they would be freer and could take risks. So that they could go further ". With them he shot up to 70 hours of footage that ended up being reduced to 90 minutes, which condenses one of the many possible stories. "I consider myself an editor," says the author. "I build the movies in the editing room."
From the improvisation of the protagonists, Ballús began to braid a narrative where humor prevails that is born from the often absurd situations of everyday life. Without clear references when it comes to approaching a film with realistic and at the same time comic aspirations, Ballús was not sure whether she had found the ingredients for the potion. The laughter that broke out in the Locarno Festival hall, where the first public screening was held in August, convinced her that she was not wrong. The award equally The best actor that Mohamed Mellali and Valero Escolar won in the Swiss competition ended up confirming their hunches, which were awarded at the Seminci in Valladolid, where the film received the Silver Spike and the Audience Award in October. "I have the unproven theory that 95% of the population could be good protagonists of a story," he says. "But only one: the one that would tell something similar to who we are."
The film is presented as a hybrid work, an experiment halfway between fiction and documentary. In this genre the director was trained, who had also tried this mixture in her acclaimed The plague (2013). "It is a risky and different cinema on a formal level", reflects Ballús, who recognizes that, at the beginning of a project of these characteristics, it is impossible to imagine what the final result will look like. "A look so open to reality forces you to be flexible," he abounds, "although there is also an internal motivation that you don't have to lose sight of." His aim was to "make visible" the profession of plumber and with it lives that often go unnoticed. "I wanted to give a voice, explain other realities," he says. "Share the power that narration gives you."
The Barcelona director Neus Ballús, last October at the Seminci in Valladolid. Juan Naharro Gimenez (Getty Images)
Over the course of six days, the film gets into a few other people's homes by the hand of the newcomer Moha, a Moroccan immigrant; the worker about to retire, Pep; and the one who stays in the company with the new partner, Valero. This is not a simple (but satisfactory) exercise in voyeurism, but rather themes that give depth to the narrative emerge from these incursions. There are Valero's prejudices, Moha's desire for integration, the unexpected shocks that Pep's calm character kept. They themselves, as well as the melting pot of characters that they meet on their outings, recreate a sample of the multiculturalism of Barcelona, ​​where Catalan, Spanish and even Berber are spoken at the same time. "I wanted to represent well the society that we are," says the director. "In Catalonia there is much talk about coexistence, and our linguistic coexistence greatly enriches who we are."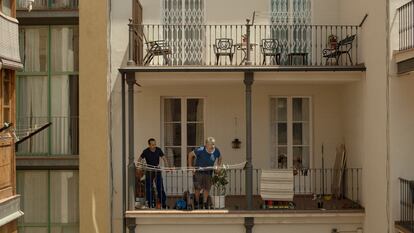 A still from 'Six Running Days'.
The eloquent silences and the revealing ellipsis could well be considered another of the film's languages. "I like that the viewer does not know everything, that he has to complete the story, that he is active," says the author. "That is more like life, where you don't know how things are going to end." In his, indeed, the projects to come have yet to be defined. "I'm writing, but there is nothing with the entity of a film," he acknowledges. "What I know is that I like to take risks, that I don't like repeating formulas, that I want to learn."
The filmmaking practice itself has served as a school for him, one that he didn't even know he would attend. "As a teenager I was interested in many things, but not the cinema. I never dreamed of being a filmmaker. I studied audiovisuals to learn another language, because I liked to write ", he confesses. "Suddenly, I became a filmmaker making films, documentaries with what was around me. And there I found my voice ".
'Six days in a row'. Neus Ballús. Theatrical release on December 3.
You can follow BABELIA in Facebook and Twitter, or sign up here to receive our weekly newsletter.
Sign in to continue reading
Just by having an account you can read this article, it's free
Thanks for reading EL PAÍS
---