After seeing the strong 101 trailer, Chorus has my full attention. And he managed to keep the game from beginning to end.
For me, Chorus comes out of nowhere. That is not surprising, because although developer Fishlabs has been active for more than 17 years, it has mainly worked on Android and iOS games. Recently, this German studio gained experience with a series of Switch ports, including its own development in the form of Manticore: Galaxy of Fire. The Galaxy of Fire series is actually the prelude to Chorus. With each installment in the Galaxy of Fire series, Fishlabs learned more about building a believable world and what actually makes the space combat in their shooters fun.
Chorus is their first true multiplatform game, including the Xbox One and Series consoles. The fact that Fishlabs is leaving the mobile platforms for what they are is very good news in my opinion. Firstly because I hope we'll see a lot of them on Xbox and secondly because games released on both console and mobile platforms usually don't turn out well. Fishlabs knows how to surprise with a game in which a lot of love has clearly been put into it. This is, for example, in the well-developed story in which the troubled Nara together with her inspired hunter Forsaken make the universe unsafe. Or make it safe, should they be able to mend the breach of trust that has arisen between them.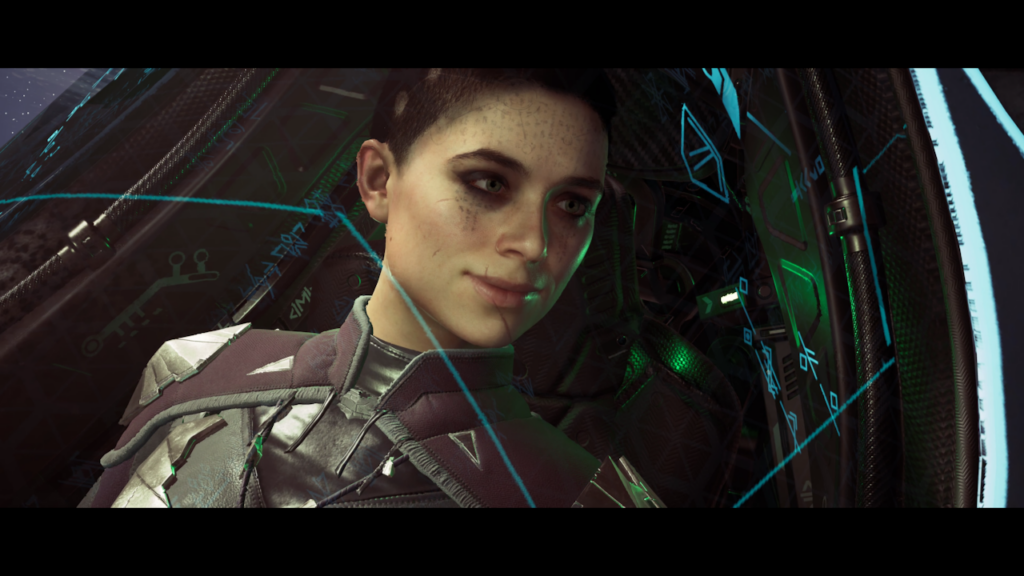 soul mates
That love that Fishlabs put into it is also reflected in piloting the brutal one-man space fighter, Forsaken. The degree of control you have with this never ceases to amaze. Take the massive speed changes and the ease with which you change direction. The attraction are the so-called 'rites'. With these supernatural powers you close a gap between you and the opponent in a flash, for example. One of the rites also lets you drift, allowing you to spin around your axis at speed as well. If you master that, you really feel like a boss. Man and machine become one at such moments. And that is exactly what Fishlabs has aimed for with their story.
Nara (aka Nimika's Butcher) and Forsaken form a bond that, as you progress through the story, turns out to be much more than you might think at first. This goes beyond Michael Knight and KITT. The introduction of Forsaken is very well done. It is immediately clear that he and Nara have a past together. That because of that past they hesitate whether they should continue with each other, but also that they rock out completely together. When you team up with Forsaken, the power fantasy that is Chorus really begins. Both characters go through a growth that is woven into the story in a very tasteful way and which I feel is completely in line with the world that Fishlabs has realized.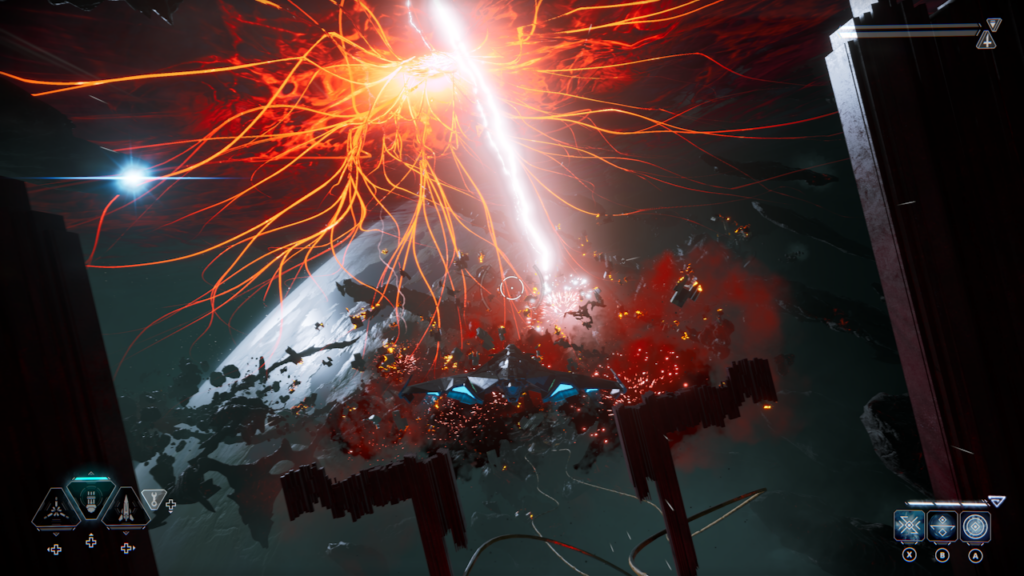 What a kick, what a rush
That is a world in which The Circle rules. The Circle is a religious movement that generally imposes its teachings on humans in less pleasant ways. The sages of The Circle preach about unity and how it can be obtained. Nara and Forsaken have their own ideas about that, or at least begin to form them as you progress through the game. Make sure you keep a good house. After all, Nara did not receive the nickname slaughterer of Nimika as a present. Although Nara is certainly not proud of it. The resistance you encounter in Chorus does not only have religious motives. There are greater threats of an interdimensional nature. During the 12 to 15 hours that you spend with the game, Fishlabs keeps introducing new enemies, each requiring a different approach.
With each confrontation with a new threat, you learn its strengths and weaknesses, allowing you to face them well in the massive battles to come. Maybe too good. With certain bosses you can safely head the various obstacles on your screen. If you put less energy into upgrading your ship and the difficulty of the game increases a bit, the challenge remains a bit bigger. I personally like the power fantasy I wrote about earlier.
There's quite a bit going on during the bigger battles. Fortunately, because color coding has been used, which correspond to the three different weapon types that you have, it is easy to switch. Depending on your upgrades, matching the right color with the right weapon isn't always desirable, but that doesn't bother me. As you pull off the wildest maneuvers with the greatest of ease, you'll find that there's not much to it as long as you keep moving. Especially as Nara's powers increase and you spend your hard-earned money on modifications for Forsaken, there are few situations where you really have to try really hard. You are and feel like a killing machine. That gives you the space to take in the chatter of Forsaken and Nara. Their words of encouragement or the bits of information they come up with add to the thrill you experience.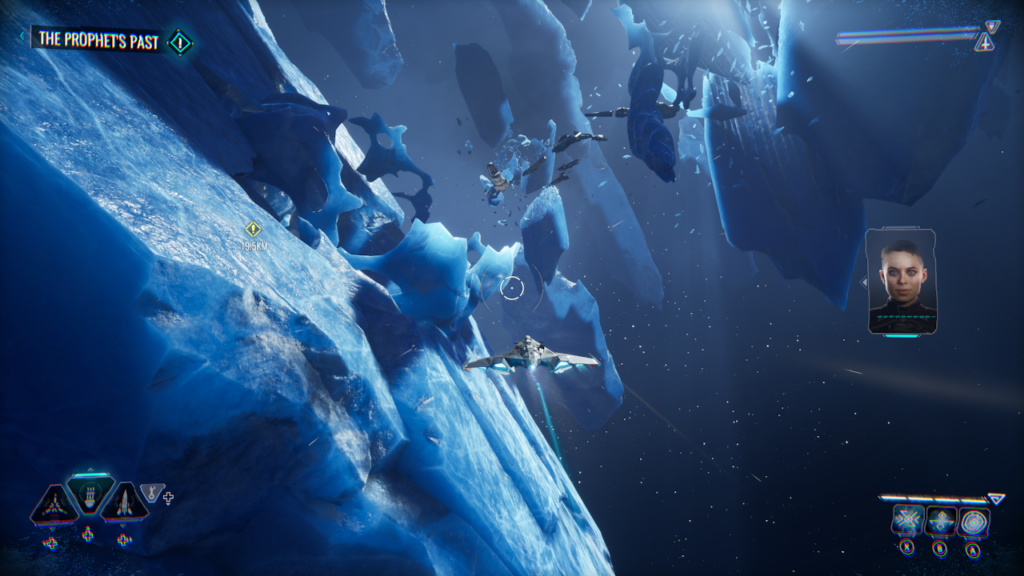 Smooth gameplay, smooth visuals?
And then you suddenly have both feet on the ground again. I encountered three times from start to finish where I had to reload my save file because the image stuck due to a bug. I lost a maximum of 10 minutes of progression, but still. Other than that, the game is technically quite good. On the Series S and X you can count on 60 frames per second. That is really essential for this game. The fast and smooth action really stands out. I haven't been able to find anything about how it performs on the Xbox One, and I haven't experienced that myself. I really hope they manage to hit the 60 frames. On the Series consoles you have the choice of two modes, quality or performance, I prefer the higher frame rate. The quality mode includes ray tracing, which undoubtedly makes the above picture with the blue bodies that much more beautiful.
On the Series X, there have been a handful of times when the framerate dips, but with the exception of the final boss, thankfully not in the heat of the moment. It mainly happened in corridor systems. The use of color, the beautiful skyboxes and the lighting and particle effects, together with a 4K resolution, do make for beautiful pictures. The interface could have been given more attention. Markers are placed on the world map and in your HUD for all your missions, but it is not immediately clear which mission they belong to. Luckily it went pretty quickly. There are a few more things in there that I didn't immediately understand. This way you can scan the world to visualize your goals or hidden goods. There is a difference in functionality if you long or short press the button, which confused me at the beginning.
For example, with mastering certain maneuvers there have been moments when I had to fiddle around for a while before the penny dropped. Once I got the hang of it, I quickly forgot about that initial frustration. Because again, this game feels very nice to play.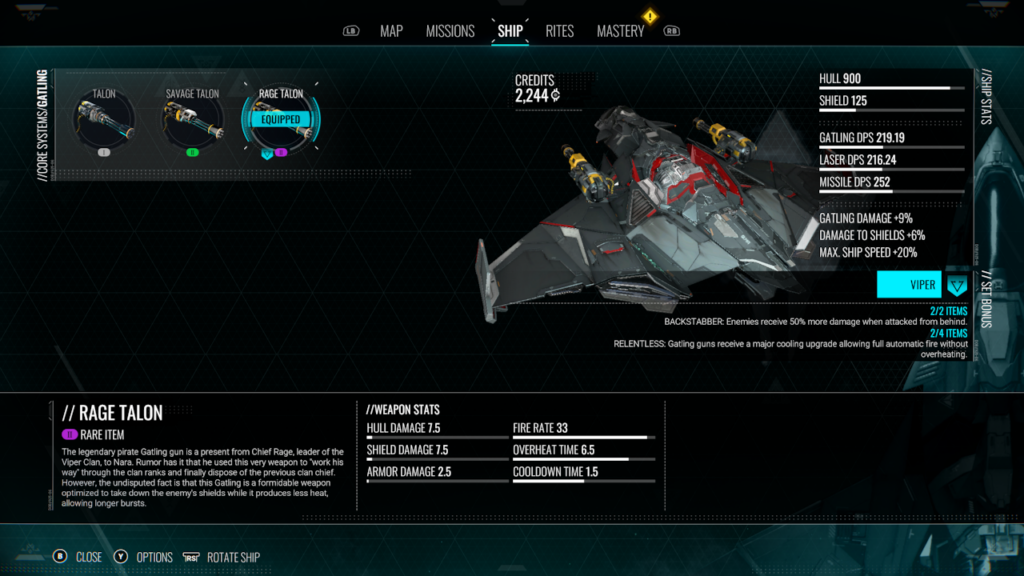 More than the sum of its parts
Chorus is set in open environments where you are basically free to stand and go. You will have to follow the story to reach the next sector in the galaxy, but after that you are free to switch between them. Great escapes, chases, quests, races and battles: no shortage of action. Whether you're in the mood to help castaways, hunt for hidden treasures, or wonder how Nara and Forsaken's relationship is holding up as the story progresses, there's plenty of way off the beaten track to keep the experience fresh. As you explore the worlds, you also come across fragments that add to the story being told. You can compare these fragments with the Echoes you know from The Division.
Fishlabs really went out of their way to make the world feel as believable as possible. Each sector also has its own ambiance, which is achieved with certain color schemes, but also because you link certain twists or developments in the story to a certain zone. I think Fishlabs really succeeded in making the gameplay, story and world a cohesive whole.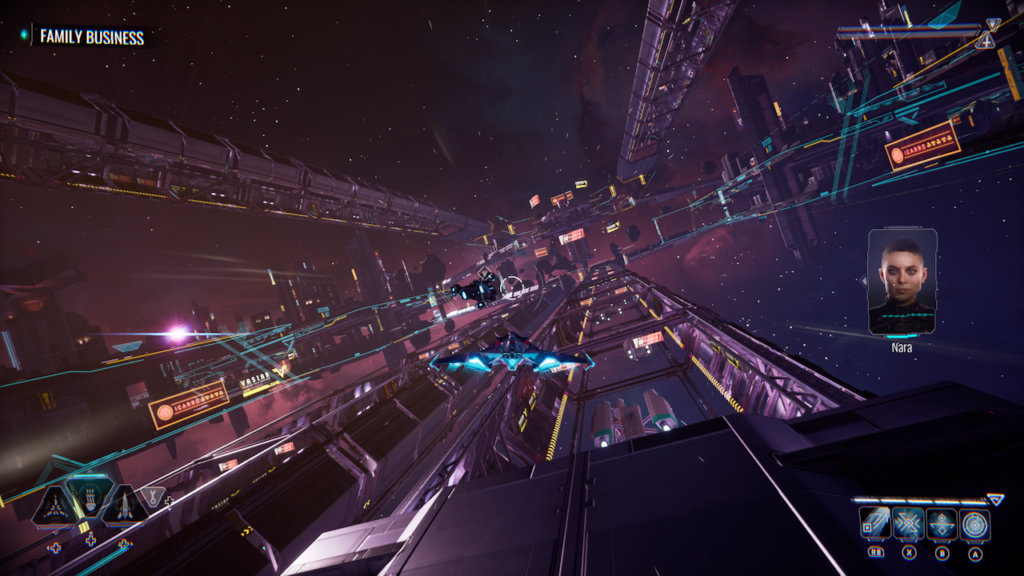 Conclusion
Chorus's Xbox Store page that I visited to share the game's suggested retail price reads: "Chorus strikes a balance between the scale and spectacle of space exploration and frenetic, lightning-fast combat." And I totally agree. Controlling the brutal space fighter Forsaken is the pinnacle of the game. The control is so direct and gives you so much freedom of movement, I found that liberating!
That way you quickly get to grips with the game. On the standard difficulty, the challenge is sometimes hard to find, but luckily you can influence it yourself. For me (you don't expect it) the story really adds something to the gameplay itself. The bond between Nara and Forsaken has fascinated me enormously. It helps that at some point, like Nara, you feel at one with your machine. In a possible sequel I would like to see even wilder scenarios in which you as a pilot are really pushed to the limit. You hear it already. This game leaves you wanting more.
And as far as the suggested retail price is concerned: € 39.99 is on the higher end of what I want to spend for Chorus, but lovers of a Rogue Squadron, for example, I dare to recommend it.
---