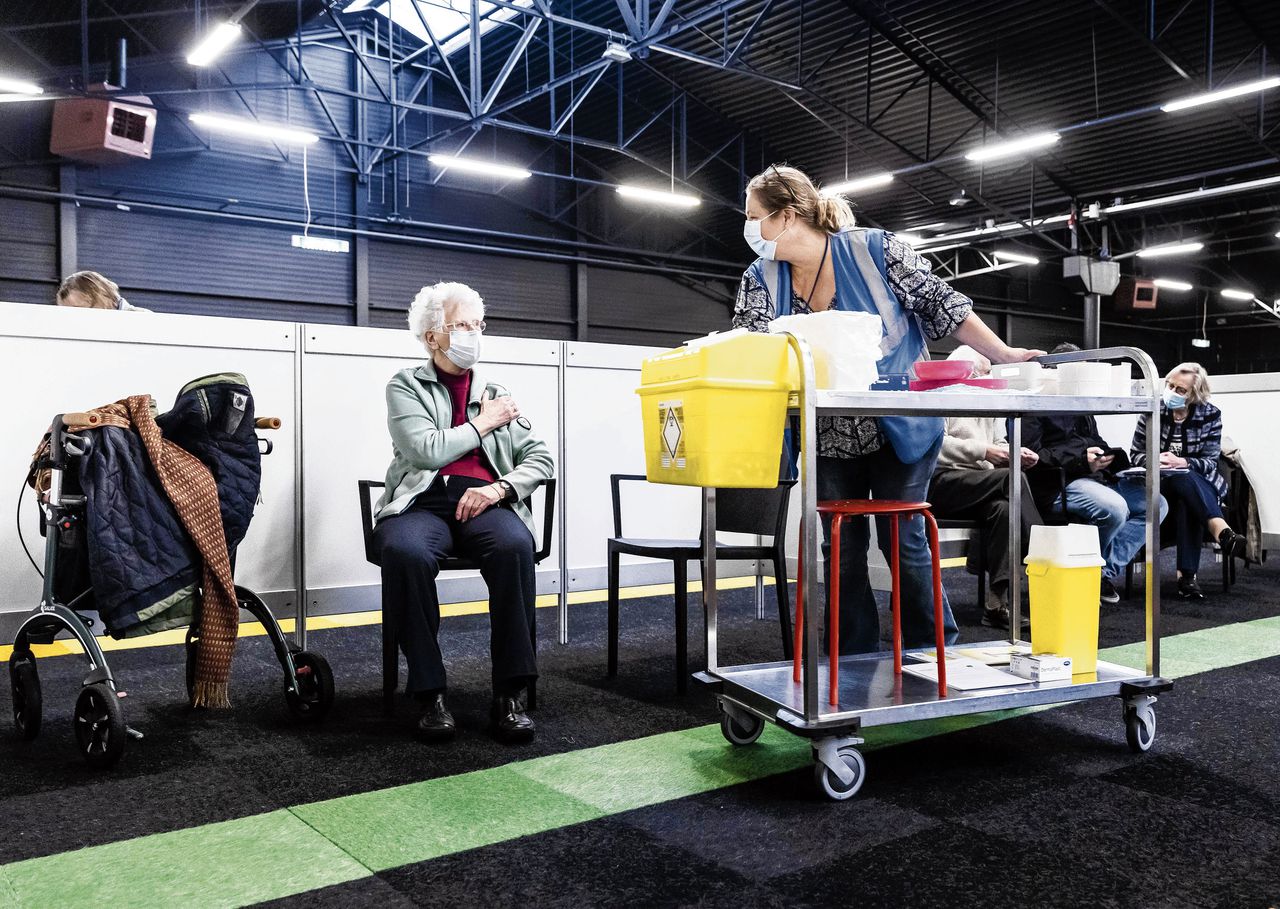 Austria will do it, Germany wants it too, in Greece it will soon apply to all people over 60: the vaccination obligation. And other governments in Europe are thinking about it. The European Commission has also intervened in the debate. President Ursula von der Leyen said this week that she thinks it is "appropriate" to "think about mandatory vaccination within the EU".
And in the Netherlands? It's quiet there. The word 'vaccination obligation' has barely been used in The Hague. In the House of Representatives, it is mainly about '2G': banning unvaccinated people from the catering industry, cultural sector and non-essential services such as amusement parks and tanning salons. Next week, Minister Hugo de Jonge (Public Health, CDA) will send a bill on this to parliament.
What is clear: the House of Representatives does not want to exclude a vaccination obligation. A motion by Forum for Democracy to this effect was rejected on Thursday. Striking: the governing party ChristenUnie, in negotiations about joining a new cabinet, opposed the vaccination obligation in principle in this vote. The other three parties – VVD, CDA, D66 – do not.
It seems only a matter of time before the debate also erupts in the Netherlands about the question: is a vaccination obligation going too far, or is it a necessary weapon in the fight against corona?
Three experts speak.
Marc Bonten Arts microbiologist and OMT member
"A large part of the population has been vaccinated. Despite this, hospitals are becoming overloaded, and the unvaccinated contribute disproportionately to this, especially in ICUs. At the same time, we don't want any more measures. Those things don't go together.
"We will only get out of this crisis if almost the entire population has built up immunity. With the current campaigns, the vaccination rate is increasing by 0.3 percent per week, which is not enough. We need to start talking seriously about measures to raise vaccination rates. Politicians are now avoiding the subjects of the urge to vaccinate and a vaccination obligation.
"If we don't get the vaccination rate up, the consequence is that we have to let all unvaccinated people experience an infection. Many of those people will end up in the hospital and die. We are therefore still stuck with restrictions on freedom for a long time. And there are great interests at stake. Nobody will be happy if the catering industry has to close again until spring, everyone can fill that in themselves.
"The virus is constantly surprising us. We have the new variant, which we have yet to see how well the current vaccines protect. Spring can also deliver us from this – but last year we had the highest peak in April.
"I am not an activist for compulsory vaccination, I just want to make it clear: if we all want to get out of this as quickly and safely as possible, vaccination is the best solution."
Roland Pierik Philosopher of law and member of the health council
"A vaccination obligation is clearer than the 2G policy. With a vaccination obligation, the government says: we think vaccination is so important that you will be fined if you don't do it. A vaccination obligation is also fairer: the government enforces it itself, instead of forcing others, such as the catering industry, to check."
"The alternative to fines? I don't know if there is. You want to make it clear that certain behavior is not desired, there must be a fine in return. How high? I don't know, that needs to be investigated. A fine should have an effect but not make people bankrupt.
"In other countries where compulsory vaccination is seriously considered, the vaccination rate is much lower than in the Netherlands. The need is greater there. But a duty must also be discussed here. The government should not wait until they are forced to take even tougher measures.
"Do more people get vaccinated by such a duty or are they digging their heels in the sand? Hard to predict, you can't get inside people's heads. You will get both. The question is: what is the net effect? Every vaccinated person is one, especially in people who are fifty years of age or older, among whom the unvaccinated are now the bottleneck for IC capacity. If the pressure on hospitals is too great, a vaccination obligation can be justified ethically and legally."
Jos Dute em. professor of health law, Radboud University
"A mandatory vaccination against corona is a far-reaching invasion of our privacy and physical integrity. In the past we have always been hesitant in the Netherlands with regard to compulsory vaccination. Think of the discussions about polio and measles outbreaks in childcare.
"In Belgium a vaccination against polio is mandatory, but not here. Dutch policy has always been to get people to this point through information and persuasion. To keep in touch with them. We attach great importance to the fact that people can live their own lives – even if this poses a problem for other people. There is, of course, a limit to that.
"An important argument against compulsory vaccination is of a practical nature: it must be enforceable. I think that refusers will actually dig their heels further in the sand. For many people it is a matter of principle, even if you also have a group that is simply not well informed. I can imagine that many people will say: I'm just going to pay that fine. Then you miss your target. We must prevent vaccination from becoming a point of contention.
"In any case, it is of great importance to have a good legal basis for such a vaccination obligation, it should not be symbolic legislation. The cabinet will have to demonstrate in advance that the number of vaccinated persons will increase with such an obligation. Well, that won't be easy. My assessment is that you should not overestimate the effect."
Mmv Pim van den Dool
A version of this article also appeared in NRC in the morning of December 4, 2021
---