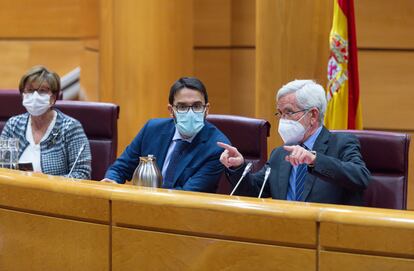 The Secretary of State for Justice, Pablo Zapatero (in the center of the image) in the Senate on November 23. Gustavo Valiente (Europa Press)
The Secretary of State for Justice and number two of the department, Pablo Zapatero, and the secretary general of the Administration of Justice, Borja Vargues, have resigned for personal reasons.
As confirmed by ministry sources, both, who were appointed to their positions by former Justice Minister Juan Carlos Campo, announced their resignation to Justice Minister Pilar Llop days ago, a decision that transcended this Thursday, according to Europa Press and has confirmed this newspaper. The resignation occurs in the midst of the 2030 Justice Plan, which seeks a structural change in the Justice Administration system in Spain, and which has been flagged by both Llop and his predecessor in office.
The sources consulted point out that both are leaving the Ministry headquarters because, after four months since the new minister of the branch was elected by President Pedro Sánchez, a new stage is beginning and it is intended to give a new impetus to the department. They add that the decision that both resign from their position comes by mutual agreement between the minister and these high officials.
The same sources explain that the appointment of the new number two of the Ministry will be taken to the next Council of Ministers.
---