There is the brown leather sofa with the square blocks, which features prominently in a series of Rego's paintings. And there in a corner stands the Scarecrow, he has the same bald bovine skull, coat and white gloves as in the painting Scarecrow and the Pig. And there, the ladder from The Pillowman, with the crossbar that can also be seen in the painting still attached to it.
In the studio of the Portuguese-British Paula Rego you automatically start a search for the figures from her works of art. In a back street in north London, her workshop is hidden behind two non-descript garage doors. Behind it turns out to be a kind of immense dress-up box, loosely organized and with a sinister tinge. 'Madhouse', typified British media her studio.
Her cheating husband turns into a monkey when a woman cuts his tail
One wall is covered to the ceiling with clothes racks full of dresses, jackets and circus-like outfits. Piles of papier-mâché heads with all kinds of facial expressions lie on a rack. Almost bald angels with hollow eyes and black wings hang from the ceiling. Life-sized dolls sit with smaller dolls on their laps, next to them are a stuffed fox and a lamb on a bed of bright green fake grass. Sketches hang on the walls, some are finished, others not yet.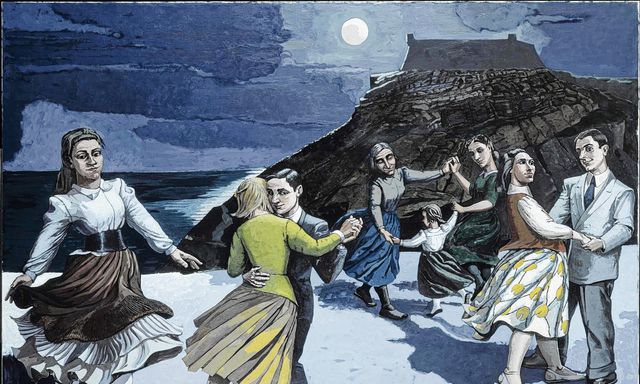 Also read the review of Rago's exhibition in The Hague: Enigmatic but never intimidating
On the occasion of the retrospective exhibition that opened last weekend In the Kunstmuseum Den Haag, Rego's son Nick Willing gives a tour of her studio. Paula Rego herself, she is now 86 years old, is too frail for that at the moment. Willing made in 2017 de documentaire Secrets and stories about his mother (to be seen shortened on 11 December on NPO2) and how he spent afternoons talking with her about her experience, her life and her work. "I went to see her every Saturday. We drank tea, ate cakes and she told stories I had never heard before."
family life
Now Rego can entrust him with her studio – Willing sees it as "a kind of nursery where, when you are four or five years old, you create a new world with your own imagination" – but as a child her workshop was forbidden to him and his sisters. "She wanted to be busy with her art there, with painting, she didn't want to mix that with motherhood." Rego's work is often about family life, but mostly about her own strict, conservative upbringing and the Portuguese dictatorship she suffered at a young age; not so much about life at home with her children.
Paula Rego, Self-portrait in Red (1966) Photo National Contemporary Art Museum / Chiado Museum, Lissabon
Paula Rego has always been very shy and expressed herself with her drawings and paintings, says both Nick Willing and Elena Crippa. She is curator for the Tate Museum in London, where the exhibition first hung before it was moved to The Hague in a slightly smaller composition. "Painting is a kind of escape for her, in which she can tell her story," Crippa says, "often combined with her need to convey a political message."
In her younger years Rego studied art in London, but she often commuted between England and Portugal, together with her great love, painter Victor Willing. During the 1950s and 1960s, Portugal was ruled by the fascist dictator António de Oliveira Salazar, although Rego's work was not taken very seriously by his authorities. According to Crippa, her progressive art, in which she rebelled against oppression, embarrassed other Portuguese artists. "This young woman showed them how it could be done. She gave a voice to her frustrations." In 1965 Rego even had a major exhibition in Lisbon, which also featured critical works.
Despite the personal nature of her work, Rego preferred not to focus too much attention on her. In 1998 she made a series of paintings about illegal abortions in Portugal. She was regularly asked whether she had had an abortion herself, says Nick Willing. She always denied. "It wasn't functional to talk about her own experiences, that would distract from the goal." It was only in his film a few years ago that she admitted – by then abortion had already been legalized in Portugal. "I had many abortions, and not just me," she says in the film.
Paula Rego, Red Monkey Offers Bear a Poisoned Dove (1981) Photo private collection
Animals and dolls
For more or less the same reason, to create distance, Rego's main characters often turn into animals. "In this way she can better express strong instincts and desires, and give the animal side of the human more space," says Elena Crippa. For example, her cheating husband – she herself also regularly had extramarital affairs – turns into a monkey whose tail is cut off by a woman. The series Girl and Dog focuses on the relationship between a dog and a girl, in which their mutual relationships are always rather unclear.
The dolls from the studio are mainly from her later phases; she has had this studio since the early nineties. Before that, she liked to use friends or family as her models. Nick Willing has also modeled for her in what is one of her most famous paintings in England and Portugal: The Dance. It depicts the life stages of her husband Victor, who died of multiple sclerosis in 1988 after a long illness. Right when she's working on this painting. Nick Willing is a model for his father, he has to put on his suit and his shoes. "She was distraught. But the only way to handle it is for her to paint. So she said, 'Nicky, come on, we have to get back to work'."
Newsletter NRC Cultuurgids
What should you see, hear or listen to this week? Our editors review and tip
A version of this article also appeared in NRC in the morning of December 2, 2021
---