Starting Thursday, December 2, players can get started with a new season in Sea of ​​Thieves. The 5th season brings new content, cosmetics and commendations. We'll break it down for you in this article!
Time flies so fast! It feels like the Sea of ​​Thieves season launch happened yesterday, but in reality, we're already docked in Season 5. A quick look back at four seasons: new enemies, new Merchant Alliance voyages, five new Tall Tales in A Pirates Life update, the Sunken Kingdom locations and much more. Some seasons may have felt a bit empty and in the Tavern Talk I was critical the last time. But when I look back at the bigger picture, I can only conclude that the developers of Rare deliver. An abundance of free content. And with the launch of season 5, they are once again keeping the wind in their sails.
Whoever buries treasures for others, will become richer himself!
The most notable addition in Season 5 is the option to bury treasure for yourself or others. But what is the added value of that?
We all know it. You want to quickly catch that one live event, but your boat is already full of loot and that Reaper on the map is not really reassuring. You don't want to hand it in yet, because your Emissary is not yet grade five. Dilemmas for the nervous players among us or a nice adrenaline rush for the PvP'er among us (let them come, my god, we're not afraid!). With the option to bury the right loot, there seems to be a middle ground. When you bury your loot you will receive a map with markers on it where the loot is buried. You can then retrieve it later.
However, you also run a risk with this. Because the map with the markers can also be stolen. You can also give the map to other players in the world or make it available on the quest board. The advantage of this is that when another player manages to complete 'your quest', you still receive your loot! And you also get some extra Renown bonus. Quite a nice addition if you ask me!
The ability to bury and offer treasures will also lead to an option for shorter play sessions. The treasure maps come on a live quest board and players can scroll through them when starting the game. You can then select an island nearby and know exactly how many treasures are buried there. That will probably make it possible to play Sea of ​​Thieves for half an hour in between.
Rowboats with canons and fireworks steal the show
With season 5, we as players are also going to usher in the new year. And we will do that in very appropriate ways in the coming weeks. The developers have added fireworks to Sea of ​​Thieves. The fireworks can be found in barrels or for sale at the Merchant.
The fireworks have multiple purposes. In the first place, it can of course provide the necessary atmosphere. Our own Jeff explains that by applying 'reflections with particle systems' you can see very beautiful effects in flora, fauna and water. "That sounds rather arbitrary, but it demands a lot from an engine," says Jeff. That is also what we hear in the developers vlog. Complicated technology that should benefit the atmosphere and experience.
A second reason to add fireworks is, for example in the case of an Alliance, to warn your fellow players that enemies are on the way. You can do this, for example, by shooting a red flare. The use of fireworks will be permanent. So even after season 5 you can still use this.
The rowing boats also received a permanent upgrade in Season 5. A canon has been added to some rowing boats. Super useful if, for example, you want to attack a ship inconspicuously. But also useful when the rowing boat is coupled to your boat. You then have an extra set of canons at your disposal.
Role Playing and added new shanties
Various elements have been added in the area of ​​Role Playing. From now on it is possible to sit, at a chair or, for example, with your feet over the railing of the boat. You can also take a nap in a hammock or the captains cabin. The purpose of this addition is to be able to blend in even more with the world. In line with this, additions have also been made to the facial expressions. When your character talks you will be able to see it through body language from now on. Also, dice have been added in the new update. This allows you to settle discussions by fate.
In addition to some improvements in Role Playing, a number of new shanties are also added: Ballad of the Mer, Row row row your boat, and Infernal Gallop.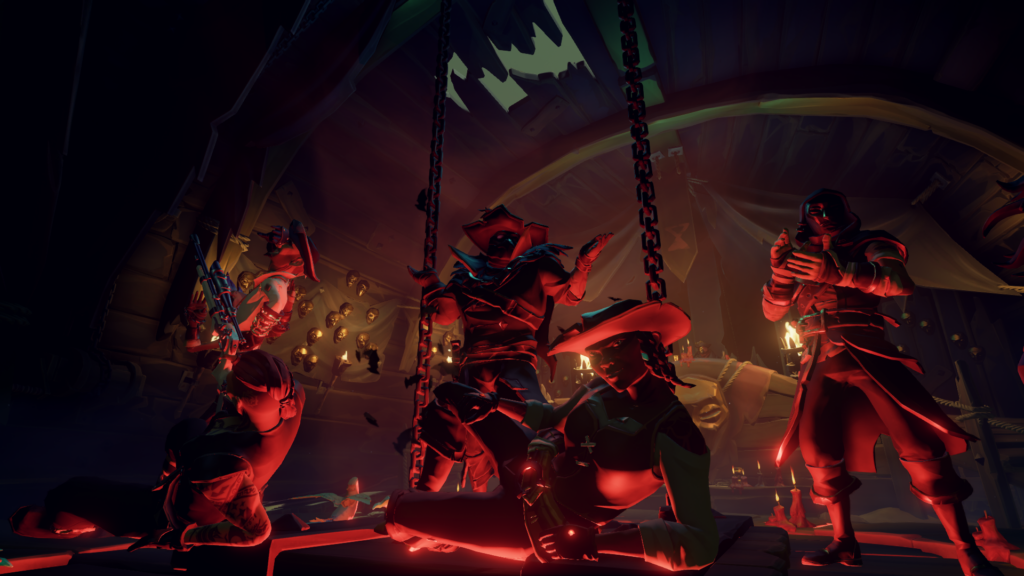 Quality of Life features, new cosmetics and more
Every update also adds some improvements that should make the game feel a lot smoother. The feature from this update is one that I can wholeheartedly underline. It will now be possible to empty barrels at the touch of a button by holding your storage crate against it. This makes it all a lot more efficient and faster. Something I've been a big supporter of since release. Namely quality of life features that facilitate shorter play sessions. Not everyone has 3 hours to sail. Improvements like this, as well as adding treasure maps for you to choose from, will make your sessions shorter and more efficient.
An update I'm less happy with is the addition of rats. With a mild phobia for mice and rats, I'm not really excited about this. Anyway, maybe it's time to tackle my rat anxiety with a little exposure. And if I really don't like that, I can turn off the corresponding sound effects in the menu. The rats also have a function. If you suddenly see them on your middle and upper decks, you know that your boat is under water.
In addition, some other additions have been made. From now on you will also see flocks of birds above a Kraken or Meg that you have defeated. When you shoot a skeleton, it will drop an ammo pouch, replenishing your weapon.
Over Sea of Thieves
As always: if you are new to the game and want some tips? We have described quite a few of them in this article. Not sure if Sea of ​​Thieves is for you? In this completely objective and fanboy-free review, 1000 days after the release of Sea of ​​Thieves, we took a close look at the state of the game. Would you like to share your adventures with others? Then come and visit our Discord join! And finally, would you like to hear what other players think about the latest Sea of ​​Thieves updates? In our regularly recurring video show the Tavern Talk we discuss this in detail.
Cheers!
---