Spider-Man producer Amy Pascal is stirring things up after a statement in an interview with Fandango. In it she reveals that Tom Holland will return for a real Spider-Man trilogy after the upcoming Spider-Man: No Way Home (2021).
Although insiders have informed Variety that there are no concrete plans for a trilogy yet, Pascal is confident that it will come. That Sony is a fan of Tom Holland as Spider-Man, that may be clear, and possibly even such a fan that he can continue for a while.
This isn't the last movie we'll be making with Marvel – [dit is niet] the last Spider-Man movie. We're getting ready to make the next Spider-Man movie starring Tom Holland and Marvel. We think of this as three movies, and now we move on to the next three. This isn't the last of our MCU movies.

Amy Pascal vs Fandango
Pascal produced two Spider-Man films with Tobey Maguire and one with Andrew Garfield before working with Tom Holland and the Venom films. It remains to be seen whether Holland also wants to make three more films like Peter Parker. The actor previously said during interviews for No Way Home that he does not always want to continue playing the character.
I also have to consider Peter Parker, because he is an important part of my life. If I'm still playing Spider-Man after I'm 30, I've done something wrong.

Tom Holland vs GQ
When the 25-year-old Holland is asked on Monday evening about this news about the new trilogy, he answers the following:
Next question… Listen, I just want to say that we have some very, very exciting things to discuss. I don't know what those things are or what they will turn out to mean. But it looks like there's an incredibly bright future ahead, and as I've said before, Spider-Man will live in me forever.

Tom Holland in French talk show Quotidien
Spider-Man: No Way Home runs from 16 december in the cinema.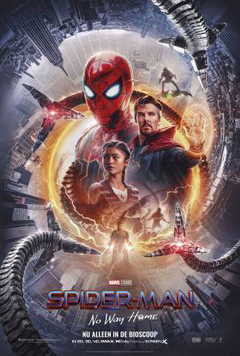 Spider-Man: No Way Home (2021)
Spider-Man has been exposed and can no longer keep his normal life separate from his dangerous life as a superhero.
Beeld: Still 'Spider-Man: No Way Home' via TMDb
.
---