Chucky (2021– ) is an outright success, causing the American channel USA Network to pick up the horror series for a second season, before the finale of season 1. The first season was made by NBC Universal.
According to the studio, the first season has been viewed more than 9.5 million times across the various platforms on which the series can be seen. In the Netherlands, Chucky is broadcast on Fox, where it started November 11 with weekly episodes.
Chucky revolves around the red-haired doll we know from the well-known horror films. This time, Jake (Zackary Arthur) finds the doll at a garage sale and soon discovers that the doll is alive and possessed by the soul of notorious serial killer Charles Lee Ray. Chucky decides to help Jake stand up to his bullies and abusive father.
Watch Chucky's trailer here:
Chucky is currently USA Network's last series after they decided to pull out of The Sinner (2017– ). The channel also canceled hit series Queen of the South (2016–2021) after season 5.
The new season of Chucky is expected in 2022. An exact date is not yet known.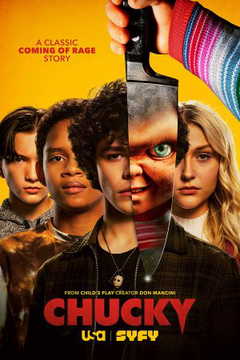 7.5
When a used Good Guy doll turns up at a yard sale in a suburban American town, a spate of mysterious murders ensues.
Beeld: Still 'Chucky' via TMDb
.
---