Twelve years after the last successful military coup in Latin America, this has been partly reversed through the ballot box. In Honduras, former Primera dama Xiomara Castro, wife of the 2009 deposed president Juan Manuel 'Mel' Zelaya, convincingly won the elections on Sunday.
The Central American country will thus have a woman as its leader for the first time in its history – and again a country in the region takes the left turn.
Votes were recounted on Tuesday and her right-wing opponent does not want to acknowledge his defeat yet, but with a lead of about 20 percentage points, the victory can no longer escape her notice.
The profit of 62-year-old Castro, who unsuccessfully tried to take power in 2013, is a political upheaval in the country plagued by gang violence, corruption and drug crime. Since the coup against her husband, Honduras has been led continuously by outgoing President Juan Orlando Hernández's conservative National Party (PN).
Narcopresident
Even in a region marked by bad governance, Hernández's rule was controversial. JOH, as he's popularly known, ran for a second term when the constitution didn't allow it, then fiddled with the votes on a recount, bringing down popular protests against it. He was also credited with being a narco president. His brother is in the US for cocaine smuggling and another drug trafficker testified to the Americans that he filled JOH's presidential campaign coffers. Meanwhile, Hondurans are trying to migrate to the US on a large scale.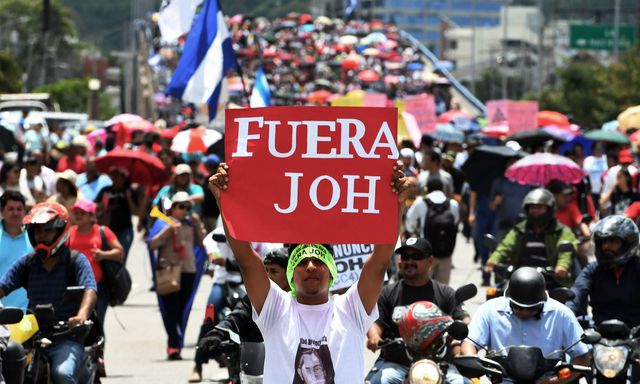 :Read also: In Honduras, cartels can bribe anyone, even the president
Like any candidate in the region, Castro pledges to end endemic corruption. Her choice for Salvador Nasralla as vice presidential candidate should underline this. This popular TV host tried to run for president himself in 2017, but was then kept from power by JOH through electoral fraud. Castro was his running mate at the previous poll.
Right-wing coup
The 2009 coup was a conspiracy by the military and the Supreme Court. Zelaya came to power in 2007 on behalf of the Liberal Party, but once in office quickly converted to the populist left-wing nationalism that swept across the continent in those years. Fueled by the 'bolivarian' rule of Venezuelan leader Hugo Chávez, several countries united in their aversion to decades of US-dictated neoliberalism. Thanks to a commodity boom, there was also money for this: Chávez financed social projects in friendly nations with his petrodollars and set up all kinds of regional partnerships.
Honduras also became a member of the so-called 'Bolivarian Alliance for the Peoples of Our America' (abbreviated in Spanish as ALBA, literally 'dawn'). And following other left-wing leaders in the region, Zelaya also wanted the constitution rewritten by a constitutional assembly.
The plan to organize a referendum on this put him on a collision course with the Supreme Court and the military. In the early morning of June 28, 2009, the president was lifted from his bed and put on a plane to Costa Rica in his pajamas.
The US Obama administration allowed the coup to pass. In any case, then Secretary of State Hillary Clinton did not speak out strongly, which was seen as Washington's tacit consent. In the 21st century, however, the rest of the region was no longer served by US-backed military coups and placed Honduras in isolation. Xiomara Castro stayed behind in Honduras and led protests against the right-wing coup. In November 2009 this was perpetuated in elections, won by the right-wing PN.
No majority in Congress
In this campaign, Castro mainly wanted to look ahead. As a progressive woman, she opposed, among other things, the recent tightening of Honduras' already very draconian abortion ban, which she promises to reverse. The question is whether she can deliver on these and other promises. Her Partido Libre and future Vice President Nasralla's own party do not have a majority in Congress together. They will have to cooperate with the right, which does not appear to want to play a constructive opposition role.
---