Since last week, the first two episodes of Hawkeye (2021– ) have been aired on Disney+. However, the Marvel series starring Jeremy Renner is not yet a great success, according to new figures from Samba TV.
With 1.5 million households reached, the first episodes were viewed 40% less than the first episodes of Loki (2021– ). The series is also behind The Falcon and the Winter Soldier (2021), which received 1.8 million views in the first three days, and WandaVision (2020-2021), with 1.6 million views in the first three days.
Despite the disappointing numbers, Hawkeye is well received. On IMDb, the series with Renner and Hailee Steinfeld now scores an 8.1 and reaches a score of 93% on Rotten Tomatoes. The low ratings can be partly explained by the Thanksgiving weekend when many Americans were with family and watched other (traditional) programs on TV.
In Hawkeye, Clint Barton (Renner) finally has time to spend Christmas with his family, but then a masked debt enters the picture and terrorizes the underworld. He meets Kate Bishop (Hailee Steinfeld) and his Christmas plans go awry…
Watch the Hawkeye trailer here:
In the first two episodes we were introduced to The Track Suit Mafia, who have since got their own poster, and we briefly saw Echo. It has already been announced that the deaf Marvel character will get its own Hawkeye spin-off.
Episode 3 of Hawkeye premieres on Disney+ tomorrow, December 1.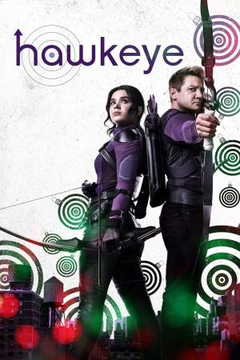 8.1 Check out Disney+ • Former Avenger Clint Barton has a seemingly simple mission: to return to his family for Christmas. Is that possible?
Beeld: Still 'Hawkeye' via Disney / Marvel Studios
.
---