Equity: action aimed at guaranteeing fair treatment, with equal opportunities for access and advancement. Inclusion: valuing and respecting differences Diversity: abundance of different people, valuing the similarities and differences of cultures, perspectives and experiences of all of them.
If you mix these three concepts in equal parts in a shaker, you get a unique, inclusive, empathetic business culture, deeply concerned with making a difference and capable of changing lives. And that is precisely the culture that Biogen, a pioneering pharmaceutical company in the discovery, development and delivery of therapies for the treatment of neurological diseases, has long actively promoted.
"In our corporate culture, in our DNA, we believe in the need for diversity, inclusion and fairness not only among our employees, but in all the communities where we work and the patients we serve. Our commitment in this sense is very strong as a global company and also in each and every one of the subsidiaries in which we are present around the world ", highlights Sérgio Teixeira, CEO of Biogen Spain.
Biogen scored 100% on the Disability Equality Index
There are many actions Biogen takes to advance its overall Diversity, Equity and Inclusion (DE&I) strategy and to ensure that all of its employees feel included. A reflection of this is the signature that Michel Vounatsos, Biogen's global CEO, has stamped on CEO Action for Diversity & Inclusion, the largest business commitment promoted by leaders of thousands of companies around the world to promote diversity, equity and inclusion in their respective workplaces. Or Biogen's unreserved support for the Pledge for a More Equivale and Inclusive Life Sciences Industry initiative.
Raise awareness and offer resources
Among the initiatives that Biogen has, there is, for example, Access Ability, a network for employees with disabilities, as well as for those who are caregivers of people with disabilities. Its goal is to foster a culture of awareness, advocacy and inclusion to empower employees with disabilities and those who care for them. The network focuses on raising awareness about disability and offering appropriate resources to both individuals.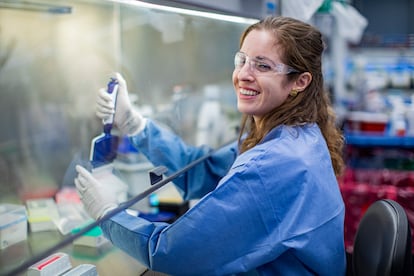 More than 60% of its workforce is made up of women, a figure above the average in the pharmaceutical industry.
With actions like these, it is not surprising that Biogen obtained in 2021, and for the fourth consecutive year, a score of 100% on the Disability Equality Index (DEI). Nor that the company has been declared one of DEI's best places to work for the fifth year in a row, thus reinforcing its status as one of the best work environments in the United States for disability inclusion.
Also in Spain, Biogen makes the flag of its corporate culture based on equity, inclusion and diversity. The proof is that Biogen Spain has been recognized in 2021 as one of the Top Employer companies in Spain by the Top Employers Institute Certification Program, which endorses it as a company committed to a constant commitment to achieving the best employee experience through through excellence in its human resources policy. To this is added that 96% of the contracts in Biogen Spain are permanent, that all age groups are represented in its workforce (from 20 to 65 years old) and that it offers flexible hours. In addition, Biogen Spain has already announced that at the beginning of 2022 it will launch a specific plan to provide training and assistance to those women in the workforce who may require help due to situations of gender violence.
At the international level, 30% of its managers belong to minorities. In addition, 49% of the women who are part of the company's workforce hold positions of responsibility
Likewise, Biogen Spain has the Reonboarding program, which seeks to reduce the impact of the effective return to work of those workers who return after a period of absence of more than four months. The program addresses several factors that could make it difficult or slow down this reincorporation and, to facilitate it, it contemplates the figure of the 'recloser', the one in charge of offering support and facilitating the reincorporation of the worker.
Biogen's philosophy of equity, diversity and inclusion is global, applies to the entire organization and all affiliates. As an example of the inclusive activity of the company, it should be noted that close to 30% of the people occupying executive and senior positions at the international level correspond to ethnic minorities, and the goal in 2021 is to consolidate that percentage in a stable manner at 30% .
Eliminating fossil fuel emissions from all its activities by 2040 is another of the company's goals.
In Spain, without going any further, Biogen has built a team of professionals with a great diversity of profiles. More than 60% of its workforce is made up of women, a figure above the average in the pharmaceutical industry (52% according to the latest data published by Farmaindustria in its report on the Pharmaceutical Industry in Spain 2020). In addition, 49% of these women hold positions of responsibility within the organization, and they account for 68% of the managerial and senior manager positions. "That, together with the export of managerial professionals and in other positions from Spain to other headquarters and subsidiaries of the company, makes the Spanish subsidiary a true hub of talent for Biogen worldwide ", says Sérgio Teixeira.
Commitment to the climate
The climate crisis is also a health crisis, with a disproportionate impact on vulnerable communities. Not only does fossil fuel-related air pollution contribute to the climate crisis, but research suggests that it worsens a number of health conditions and contributes to one in five deaths worldwide.
In this sense, Biogen celebrates one year of its commitment to accelerate action in the face of the greatest challenges of our time: the climate, health and equity in the next 20 years, with an investment of more than 216 million euros. This commitment is the cornerstone of its Healthy Climate, Healthy Lives corporate social responsibility initiative. Launched in September 2020, it aims to eliminate fossil fuel emissions from all Biogen operations by 2040, engaging employees and suppliers and collaborating with renowned institutions to advance science and action to improve health outcomes.
And while the full decarbonisation of Biogen's global operations is a complex and long-term commitment, significant steps have already been taken in the last year. "Our goal is to create a healthy, sustainable and equitable future, where science meets humanity," says Sérgio Teixeira, CEO of Biogen Spain.
---