Arriva sees a rapid increase in the number of violent incidents on the Zwolle-Emmen route. This year, up to and including October, the carrier had already registered 33 incidents. That is the highest number since 2016.
Three Arriva employees who work on the route have been at home for a long time in recent months due to injuries or stress. In October, for example, a train driver on the platform in Zwolle was pushed to the ground by a group of boys and kicked in the head. He had to go to the hospital and is sick at home. A steward spoke to a group of track runners near Emmen in July and received a headbutt that required surgery.
The Zwolle-Emmen route has been experiencing nuisance for years. The railway is the only train connection to and from the application and asylum seekers center in Ter Apel. Every asylum seeker who arrives must report to Ter Apel. Many take the train from Zwolle to Emmen and then the bus to the asylum seekers' center in Ter Apel. There are also more than two thousand asylum seekers awaiting their procedure.
The nuisance mainly comes from 'safe migrants', says Arriva regional director Jieskje Hollander. These are asylum seekers from mainly safe countries in North Africa who have no chance of a residence permit in the Netherlands. Hollander: "It is groups of young men who cause criminal behavior." The number of incidents this year is higher than in the past five years, only in 2016 there were more criminal incidents, during the previous high influx of refugees.
Recently, staff have been dealing with serious incidents on average five times a month. "Then it concerns spitting, hitting, aggression and removal of people with a lot of resistance," says Hollander. "We are really beyond all borders."
Arriva has been deploying a steward on every train for years and already checks passengers on the platform for their train ticket. However, the number of incidents is not decreasing. Hollander: "I am ashamed that we are not succeeding in finding a solution for our employees."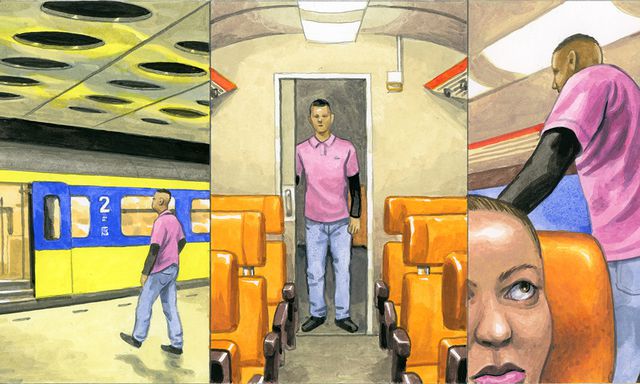 Young Moroccan asylum seekers: the street boys of Europe
Arriva has been asking for more staff for some time, with the power to use force. Now the stewards are only allowed to check people on their ticket and hold them lightly in case of serious nuisance. "It is humiliating for our staff that they have to call the police for help every time."
Wim Eilert, union manager for train staff at VVMC, says: "More stewards should come on the trains with better equipment, such as handcuffs." In a letter to the management of Arriva, seen by NRC, employees expressed their concerns last week. "How long should it be before a colleague suffers serious physical injury?" they wrote.
For additional personnel with the authority to use force, 2.4 million euros is required on a structural basis. "Provinces, municipalities and The Hague are playing the bill to each other," says Hollander. "Our people are in trouble."
Stewards are fed up page 8-9 A version of this article also appeared in NRC in the morning of November 30, 2021
---