In Spain, an average of 80 species of birds are seen each year, considered rarities because they are in a place to which they do not belong. They arrive from America, Asia, Africa or northern Europe, confused by taking a wrong path in migration or caught in a storm with winds that propel them towards an unknown destination. Many die in the attempt, but some manage to reach land, sometimes aboard ships where they perch to rest or to escape a storm, as is suspected to have happened to the two snowy owls that appeared in Asturias two weekends ago , arrived from North America. The couple has not been seen for days. But it does not matter. Fans of bird watching, who chase winged rarities, continue in Cabo Peñas (Asturias), at the foot of the cliff so as not to miss what they consider the most unusual appearance of a bird that has been recorded in Spain.
Uca Díaz, a neighbor of Santander, is part of that aviary legion. He has already seen the owls, but he keeps approaching the coast when he drops his daughter off at school. "For a snowy owl, which should be coming down from Canada to Boston or New York and is in Asturias, it is worth driving two hours," explains the 46-year-old naturalist, who became fond of birds 20 years ago, when she thought that only pigeons and sparrows existed. Then came the passion. "I will never forget that time when my daughter and I were in the car, raining, she sitting on the potty and I filming an ibis lark, an African rarity," she recalls.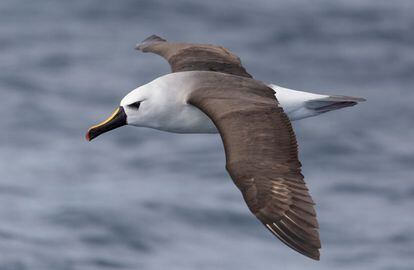 Fine-billed albatross, August 21, 2016. Perth Cay, Australia Daniel Mantle
These specimens are "putting in many hours", confirms Gonzalo Pardo de Santayana, secretary of the Rarities Committee of the ornithological NGO SEO / BirdLife. Cabo Peñas is one of the key points, because it is a place through which many of the species that come from the sea pass. "You have to know that October is the month in which more rare birds can enter that area and you have to go every day," he explains. "There is always the incentive to find yourself a megarraza. That leads you to come back again and again ", he describes.
Among the most spectacular encounters, Pardo highlights a albatros de pico fino which was seen last year at Cape Estaca de Bares (A Coruña), the northernmost point of Spain and the best place to contemplate migration. "It could have moved about 5,000 kilometers from where it should have been, but we don't know how far it went, because it is one of the largest birds in the world. [2,30 metros] and they fly a lot, "he explains. They breed in the southern hemisphere and can travel hundreds of miles to feed their young. Pardo points out that "it is possible" that a week later the bird returned to the area to which it belongs. "It could be associated with a group of gannets or another species that moves between the two hemispheres and thus change the migration route," he adds.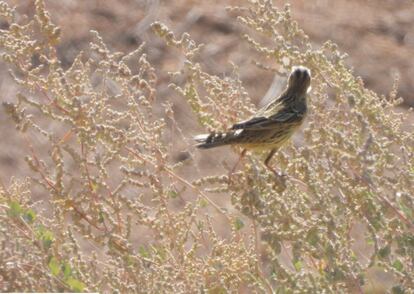 The charlatan on the golf course of Jandía (Fuerteventura), on September 9, 2021. Nazaret Cubas Padrón
More difficult to return to his native America has it charlatan thrush, a little bird the size of a sparrow, which was found on the Jandía golf course, in Fuerteventura, on September 19. "These small species are doomed to die," explains the secretary of the Rarities Committee. September is the time of hurricanes in Central America and surely the wind (blowing from west to east) was pushing it further and further into the Atlantic and it could not return. Now he would have to cross the ocean again and with the wind against him. Mission Impossible.
Among the "most extreme rarities" located in Spain are a blue nightingale, captured and ringed in the Ebro delta in October 2000, and a zorzal de Naumann, which was found two years later in the same area, comments Ricard Gutiérrez, zoologist and responsable del blog Rare Birds in Spain. No specimens of these Asian species have been seen again. "Why do we like rare birds? It is like an identification challenge, which also raises questions and can give you clues as to whether certain weather phenomena such as cold waves, hurricanes … are increasing ", says the ornithologist.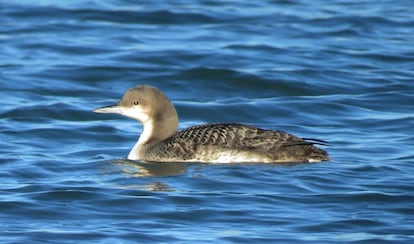 Pacific loon in the Civán reservoir (Calpe, Zaragoza). José Luis and Iker Fernández
What was a Pacific loon in the Civán reservoir (Caspe, Zaragoza) last year's winter? It should have been in China, Japan, the United States or Mexico, on some shore of the Pacific, but no, it crossed the Atlantic and much of the Iberian Peninsula to end up in the reservoir. It was quite an event that mobilized rarity hunters. "As they migrate to Mexico and that area is not very wide, they can go from the Pacific to the Atlantic, but crossing it is coming up a bit," says Pardo.
The Amur kestrel has only been seen twice in Spain: in the Canary Islands and, this August, in Valencia. It is an Asian bird, very gregarious, that gathers in huge roosts. It breeds in Mongolia, northern China, southern Russia, from there it goes southwest to India to cross the Indian Ocean to Africa, as it winters in South Africa. It flies about 8,000 kilometers. The experts do not have a very clear explanation of how this specimen has reached the Iberian Peninsula. Pardo assumes that they separate from the group, get lost and can end up anywhere. Being a species that flies better, it is confident that it can return to its place of origin.
Amur kestrel in Puzol (Valencia) .ana abad
The attraction of these oddities – especially some like the impressive snowy owl, famous for the Harry Potter films – brings together dozens of people who can cause annoyance to animals. To avoid this, certain rules of behavior must be adopted, such as those listed in the SEO/BirdLife Ethical Code, because "what comes first is the well-being of the bird and you have to avoid approaching it just to get a good photo", warns Pardo de Santayana from Cabo Peñas. Today [por el sábado] neither has he seen the owls. It is not strange because "the weather is very bad and they will be sheltered."
You can follow CLIMA AND ENVIRONMENT at Facebook and Twitter, or sign up here to receive our weekly newsletter
---