The compelling documentary 14 Peaks: Nothing Is Impossible (2021) about a special mountaineering challenge can be seen on Netflix from today. The film follows the Nepalese Nirmal "Minsdai" Purja and his challenging mission.
Purja is in fact working on a project he calls "Project Possible". He plans to climb all 14 mountains in the world higher than 8,000 meters in seven months. That is quite ambitious, because the previous record stands at no less than seven years. Together with a team of skilled Sherpas, he braves Mount Everest, K2, and other iconic peaks. Along the way, they face extreme weather, difficult decisions and emotional issues.
Netflix describes the documentary as, "A thrilling, action-packed tale of courage, perseverance and pushing the boundaries of human endurance". The film is written, directed and produced by Torquil Jones and produced by Jimmy Chin and Elizabeth Chai Vasarhelyi.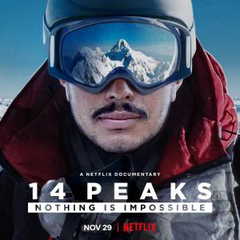 14 Peaks: Nothing Is Impossible (2021)
Intrepid Nepalese mountaineer Nimsdai Purja embarks on a seemingly impossible quest to climb all 14 8,000-meter peaks in seven months.
14 Peaks: Nothing Is Impossible is available on Netflix starting today. You can find the full range of Netflix here.
Beeld: Still '14 Peaks: Nothing is Impossible' via Netflix
Text: Netflix
.
---