Around the World in 80 Days (2021), the upcoming film adaptation of Jules Verne's novel starring David Tennant, is getting a second season. And that is quite special news, because the first season of the series has not even appeared yet.
The producers of the series confirmed this today. In addition, they have also announced that they are working together on an adaptation of another Jules Verne classic, Journey to the Center of the Earth. Both series will be produced by Simon Crawford Collins and Lionel Uzan for Federation.
The first season of Around The World In 80 Days, starring David Tennant, Ibrahim Koma and Leonie Benesch, is coming soon. In the series, the three go on a special mission together: they will travel around the world in 80 days. An undertaking that seems so unfeasible that most people laugh squarely at the trio. But they don't let that stop them.
In the second season, Phileas Fogg (Tennant) and his team will once again take on a perilous challenge to traverse the globe. The deals aren't quite done yet, but the entire original cast is expected to return.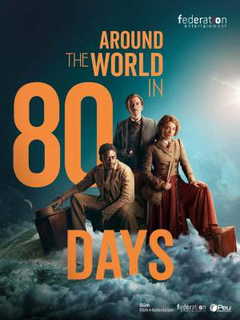 8.1
Around the World in 80 Days (2021)
Adventurer Phileas Fogg embarks on a journey around the world and tries to return home within 80 days. Starring David Tennant, Leonie Benesch and Peter Sullivan.
The first episodes of Around the World in 80 Days will air in the UK and US from January. It is not yet known when the adventure series will come to the Netherlands.
Beeld: Still 'Around the World in 80 Days' via TMDb
.
---