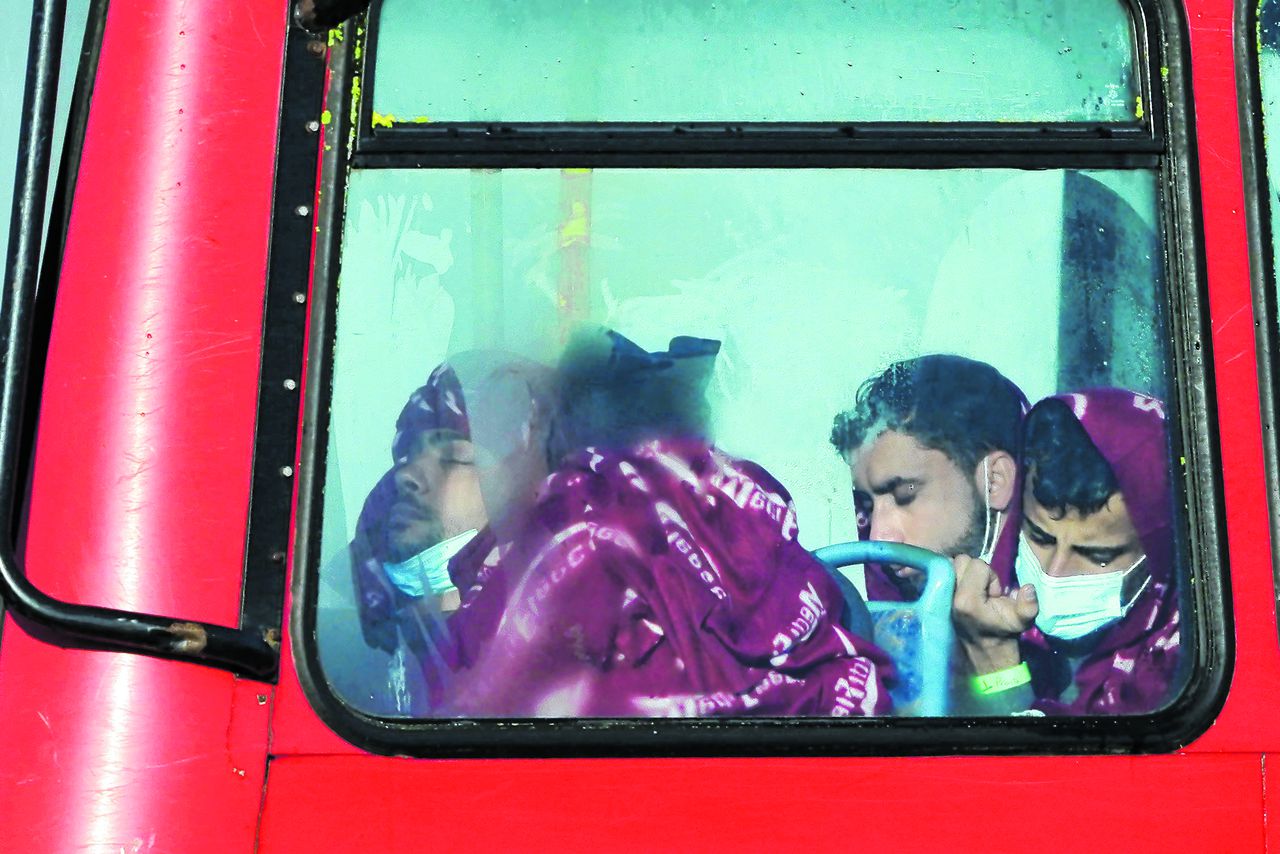 It makes little difference to them where they will end up, in the capital London or elsewhere. They are there. "It's safe here," says Hakim Omed Wali. Together with Farzin Mustafa he walks along the barracks of the old military complex where the two share a bedroom. From here you can see the sea they have defied.
The boys – they wear sneakers, black sweatpants and Omed Wali has a roguish blue cap – are from Iraq, they are Kurdish. And they barely speak English, so they call a friend who can help translate. Via Turkey, Italy and France, their journey ended in October here in Folkestone, a coastal town half an hour's drive from Dover. They are waiting for the results of their asylum application. "Iraq is not safe for us."
They did make it across – unlike the 27 migrants who drowned last Wednesday while attempting to cross the Channel. Iraqi Kurds were almost certainly among the victims. "Dangerous", says Farzin Mustafa, he knows that word. He makes a wobbling gesture with his hand.
The accident has led to significant political pressure on the British government to do something about the rising numbers of migrants who are attempting the dangerous crossing in small boats. The point, above all, is that Prime Minister Boris Johnson had promised the British would regain control of their borders, with the UK's departure from the European Union. Take back control. But this year, three times as many migrants arrived in boats as last year, and the year isn't even over yet. The government is more likely to appear powerless than in control.
On Sunday, France will convene a mini-summit on the migrant issue in Calais, with Belgium, Germany, the Netherlands and senior officials from Brussels. But British Home Secretary Priti Patel is no longer with us. Paris withdrew its invitation after Prime Minister Boris Johnson displeased France by a public letter with solutions to the migration problem. Among other things, he suggested that the British could help with patrols on the French coast – unacceptable for the French.
Sweatpants and socks
This week volunteer Rachel Lowden realized that the situation in Calais is so desperate that her work will continue next winter. "We thought that people would no longer dare to cross the river in the winter months. But if you have to live in the bushes there, it's apparently worth the risk." Lowden is a psychotherapist and last summer she had set up the Hastings Supports Refugees volunteer club, which helps with the initial reception of migrants from sea. She lives in Hastings, a coastal town so far to the southwest that "something must have gone wrong if a boat landed all the way to us." However, this has happened quite regularly in recent months. Just last week, Hastings received a small boat that had been at sea for more than 30 hours.
Rachel Lowden notices that many migrants have no idea what to expect. They are especially relieved: "You can see their happiness through all the fatigue. Recently we helped a young boy from Syria to call his mother. 'Mom, I'm here, I'm safe.'" They arrange dry sweatpants and socks, and local businesses deliver hot food and drinks before the border guards come to collect the migrants to register them.
In addition to the agreements that the UK is trying to make – unsuccessfully for the time being – with France, Minister Patel is preparing a law that would make it a crime to travel to the United Kingdom without prior permission. Arriving here illegally would face a four-year prison term for migrants. And she is investigating an 'Australian solution', to receive migrants far away, just like Australia. Before that, the island of Ascension, a British overseas territory in the middle of the Atlantic Ocean, has already been dropped because of its practical infeasibility. The government would are talking now with Albania, to arrange reception there.
No fortune seekers
Such proposals may be in line with the idea of ​​bringing national borders back 'under control', but they also encounter human rights objections. "It is the international standard not to persecute people who try to find refuge and seek asylum," said Robert McNeil of The Migratory Observatory, a research branch of the University of Oxford. He likes to disprove the image that the UK is the dreamed final destination of just about everyone who comes to Europe: "The UK receives far fewer asylum applications per capita than, for example, France or Germany."
Moreover, the impression is incorrect that boat migrants are mainly fortune seekers rather than refugees who are at risk in their homeland. According to McNeil, almost everyone who arrives by boat is also applying for asylum – most of them from Iran, Iraq and Syria, and more recently Afghanistan. "And the vast majority are also granted asylum. They are not economic migrants, even if it seems that way at first sight because they are mainly young men."
The barracks in Folkestone are indeed mostly men. They walk in groups of two or three, a few kick a ball in the autumn sun. What does Hakim Omed Wali want to do when he has received his residence permit? "Maybe working in a restaurant, I did that in Iraq too."
A version of this article also appeared in NRC Handelsblad on November 27, 2021 A version of this article also appeared in NRC in the morning of November 27, 2021
---