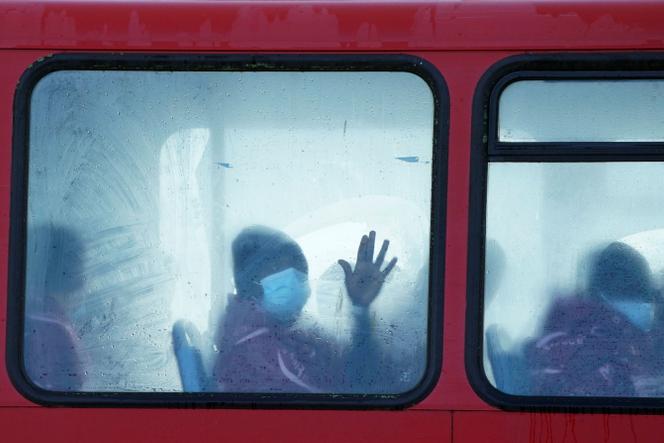 Migrants wait on a bus, after being brought to Dover, Kent, UK, November 25, 2021. GARETH FULLER / AP
The sea is gray, slack, almost empty. At one end of the pebble beach in Hastings (United Kingdom), in Sussex, the sea rescue hangar (the Royal National Lifeboat Institution, RNLI) is closed, his boat is not docked . It is 3 pm, it is already dark, the air is icy. A few hours earlier, Wednesday, November 24, about twenty kilometers further east, twenty-seven people (including seven women and three children), drowned off Calais (Pas-de-Calais) while trying to join the coasts of Kent. They were probably aimed at Dover or the point of Dungeness, a little closer to the French coast, like most small boats leaving from Dunkirk (Nord) or Calais.
"The Hastings sea rescue boat was out today, the Dungeness one too, they assisted two boats but did not bring them back here," says Jane Grimshaw of Hastings Supports Refugees. This movie costume designer receives, a stone's throw from the beach, in the offices of her colleague Rachel Lowden, a therapist specializing in autism, who co-founded the association with her. The news of the tragedy has just fallen, the two women share their sadness: "This route taken by huge liners is so dangerous, we are afraid that there have been many more disappearances in recent months than those officially reported. [dix avant le drame de mercredi]. »
Read the story: Article reserved for our subscribers After the death of 27 migrants in a shipwreck off Calais, the anger of associations
From London, Home Secretary Priti Patel is pushing for the adoption in Parliament of an asylum reform allowing the United Kingdom to carry out pushbacks – the return of boats by the coast guard to French waters -, in an attempt to "regain control" of the borders promised by Boris Johnson's Brexiter government. But in Kent, citizen communities refuse this environment hostile to migrants and try, with the means available (donations, call for volunteers), to help people now arriving in large numbers on their beaches.
Hastings Supports Refugees was created in 2015 "in response to what was happening in the Calais jungle and all those Syrians fleeing the war," explains Jane Grimshaw. The association organizes fundraising and equipment collections, which it sends to France. But last summer, the migration crisis took a much more tangible turn for the two women. Rachel Lowden recounts: "It was August 21, I was on a beach east of Hastings for a barbecue with my daughter, it must have been noon. There was a helicopter in the sky. On the beach, someone with binoculars tells us: "They look like migrants!" I saw a flat boat and dozens of people on it. I thought to myself: what can be done to welcome them? "
You have 53.55% of this article to read. The rest is for subscribers only.
---