It was the look that alarmed her. Something about the eyes. Listless, unhappy – maybe even scared? Yvonne Keuls once participated in a teaching program in which writers told school classes about their profession. She had stood in front of a class before, experience enough, but she had never faced students like that morning before. It was the early '70s, something seemed, yes, changed. Drugs had clawed their way into society, children roamed the streets and shelters for young people did not yet exist. And now, these students, they didn't seem to respond to anything she said.
"Guys", asked Cologne, "what is the matter with you?"
No answer.
On a whim, she grabbed a piece of chalk and scratched her phone number on the blackboard. She said: "I'm Yvonne. If you get in trouble, just give me a call."
Silence, again.
When she returned home later that day, she found her daughters stunned. "Mom, what the hell have you done? Who are all those lijpos?" The phone had never stopped ringing for a moment.
Cologne took the calls and got to hear the saddest stories in her own living room, a vivisection of the problems of the time. "I can't go home anymore." "My father beats me." "I want to get off the drugs." These were young people who thought they had nowhere to turn. That no one in the world would stand up for their interests. That they were on their own.
The disturbing feeling Colognes had received in front of the class was confirmed. These children, she understood, needed more than a good conversation.
So the writer decided, radically, to stop writing. Yvonne Keuls became a social worker. In 1973 she opened the first shelter for young people in The Hague with a number of like-minded people. "A place where they could walk in without having to tell them who they were, where they came from, what to do with them. That all came later. Just first: warm food, clean clothes, a bed. There was just no such thing."
Now, fifty years later, Yvonne Keuls is sitting in the same living room in The Hague where she once made this decision. "I was so sure then: this was what I had to do with my life." Cologne will turn ninety next month, and Gemmetje Victoria, her latest book, was published last week. It's a novel that partly takes place in that shelter and which, she says herself, is "completely true."
So the Gem of the title…
"Is real, yes. Wash real. Her reddish hair, those green-brown eyes, I can still see her before me. She was about seventeen when she walked into the shelter, but she already had a whole life behind her. Foster families, institutions, abuse. She was furious with the society that I also represented in her eyes. She screamed when she saw me and threw a pair of shoes at my head. I loved her right away."
The book follows Gemmetje Victoria, from that first meeting, during a life that unfolds extremely tragically, but is written by Cologne wryly comic and full of zest for life. "She had an incredible attraction to everyone," says Keuls. "Irresistible. On the one hand, her reality was heartbreakingly horrific, but on the other, she had so much humor and an unprecedented ability to carry on with her life despite that reality. Until it didn't work anymore. I have continued to carry Gemtje with me, she is always just below the surface. That had to come true at some point. Did she also know, by the way, it was one of the first things she said to me: you are going to write a book about me one day."
So that took about fifty years. Was it because she came into your life right after you decided to stop writing?
"I had come to a point of: this far and no further. I had just had huge success with a television adaptation of Louis Couperus' The Books of Little Souls. There were two television channels then, half of the Netherlands has seen that series. After that, everyone really attracted me. They said: have success with old Couperus, someone who can do that…"
He can do everything
"People are that stupid, aren't they." She bursts out laughing. "And I said no to everything."
But why?
"For years I had been exclusively concerned with paper people, with characters. I no longer wanted that. I wanted to deal with real people, with real problems and real lives. Like Gemtje."
The shelter dominated Cologne's life for a year. The children arrived in their tens, hundreds, and the house was bursting at the seams. But the frustration also grew. About the seriousness of the problems she saw: addiction, depression, abuse. "In that one year we had 12 suicide attempts, about one a month. Fortunately not all of them passed, but I had to find a body several times during the night." On the failure of the agencies that were supposed to help, but in many cases failed to do so: "It was simply not about the well-being of the child for them. Like Little Gem, who didn't know who her mother was and had a deep desire to find out. Youth care knew that, but they refused to share it with her. Isn't that incomprehensible?" She holds her hands in the air. "We only found out years later. Her mother was already dead by then."
After a year the money ran out. Bankrupt. The home in the Scheveningen dunes had to close. Most of the children ended up on the street again, Gemmetje went to live with a nun. "Gem smoked and smoked weed continuously, that was not possible at my home, because of my own daughters." Yet she remained at home, although she also disappeared from the radar for periods.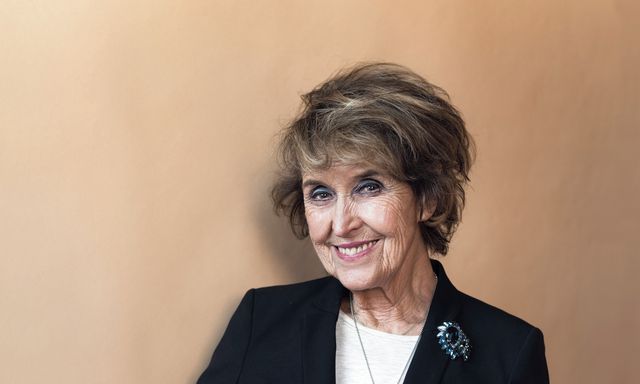 Also read: 'I don't have an ideal character'
And your newfound calling?
"I had entered the emergency services to make a change, but I understood that I could never do that with my bare hands. It was around that time that I read an interview with Aleksandr Solzhenitsyn, the Nobel Prize-winning Russian writer. He said something like: the writer's job is to improve the world, not with his hands, but by signaling and purely informing, then experts could do something with it. He's right, I thought, that's how I should do it."
So the world of the real people has started to mix with that of the paper?
"They moved over each other. I was able to achieve more in writing than as a social worker."
So she started writing again. Books, plays, radio plays about who she saw, what she experienced, all the misery and beauty she encountered in the world of youth problems. "Signaling and informing", says Keuls. She identifies stories full of abuse, violence and grief, but also a world populated by resourceful, funny and inspiring protagonists. Humor became a trademark. She calls her 'social novels' in Cologne: fiction, but not at all.
In 1977, based on her diary entries, she wrote Jan Rap and his mate, set in the shelter. It was made into a film and Cologne herself adapted her book into an internationally performed play. Yvonne Keuls experienced her greatest success a few years later with The rotten life of Floortje Bloem (1982), a novel about a heroin-addicted teenager who ends up in prostitution. "Actually, that book was also about loverboys, avant la lettre, nobody knew that term yet. I warned about that forty years ago, but then I was laughed at."
Last year, that book was awarded the first Peter van Straaten Psychology Prize from Leiden University. 'Floortje Bloem is now forty years old', says Keuls, 'the fact that I still receive such an award shows to me that the problems I describe there are still the problems of today. Unfortunately, that applies to just about all my books."
Do you think that if Little Gem Victoria had lived now and ended up in the same circumstances, things would have turned out differently for her?
Cologne thinks for a moment and then sighs. "No, I do not think so. At the moment, sometimes forty social workers swarm around one child, you call them case managers – and those children tell their story to those people, over and over again. Do you think they're still interested in that? That they still trust them? All those agencies still don't realize that you have to listen to children. If they did, they too would find out that you won't get any further with only paper people, with files. That was the case then, with Gemmetje, and I think it is still the case."
You don't think it's gotten any better?
"New. I think hardly anything has changed."
That's a terrible conclusion to draw, isn't it?
"It is. That's why I had to write this book. With Gemmetje Victoria I wanted to show the bankruptcy of youth care in the Netherlands on the basis of one life. I hope they read this book over there and feel ashamed of themselves."
Why did this book come out after all these years?
"I still remember the date. October 24, 2020. Corona, all my lectures and performances were cancelled. I suddenly had all the time. On October 24, I got up, sat down at my computer and started writing like crazy. I said to myself: now you can't get out of it, you're almost ninety. What do you think you will live to be one hundred and ten? You must do it now. You are bright. You remember everything. And really, I still remember everything."
Gemmetje always said you would write this book. She is no longer alive, but with the publication of this book she was posthumously proven right?
"She was right. And the great thing is: by writing this book I got to know her in a different way. Things I hadn't thought about for so long at the time, I have now suddenly started to see crystal clear. How funny she was, for example, but also how scared. So scared. She felt safest in juvenile detention, purely because the door to her room could be locked there. What that actually means, when a child says that, I only now realize. I have finally been able to dissect her completely."
Yvonne Keuls (1931) was born in present-day Indonesia. At the age of 7 she came to the Netherlands. She worked as a teacher, but lost that job after her wedding because working for married women was not yet allowed. She decided to write and was successful with dozens of books on social issues. She has three daughters and is still married to Rob Keuls (1928).
Yvonne Keuls: Gem Victoria. Ambo Anthos, 236 pp. €21.99
A version of this article also appeared in NRC in the morning of November 26, 2021
---