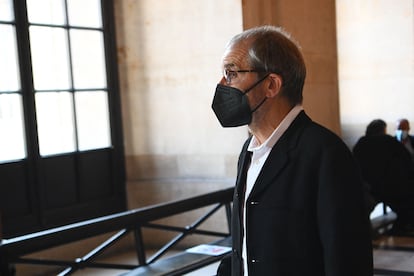 The ETA member Josu Ternera, in a court in Paris, last September.CHRISTOPHE ARCHAMBAULT (AFP)
The Criminal Chamber of the National Court has decreed the opening of oral proceedings against Joseba Andoni Urrutikoetxea, alias Josu Veal, for the attack committed by ETA against the headquarters of the Civil Guard of Zaragoza in 1987, which left 11 dead, including six minors and two pregnant women, and 88 wounded. The court has issued an order this week confirming the conclusion of the investigation and ordering the terrorist, whose prosecution was already ratified on July 1, to be seated on the bench. Veal, former head of the gang and arrested in the Alps in 2019, is free in France, where he was acquitted this year of the first of two pending trials he had in the French country. Spain has also requested its delivery.
"This popular accusation is satisfied by the opening of the oral trial," celebrated this Thursday Jorge Piedrafita, a lawyer for the Spanish Association of Civil Guards (AEGC) and two survivors of the attack (Antonio Frutos and Carmen Ortuño). "This important judicial order, on which there is no recourse, is the culmination of a long process in which we will continue working tirelessly to deactivate the tricks of the defense," insisted this part, which maintains that Ternera gave the order to the Argala command to commit the attack.
The crime at the Zaragoza barracks was one of the bloodiest of the terrorist gang. On December 11, 1987, ETA exploded a car bomb with 250 kilos of ammonia next to the premises of the armed institute, when most of the inhabitants of the facilities were sleeping. He vandalized the building and buried the victims under the rubble.
Through a letter issued this November 22, to which EL PAÍS had access, the Criminal Chamber rejects the allegations of Ternera's defense, which requested the file of the investigations and the revocation of the order that concluded the summary . In a previous resolution, the court already ruled out that the investigating judge Ismael Moreno violated the fundamental rights of the terrorist, who affirmed that there were no "rational indications of criminality" to prosecute him.
Veal is currently in France, where was acquitted this September of belonging to ETA between 2011 and 2013. The historical ETA leader still has another trial pending to respond to the accusation of "association of criminals for terrorist purposes" —equivalent to the crime of integration into a terrorist organization of the Spanish Penal Code— between December 2002 (shortly after he went into hiding where he remained for almost 17 years, until his arrest in May 2019 in the French Alps) and May 2005. This is a repeat of the trial held in 2010, when he was convicted in absence to seven years in jail.
---