'Are games art?' is a question that especially irritates gamers: the answer is yes. Museums are now also opening their doors to this new art form, but they remain cautious.
That the exhibitions Arranged Realism in Museum Belvedere in Heerenveen and Game On! in the Forum in Groningen take place at all is therefore almost commendable: both museums dare to present games as art to the public. But what is the best way to make an intensive, interactive art form manageable for a museum audience?
The history presented in Forum, part of a traveling international exhibition since 2002, follows a familiar path: just like it National Video Game Museum in Zoetermeer packed Game On! the medium in a series of playable machines in chronological order with explanations. You wander from decade to decade and from game column to game column in two large halls.
We start in the 1970s with the rise of Nolan Bushnell's Atari, his failure with the overly complex Computer Space (1971) and the success of Pong a year later. Leave the flickering tennis game behind and you'll embark on a journey through the game world's flaring genre family tree to today's blockbusters. Side paths show the convergence of game and animation and the cross-fertilization with film culture – unfortunately in a nutshell.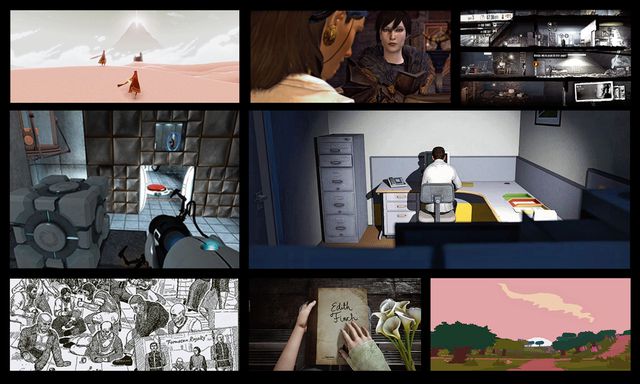 Also read: Games for the art lover
The collection is impressive. Here are classics such as Prince of Persia (1989) and Space Invaders (1978), as well as newer work such as Gris (2018) that combines traditional watercolor art and game; culture-defining powerhouses such as fantasy game World of Warcraft (2004) and construction game Minecraft (2011) are featured, but also interesting Dutch outings such as A2 Racer (1997) or a simulation game with which surgeons learn to operate. It is a striking overview of the breadth of the medium.
thump
That also hurts. Most games are not works of art that you can understand in five minutes. Game On! feels like an overwhelming thump to confront visitors with the facts: games are big, many, an art form with a history. However, the impact of an individual game as an art experience remains elusive.
With Arranged Realism in Belvédère, guest curator Merijn de Boer wants to show the art of the game. According to him, the medium is Gesamtkunst. The art department that handles all the visual design is crucial. Why not hang their work in the museum?
The art experience of games remains elusive
The focus of Arranged Realism lies with the work that the team of image director Sébastien Mitton made for the special Franse blockbusterstudio Arkane. A strong choice. Their immersive simulation games like Dishonored (2012) work because each area is designed as an emotionally existing location where characters live their own lives, independent of the player. The artistic work that requires such a detailed design can be admired here in all forms.
The concept painting Arrival of the Duke (2016) by Sergey Kolesov. Created digitally for Dishonored 2 Collection gallery Cook and Becker
Klapper is the concept painting Arrival of the Duke, in which we see a duke being carried through a 19th-century city on a metal chair. A soldier oppresses the people with a swing of his pistol, technologically advanced windmills hint that everything is not as historically correct as it seems. Next to it hangs another plaque: three men shouting "Death to the Duke!" on a dilapidated facade. lime.
This is how a world is created. The tone has been set, both for the visitor and for the army of draughtsmen, programmers and designers that have used these digital paintings as inspiration for years. Three clay busts, flown in from Lyon, show Arkane's character design process. 3D designers often make faces too symmetrical; by placing the work in physical space, they hoped to gain insight into human imperfections. A small room in which an apartment from Dishonored 2 (2016) has been recreated further clarifies the interaction between digital game and physical space.
The concept behind Arranged Realism is strong, especially for the layman. Arkane's works not only show how the creative process behind a game works, but just like the game, swallow you in the rain-soaked streets of a collapsing country. It is therefore a pity that the exhibition offers so little explanation, and that De Boer's ambitions are not given enough space. The opening with the artfully made boxes of old games is beautiful, but it lacks connection with the rest of the exhibition.
What if, with Forum's resources, a museum dared not only explore the breadth, but also the depth? If you gaze at the taut galaxies in Heerenveen as deep red spirals on azure blue in the fantastic retro-scientific posters from Arkanes Prey (2017), then you dare to daydream.
Exhibition
Arranged Realism – Kunst in Games, until 23 Jan in Museum Belvédère, Heerenveen. incl. museumbelvedere.nl
●●●●●
Game On!, until 6 March in Forum Groningen. incl. forum.nl
●●●●●
Newsletter NRC Cultuurgids
What should you see, hear or listen to this week? Our editors review and tip
A version of this article also appeared in NRC in the morning of November 25, 2021
---