It seems to be the question of a crucial corona week: are the numbers going to fall seriously or are stricter measures necessary, perhaps even a complete lockdown? The outgoing cabinet is on the eve of difficult decisions that have a profound impact on a society under high tension. Several cities were the scene of violent protests from opponents of the measures this weekend. In addition, there is the almost parallel reality of heavily overloaded hospitals and panic in healthcare, where the term 'Code Black' is increasingly used.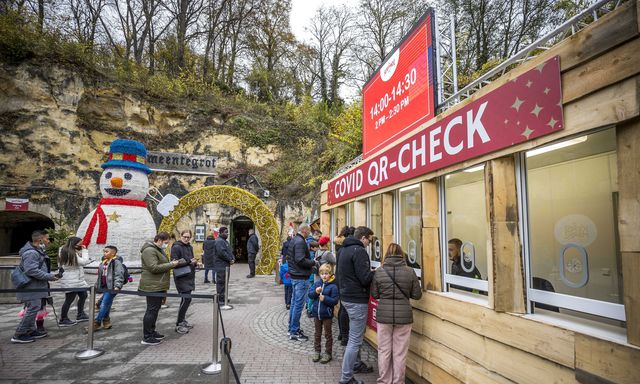 Also read: 1G, 2G, 3G: how does the corona pass work best?
The effect of the measures that came into effect last Saturday should become visible in the coming days. First of all, in the infection rates. But 'we are not yet seeing such a turnaround', said OMT member Marion Koopmans in Buitenhof on Sunday. The number of positive tests was also well above 20,000 on Sunday and hospital occupancy continues to rise. The OMT does not yet see a sharp decline in the mobility figures. If nothing changes, the OMT will meet for emergency consultations next Wednesday or earlier, IC doctor Diederik Gommers told Op1 on Friday evening. A new lockdown, including school closures, will then be on the table.
The developments thwart the strategy of the cabinet, which hoped that closing catering and shops earlier and banning the public from sports competitions could turn the tide. On Monday, outgoing minister Hugo de Jonge (Public Health, CDA) submitted a law for a 2G model to the House of Representatives, with which the cabinet wanted to relax at the beginning of December by reopening certain sectors only for vaccinated or cured people. But for the time being, easing seems distant, and 2G has thus until now been mainly a theoretical discussion.
2G, meanwhile, is causing great unrest. Although many of this weekend's rioters are more likely to cause nuisance, the riots cannot be completely separated from the corona policy. Demonstrators chanted 'Fuck 2G, Rotterdam is no longer involved' on Friday. The riots took place after the catering industry closed its doors at 8 p.m. and were partly caused by football hooligans who are no longer welcome in the stadium.
Hospitals fear such a large influx of Covid patients in the coming weeks that they will no longer be able to treat all acute patients. In such a situation, when all IC and hospital beds are full, the protocol for 'Code Black' comes into effect and doctors start to select based on, for example, length of stay and age. De Jonge said on Friday that this scenario is "not close" because there are now a total of about 900 patients in the ICUs. According to agreements with the ministry, the hospitals must be able to man 1,350 IC beds for a number of weeks in an extreme case.
Also read the report from the Jeroen Bosch Hospital: The staff is very busy again, corona care is intensive and time-consuming
In the healthcare sector, they find this number unrealistic due to the lack of staff and high absenteeism. Healthcare administrators who warn against 'Code Zwart' emphasize that healthcare is more than ICUs and that healthcare is once again in a black scenario, with patients temporarily having to lie in the corridors of overloaded emergency rooms and with cancer patients having to cancel, for example.
A new lockdown could quickly ease the pressure on healthcare, but such an approach is sensitive within the cabinet now that so many Dutch people have been vaccinated and a lockdown also means economic and social damage. A lockdown could also further increase the risk of social unrest and violent riots such as last weekend. And how long can a lockdown last this time? There are no more easy choices.
How does 1G, 2G, 3G work? page 6-7
Newsletter NRC Today
Every morning an overview of our best pieces and all the important other news
A version of this article also appeared in NRC in the morning of November 22, 2021
---