It is a topic of criticism to relate Picasso and Pollock as precursor and epigone, respectively, not to mention that the muses go from one side of the story to the other and intervene, randomly but imaginatively, to the highest degree. To the American, representative of the American type painting (action painting, abstract expressionism) is credited with the exclamation "That guy missed nothing! " (That guy missed nothing!), Meaning that Picasso was ahead of his technique of dripping (dripping) consisting of throwing the paint from the dripping brush onto the canvas spread on the ground, without touching it. In 1950, photographer Hans Namuth dedicated a session to recording Pollock in the process of painting behind glass in his peculiar style. He was not yet displaced, but already in the solitude of his study the photographs that the Albanian Gjon Mili had taken of Picasso months before in Paris, published in the magazine Life, where the famous 67-year-old painter is seen in a dark room in front of a large glass, struggling to draw with light "something that he could not see".
Almost too well we know that one of the most arduous pleasures of art is its persuasiveness to inaugurate or destroy a certain aesthetic distinction without hardly shaking its foundations. To continue with the question of action painting, let us now imagine Picasso's disinterest if he had known that, nine years before him, the pioneer of abstract cinema in America, Mary Ellen Bute (1906-1983) placed behind glass and well stocked with cans of paint, she had cheerfully brushed off a repertoire in black and white and color of unrecognizable abstract shapes that she would later translate to celluloid on film Tarantella (1940), presented that same year at MoMA. Of course, we would say, there is always a woman who has done it all before! Only that we discover it when men, children of history, have already done it and presented it as if no one had done it or perceived it before them.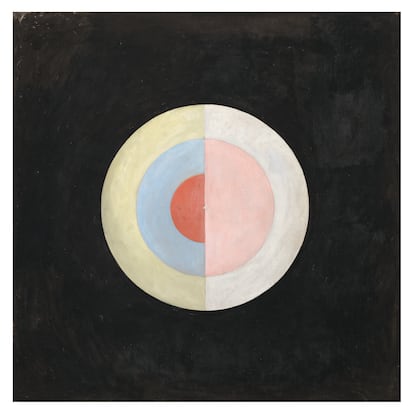 'The Swan, No. 16, Group IX / SUW' (1915), one of Hilma af Klint's paintings exhibited in the exhibition 'Women of Abstraction' at the Guggenheim Bilbao.Albin Dahlström (© Stiftelsen Hilma af Klints Verk)
In this other way of carrying a singular excellence, we recognize the work of the Swedish artist Hilma af Klint (1862-1944), of which no one had heard, or very little, until her abstract paintings appeared discreetly in group exhibitions less than two decades, and finally in 2013, when what was considered her rediscovery occurred, turned into a cultural phenomenon by the Moderna Museet in Stockholm, which presented her as a true pioneer of abstraction (at least five years before a giant of the painting, Vasili Kandinsky).
Its definitive consecration took place in the "ideal container": the Guggenheim in New York, whose collection was based on the acquisition of 150 works by Kandinsky
Its definitive consecration took yet another five years, because it had to be where everything happens, New York – not at MoMA, which in 2012 had supposedly rejected the itinerary of that blockbuster come from Sweden, before hanging it next to Kupka and Delaunay in the rearrangement of their permanent in 2019 – but decked out in what would be the "ideal container", the Guggenheim, not only because the concentric circles and spirals of the work of Hilma af Klint are likely to be symbolically identified with Frank Lloyd Wright's inverted ziggurat, also because the collection that Solomon B. Guggenheim had created over the years at the behest of the baroness, also a painter, Hilla von Rebray, had its based on the genuine admiration of the philanthropist for the spiritual and esoteric character of Kandinsky's painting, from whom he would end up acquiring 150 works.
Detail of one of Hilma af Klint's works, made between 1913 and 1915, exhibited at the David Zwirner Gallery in New York.
Hilma af Klint. Paintings for the Future, broke all records in the 60-year history of the museum: 600,000 visitors in the six months that the exhibition lasted and 30,000 catalogs sold. The history of art has these extravagances, which do not exclude the open irony of supplanting epigones by pioneers until the latter are presented strong enough as "symbols" to end up engulfed in the sausage of the markets, which translates into transforming into a popular phenomenon (there is the case of the poet Emily Dickinson) what in his day was adopted as wise artistic passivity. Suddenly Hilma was everywhere. French director Olivier Assayas introduced it into the plot of his film Personal Shopper, while the sophisticated Swedish brand Acne Studios marketed a collection of clothing inspired by his work in 2014. Institutional interest has also grown since then: nine of his works are part of Women of abstraction, which can be seen at the Guggenheim Bilbao after its premiere earlier this year at the Pompidou, where a total of 16 canvases were exhibited.
In his last wishes, he stated that his paintings were not exhibited until two decades after his death in 1944, when he was 81 years old. The perfect age to die, according to Dante
A fan of spiritualism and theosophy since her youth, Hilma af Klint was attracted to the occult, the excess and also, like the Amherst poet, the nuances of the universe, which she tried to capture in her abstract compositions, often under the influence of hypnosis. His legacy is overwhelming, close to a thousand works, in addition to botanical studies of plants and flowers, incomprehensible mathematical diagrams and 15,000 notebooks. In his last wishes, he declared that his paintings were not exhibited until two decades after his death, which occurred in 1944, when he was 81 years old, the perfect age to die, as Dante wrote.
Kristen Stewart consults a catalog about Hilma af Klint in the film 'Personal Shopper' (2017), by Olivier Assayas.
For a few days now, the German gallery owner David Zwirner, who has managed the Af Klint legacy since this year, has presented a suite of eight paintings unknown to date (gouaches, watercolors and ink drawings) made between 1913 and 1915, and puts them up for sale with the warning that the works must have the final destination of a relevant institution. The series, titled Tree of knowledgeare variations on the same theme: the tree inside which is a heart-shaped seed that sets off scenes of relentless economy. There is no Genesis, everything is an allegory, a cosmos, which in its dynamism describes the progeny of ordinary humanity that can never be fully seen. An almost mathematical harmony of forms sweeps away every context, free from history and ideologies, as if it were painted by a god or a goddess and the artist's hand was the medium.
From Hilma af Klint we can deduce that she only believed in the reality of her visions, hence the debate between styles, pioneers and descendants is trivial in her case. In the drawings, he greets his twin spirits, who more than repay his appreciation. Surely the artist never wanted us to consider only one work, nor one life, but all of them. And this would be the lesson that could avoid the brutal exploitation to which the fashions will subject her. A man, white, western and dead, he is no longer the most alive personality on the planet of art. Other hierarchies are urgent.
'Tree of Knowledge'. Hilma af Klint. David Zwirner Gallery. New York. Until 18 December.
'Women of abstraction'. Guggenheim Bilbao. Until February 27, 2022.
You can follow BABELIA in Facebook and Twitter, or sign up here to receive our weekly newsletter.
Sign in to continue reading
Just by having an account you can read this article, it's free
Thanks for reading EL PAÍS
---