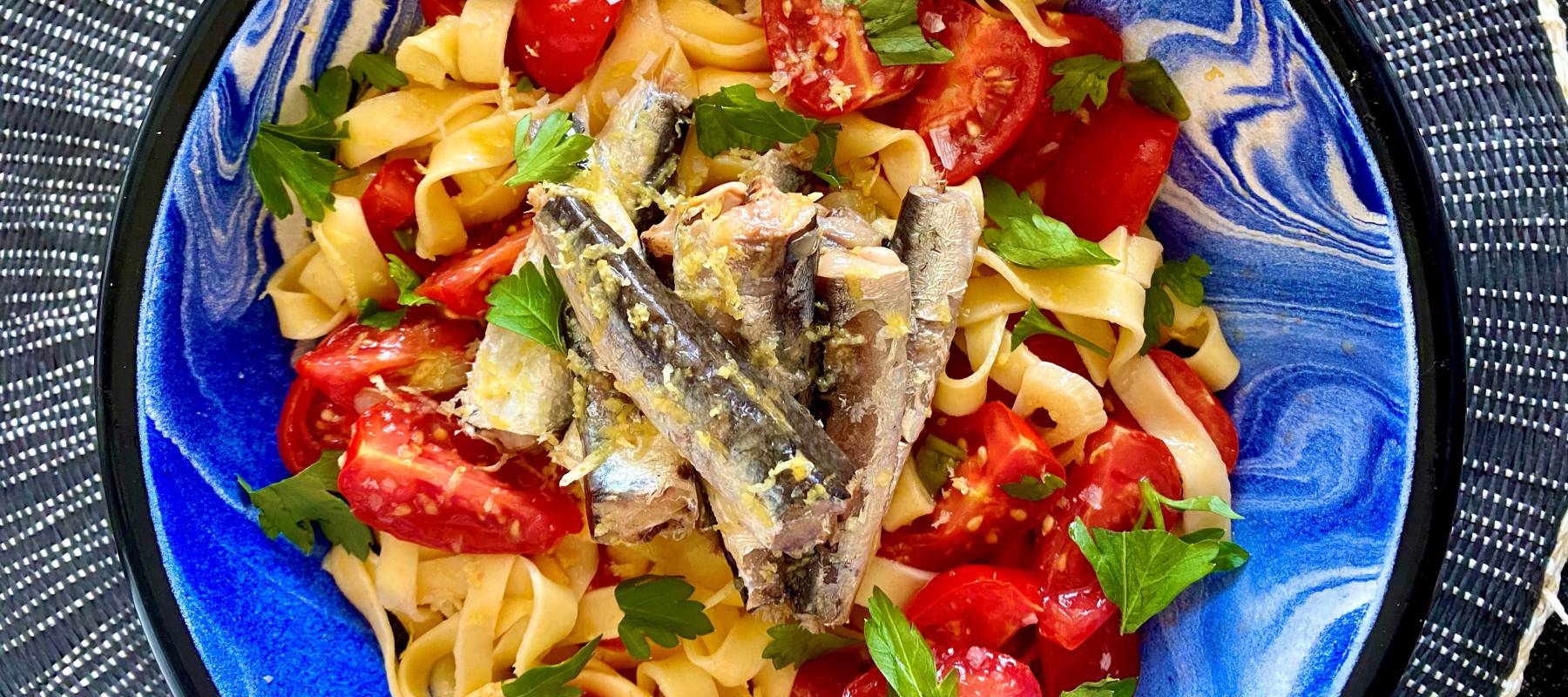 This pasta dish is very simple, it can be prepared with ingredients that we have at home or we find it easy in any market or supermarket, it is inexpensive, it can be adapted to the level of hunger we have and it allows to calm the craving for tomatoes in any season, since for a few years you can find cherry -usually pear- with a relatively acceptable flavor from September to August.
In the version that I usually prepare the pasta is served a little hot and when joined with the rest of the ingredients they become warm; which helps the sardines get honeyed and aromatic, the lemon zest smells especially good and the pasta is loose and well soaked with all the flavors. If you don't like the acid taste of lemon, you can just use its zest, and if yours is vinegar; Some good pickled sardines or sardines can provide a nice touch (mackerel would also be a good substitute, with its honeyed meat due to the infiltrated fat that characterizes it).
Depending on the quality of the oil in which the fish comes, we adjust the amount of the one we will use to brown the garlic, use less of it and add the one from the can or part of it. If the canning is excellent and we do not want to add any other fat, we can also use roasted garlic -those that you have to put every time the oven is turned on- or chop them very finely and brown them quickly with just a tablespoon of the sardines, to that the rest retain their organoleptic characteristics intact. And little else to say, other than that I recommend being generous with the parsley; that here more than a dressing should be treated as an ingredient in its own right, and with freshly ground pepper.
Difficulty
You could do it even sleeping.
Ingredients
For 4 people
750 g of fresh noodles 4 cloves of garlic (or to taste) Extra virgin olive oil Zest and / or lemon juice 500 g of cherry tomatoes Salt Pepper Abundant parsley leaves Between 2 and 4 cans of sardines in oil (ideally olive)
Preparation
Put a pot of salted water over a high heat to cook the pasta, while in a saucepan over medium heat put about 120 ml of olive oil (ideally, extra virgin). Peel and slice or mince the garlic cloves. Put them in the oil, lower to a minimum and leave for about three minutes, until they smell good and begin to brown. At that time remove from heat. Wash, dry and cut the tomatoes in halves or quarters lengthwise. Cook the pasta according to the manufacturer's instructions, drain and mix well with the oil. Let warm for about four minutes, stirring once halfway through, mix with the tomatoes, a generous amount of fresh parsley -more or less chopped, to taste-, salt, pepper, zest and if you want also lemon juice. sardines in different ways: put them directly on top -it is more aesthetic-, crush them all with garlic oil to get a spice of pasta that is distributed everywhere or half and half.
If you make this recipe, share the result on your social networks with the hashtag #RecetasComidista. And if it goes wrong, complain to the Chef's Ombudsman by sending an email to [email protected]
.
---