The Glasgow chord contains some strong and some weaker passages. The passages in which reference is made to science are strikingly clear. The message of the scientific report of the UN climate panel IPCC published in August has apparently arrived: climate change is a very urgent problem with major consequences worldwide, which must be tackled quickly. The agreement makes it clear that current policies to prevent dangerous warming are insufficient and countries are called on to tighten their climate plans as early as next year.
Glasgow Climate Summit
Can the world keep global warming below 1.5 degrees?
Read all articles here.
The passages concerning the financing of climate policy, in particular the required flow of funds from rich to poor countries, are generally much vaguer. Rich countries recognize that they have defaulted and failed to deliver the $100 billion a year that was promised by 2020. That was extra painful because in the field of compensation – a very sensitive subject for years – they have only made meaningless proposals.
Here are the most notable agreements made in Glasgow:
Coal
For the first time, an international climate agreement makes explicit reference to the end of coal. Fossil-loving countries have made frantic efforts to remove this passage. That did not work. In the end, the text has been toned down considerably. First of all, it is no longer about all coal but about 'unabated' coal, ie coal whose greenhouse gases are not captured and put underground. And at the very last minute, the term 'phase-out' has been replaced by 'phase-down' (reduce). That provides room for escape for the coal-fired workers, and will not bring the world closer to 1.5 degrees, according to Swiss Environment Minister Simonetta Sommagura.
Subsidy
The agreement also contains a condemnation of subsidies for fossil fuels. This is an unprecedented step forward, if only because it explicitly identifies coal, oil and gas as the culprits of climate change for the first time. According to US climate envoy John Kerry, $2,500 billion in subsidies has gone to fossil fuels in the past five to six years. "That feeds the problem that we are trying to solve here."
In the final text it is only a matter of condemning 'inefficient' subsidies. That is a weakening, because in this way space is created for lenders to financially support fossil fuels. But countries will eventually have to come up with a good story if they continue to subsidize certain forms of fossil energy.
money
As always at climate summits, money was the biggest stumbling block. Rich countries acknowledge "with deep regret" that they have not kept their promise to raise 100 billion dollars (more than 87 billion euros) annually from 2020 for aid to developing countries. Rich countries also admit that they do not divide the available money fairly between adapting to climate change (which the poor countries insist on) and reducing greenhouse gases (which rich countries prefer to spend their money on). In the agreement, the rich countries promise to improve, and thus to do what they have promised.
Rich Countries Recognize That They Didn't Make The $100 Billion Promised By 2020
More money
Loss and damage was the most difficult financial issue in Glasgow's final hours. Climate summits have been discussing the right of poor countries to compensation for climate damage, which is after all caused almost entirely by rich countries. Rich countries like to talk further, but consistently refuse to commit themselves to numbers – that also applies to the EU, which is always prepared to make far-reaching concessions. The agreement contains only vague promises. In the first draft text there was still talk of 'a working group' that has to give substance to this, in the final statement there is nothing left than 'the Glasgow dialogue'. This topic is sure to come up in the coming years as poor countries are outraged that rich countries view reparations as a form of charity.
Game rules
On Friday evening, European Commissioner Frans Timmermans called the ongoing disagreement about the 'Paris Rulebook', rules for the implementation of the Paris Agreement, 'a stone in the shoe'. In Glasgow, the stone has finally been removed. Emissions trading in particular was a sensitive subject. Jos Cozijnsen, expert in this area of ​​the Climate Neutral Group, is satisfied with what has been agreed. Double counting is avoided as much as possible and countries must report exactly what they do. According to Cozijnsen, the fact that there are still millions of so-called credits from an earlier climate treaty on the shelf is not a great risk, because most countries do not want them anyway. "We need to create an emissions market that enhances, not undermines, ambitions," said Timmermans. And that, according to Cozijnsen, has been successful. New credits should be more ambitious.
Other chords
Groups of countries, in different compositions, came to Glasgow with declarations and agreements on all kinds of sub-topics. For example, a deal was reached on combating deforestation, which critics say was suspiciously similar to previous, unfulfilled agreements on the same subject. The decision to stop selling new petrol cars from 2040 has not been signed by countries such as the US and Germany, nor by major automakers such as Volkswagen, BMW and Toyota (while GM, Mercedes Benz and Volvo have). A lot of political pressure was needed to get the Netherlands and later Germany to sign the agreement to stop subsidizing fossil fuels. The US did not sign, despite Kerry's warning that these kinds of subsidies feed the climate problem. An agreement to rapidly reduce emissions of the powerful greenhouse gas methane can have a major impact in the short term. But the US and EU, the initiators, are vague about methane emissions from agriculture. And a country like Russia, with high methane emissions, is not participating.
European Commissioner Frans Timmermans shows a photo of his 1-year-old grandson Kees, while addressing the participants of the climate summit on Friday.
Photo Yves Herman/Reuters
Also read: Only optimist sees progress in climate conference agreement
Reactions to the outcome of the climate conference:
Boris Johnson 'Going in the right direction'
The Glasgow Climate Accord is, according to British Prime Minister Boris Johnson a treaty that "changes everything" and heralds the end of coal. Although it has only been agreed to "reduce" the use of coal, that is already quite an achievement, according to Johnson. "Despite our disagreements, the world is undeniably moving in the right direction."
Antonio Guterres 'Not Enough'
United Nations Secretary-General António Guterres calls the agreement "a compromise, which reflects the interests, contradictions and political will in the world today." Guterres stressed that an important step had been taken, but that "the collective political will was not enough to bridge deep divisions."
Dilan Yesilgöz 'Progress'
"Progress has been made," said State Secretary Dilan Yesilgöz (Climate, VVD). "Even though the Netherlands had aimed for a more ambitious and concrete final statement", in particular on the phasing out of coal, this statement proved "the maximum achievable. Nevertheless, we should not underestimate the results of this climate summit."
Frans Timmermans 'Work continues'
European Commissioner Frans Timmermans (Climate) emphasizes that it is "doesn't stop here". According to him, the agreement gives hope for the future of his children and grandchild. "We have not seen such an ambition since Paris." He told the negotiators that work "must continue at the same pace".
Greta Thunberg 'Bla bla bla'
"The COP26 is over. Here's a quick summary: blah, blah, blah," Swedish environmentalist Greta Thunberg wrote on Twitter. "But the real work continues outside these halls. And we never give up. Never."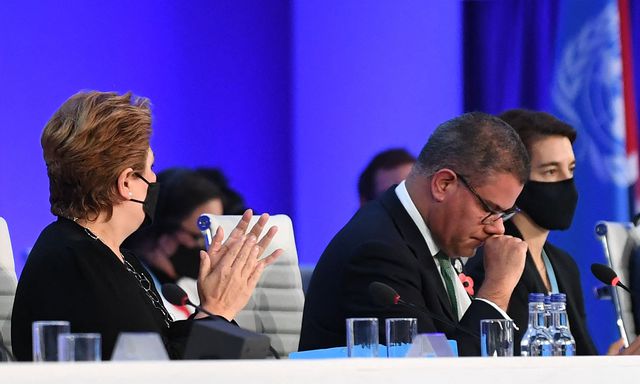 Also read: Glasgow Climate Agreement: not nothing, but not nearly enough
A version of this article also appeared in NRC in the morning of November 15, 2021
---