Space Revenge has emerged in the sci-fi twin-stick shooter category. The gentlemen from the Retro channel of our Discord got weak knees from this description alone and have once again claimed a place on the website to be able to post a review. This time it is DM4S who shares his findings in the review with you:
As a sci-fi junkie and twin-stick shooter enthusiast, I was once again ready for a good game in this genre. When our Discord moderator Michaeltje drew our attention to Space Revenge, my answer was quickly ready. HOLD MY BEAR! But, is Space Revenge worth your time and money (and a warming beer)?
Jandusoft is not an unknown name in the indie game world. This publisher releases one indie title after another (our well-known Eddie recently reviewed another game from this publisher). The most recent release is Space Revenge from developer Eskema Games. This Spanish indie developer only has two other minor titles to her name: Fullblast and Delta Squad, the latter of which is also a twin-stick shooter.
Out for revenge
The story begins with a comic-style intro in which we see the protagonists' parents brutally murdered by a band of space pirates. Enough reason to want to take revenge. Fortunately, you are not alone in this as a player. Out of nowhere you get a hand out from a man who takes you under his wing and trains you for 10 years. And now the time has come for revenge!
If you read this like that you would say that the story doesn't have much to worry about and so let it be the same. The story is pretty straight forward and contains virtually no plot twists or real depth.
Nice variation in enemies, but the variation in ammo on the other hand…
But if the story doesn't have much going for it, then the gameplay must be fine, right? Well, alas! There are also a few things to note in terms of gameplay.
The game gives you two options: a Story Mode and a Boss Rush Mode, which are only unlocked once you have completed the game in story mode. You start the game with a simple machine gun and three grenades, with which you attack the enemies. You earn money by completing a level and completing the assignments you get in the level. These tasks mainly consist of opening doors and taking down bridges or finding key cards. The more assignments you complete, the more money you earn.
You can spend your hard earned money in a shop to buy three other weapons (plasma gun, SMG, heavy plasma gun), upgrade or buy new ammo variants. These can then consist of, for example, acid, stun or fire ammo. Despite the various variants in ammo, I found none of these variants really make a difference. Your normal ammo seems to do even more damage than these special variants.
Another big problem I ran into was the incredibly cumbersome controls of your character. It seems as if it was constantly moving in slow-mo, which I personally did not experience as pleasant. What is well done is the diversity of enemies. There is enough variety here to keep it challenging. From close combat enemies to big enemies that fire missiles at you if you are too far from them. The sub-bosses and final boss are wonderfully varied and give good resistance and difficulty to experience a little euphoria when you have them against the ground.
Little variation and inspiration in level and audio design
The levels mainly consist of corridors with enemies, explosive barrels and many shades of gray. If you're looking for a wide variety of level design, then you've come to the right place with this game. All levels use the same blue-grey-grey spaceship textures and it comes across as a bit uninspired.
It is also quite mediocre in terms of audio. It does what it's supposed to do and won't really excel anywhere. From simple shooting sounds to a 13 in a dozen robot voice that sounds every now and then. The soundtrack is also not much to do and mainly consists of one and the same song that is in each level.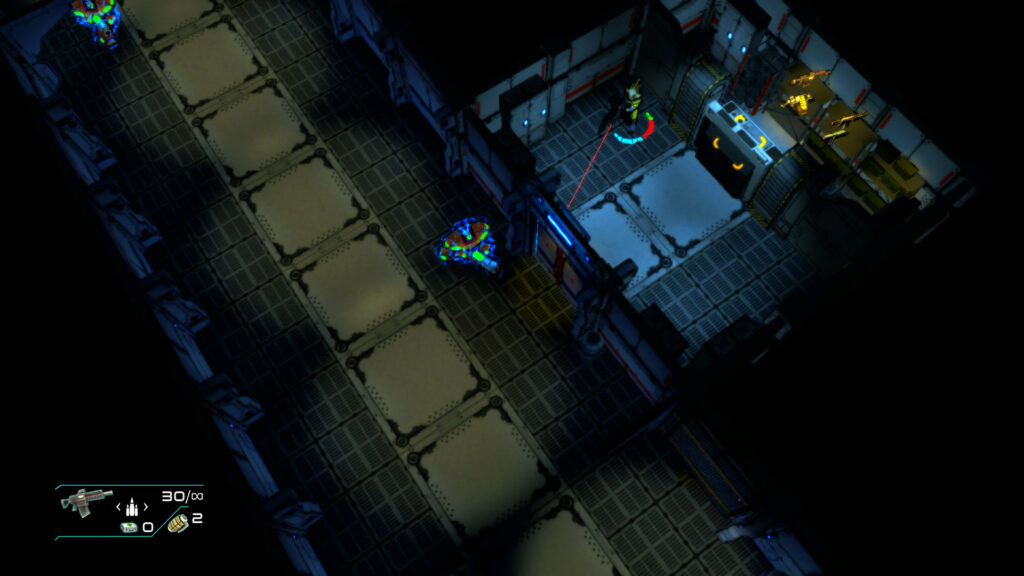 Technical issues
Although the gameplay is reasonable, I did encounter some technical problems. I'll mention a few: loading screens that don't load, enemies that don't load in the game so that your levels just remain empty and finally significant drops in the frame rate. Especially not loading levels and enemies made sure that I had to replay a full level several times. Because of this I kept getting out of the flow of the game and that's a shame!
Easy chievos, gotta love it!
Are you looking for a challenging game in terms of achievements then you should stay far away from this game. However, if you are looking for a quick 1000g snack then you can have fun. All achievements can be obtained within 30 minutes to an hour. Achieving achievements ranges from using a health pack to killing 10 enemies and picking up a secret. So it doesn't have much to do, but it's nice for a quick boost of your gamer score.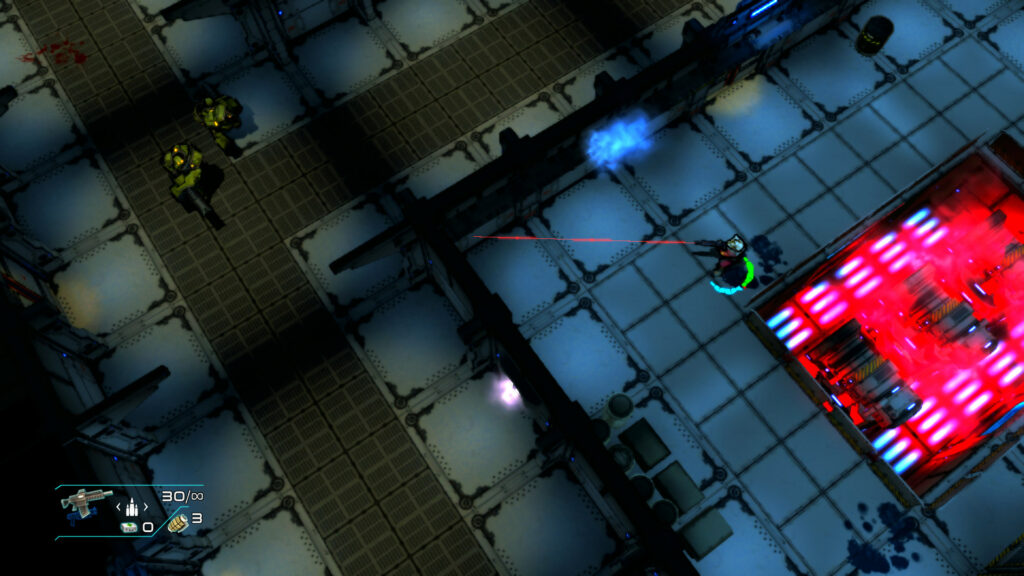 Conclusion
Space Revenge is a mediocre game in every way. Moderate in the variation in gameplay, level and audio design to storytelling. Despite all this, I still had some fun. This is not recommended for the seasoned twin-stick fanatic, because the game is too flat and lifeless. But if you are new to the genre, you can try the game for the price of 10.99. The game has a good difficulty level for a novice or casual gamer and offers just enough challenge
---