"Which of all the ways of lying on your back will be the least boring in the long run?" a man wonders in Samuel Beckett's novella Companionship. Not only do these contain fascinating passages about light and life light, but there is also a striking role for the creeping creator. Thus the question is raised whether a creeping creator can stink more than his creature. Another question: can both crawl through the same darkness? Crawling through the dark is serious business, and, moreover, "too overpowering to allow any other occupation, even if it was just conjuring something out of nothing."
Who the world of the American/South African photographer Roger Ballen – now with a retrospective exhibition The world according to Roger Ballen to be seen in the Photo Museum in The Hague – if you want to understand, it is good to read Beckett (or vice versa: if you want to understand Beckett, it is good to look at Ballen's photos). Ballen became acquainted with the Irish writer when he was a student at the University of Berkeley in 1972 on theater classes, and became acquainted with some absurd plays by Beckett, Harold Pinter and Ionesco. It would permanently influence Ballen's photography; the creeping creator returns in pictures where man is trapped in a world of incapacity and has become trapped in cages, closets or entangled in inextricable threads.
Understandably, the first project Ballen set up as a photographer became a sort of ode to Becket: Ill Wind (1972). Fascinated as he was by painters who took small pieces of reality to create a whole, while street photographers wanted to capture the entire setting in an image, he made photos that he made into a whole in a film. The stills show a Beckett-esque character with a soldier's helmet walking through New York. He is on his way from nowhere to nowhere, in an at times absurd environment (sitting next to a fairground clown on a bench and walking with a white knapsack past a huge skull). In fact, this setting – the useless world in which you have to find your way around – is the basis of Ballen's photography: there is loneliness, absurdity and – very importantly – shadow. Not for nothing would one of his most beautiful series be called Shadow Chamber (2005).
Cat catcher (1998)
Foto Roger Ballen / Courtesy Reflex Gallery Amsterdam
Puppy between feet (1999)
Foto Roger Ballen / Courtesy Reflex Gallery Amsterdam
Cat catcher, 1998 & Puppy between feet, 1999.
Foto's Roger Ballen / Courtesy Reflex Gallery Amsterdam
Hinterland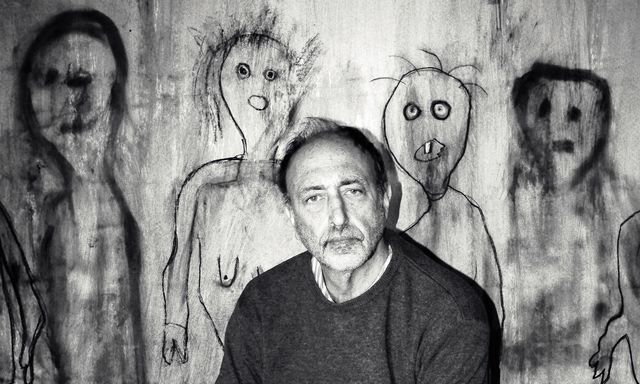 Also read this interview with Roger Ballen: Reality is a shadow
In the world according to Ballen it is often about the shadow, whether it is cast by the photographed person or by objects in the environment. Where Ballen is, there is shade. Not only in this first series, but also in the photos that started it all when he traveled the world in the seventies, after the death of his mother. He captured street scenes in many different countries on different continents: good black and white photos with a short shadow in the countries close to the equator, but also photos that don't stand out when you compare them with those of other good photographers on transit around the world.
Of all the countries he visits, it is South Africa that awakens the photographer in him. World cities are replaced as subject by the Afrikaner countryside. "My sense of aesthetics developed in the hinterland of South Africa," Ballen would later say. His new compatriots, however, saw less of the aesthetic value in it. While a photo of the drooling twin brothers Dresie and Casie (1993) with their excessively meaty floppy ears and dimly bright eyes, went around the world and became part of museum collections, Ballen was criticized. The outcast of society in a world of inbreeding: that was not how white South Africa was usually presented. Why would he be so eager to capture poverty and ugly Afrikaners? The South African writer André Brink was enthusiastic, who concluded about the photos in Dorps (1986) and Platteland (1994): 'Humanity itself becomes a mystery'.
That mystery of man became something Ballen increasingly focused on. After all, it had always been about capturing his own world and not about a political or committed setting. He hated the questions about who was actually in the picture. It was all about the process, the context, the how and the where. If one only wanted to look at the people portrayed and not at the environment, then there was only one thing for Ballen to do: then the environment had to be brought to the fore and people had to be dehumanized a bit. What did remain was a world of decay, full of tangles of barbed wire, molested animals, rats and birds, where the portrayed were bent over yelping, living crawling in their own world.
crawling man
In the series Outland (2000) the photos become more abstract, and people are less of a focus. Take the photo 'Head Inside Shirt' in which the boy with his head tucked between his knees is unrecognizable because of the shirt he has pulled over his head. The posture of his body has the same shape as the statue next to it. Ballen would later include the photo in the Shadow Chamber series. The whole series is a kind of psychodrama of hidden men – Ballen's world is one of very few women – where the man is sometimes reduced to a crawling quadruped ('Crawling Man'). Although the photos of the countryside are very strong, the power of Ballen's world became even more impressive in these two series. The created creatures crawl around it in a world of twisting forms. There are drawings on the wall, in the foreground animal and man in decline.
In Shadow Chamber there is more clear staging: the photos are taken in a studio in Johannesburg, where Ballen has been working since 2004. In a dilapidated building he places his outcasts with stray dogs and cats, pigs and rats in rooms where childlike drawings full of monsters have been chalked on the walls. Shadow Chamber tells a violent story intertwined with absurdity. The associated attributes will play an important role, from that time on they will also play an increasingly prominent role. The photos actually become two-dimensional installations, where shadows still define a part of what you see.
Also watch: Gloomy image of man in collaboration with photographer and draftsman
In the series after that, Ballen seems to want to tell a clearer story. This is shown, for example, in Asylum of Birds (2015), where humans are increasingly replaced by display and toy dolls. The world becomes a symbolic world of shadows, the shadows from his earlier work are increasingly replaced by an amoral world where shadows are no longer needed. The ugly has become the standard, the black and white has become grey.
As the shadows disappear, the effects become greater: installations appear with women knitting, babies screaming, broken models, skeletons moaning under beds. A world, in short, of death and destruction. Ballen had success with it in Finland and France, among others, where he had entire houses at his disposal to build homes full of horror rooms. Parts of those rooms can also be seen in the Photo Museum: rats crawl into mouths, loose arms cling to a table for lack of body, human skeletons have bird heads, a white dove crawls out of the heads of sleeping mannequins, children sit folded in small closets.
Eugene on the phone (2000)
Foto Roger Ballen / Courtesy Reflex Gallery Amsterdam
Bubble Bath (2016)
Foto Roger Ballen / Courtesy Reflex Gallery Amsterdam
Eugene on the phone, 2000 & Bubble Bath, 2016.
Foto's Roger Ballen / Courtesy Reflex Gallery Amsterdam
Parting
That Ballen has said goodbye to people in his work is not only clear from the installations where people are drawn or replaced by mannequins, but also from the fact that in The World According to Roger Ballen the early rural photos are absent (for the rest the exhibition does offer a nice overview, linked to the topics wires, drawing, people, animals, real/false and appearances). In the world of Ballen in 2021 there is no more room for Dresie and Casie. In their world, Ballen may have developed his sense of aesthetics in his own words – he no longer needs those aesthetics.
"My photography has been an existential journey," Ballen reflected on his forty-year career a few years ago. The journey is not over, but the photographs of yesteryear have given way to horror chambers, which, despite the fullness and the whole world they offer, are ultimately less effective and less gruesome. Ballen's absurd world has become dystopian, in which creeping creatures that meet their impotence have become recumbent creatures that accept their fate.
Exhibition
Roger Ballen: 'The world according to Roger Ballen' can be seen until 6 March in the Fotomuseum The Hague.
More info: Fotomuseumdenhaag.nl
Newsletter NRC Cultuurgids
What should you see, hear or listen to this week? Our editors review and tip
A version of this article also appeared in NRC in the morning of November 11, 2021
---