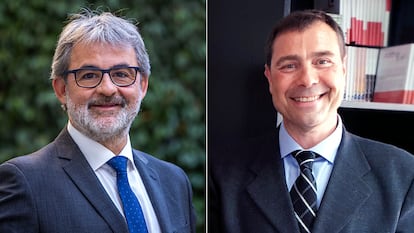 Jaume Serra Delegado and Jordi Finazzi as Regional Director of SER.
PRISA Media (EL PAÍS publishing group) ensures that it is making progress in the consolidation of its structure with the appointment of Jaume Serra as the company's delegate in Catalonia. Serra (Vila-sacra, Girona, 1967) has a degree in Advertising and Public Relations and a master's degree in Management of Organizations in the Knowledge Economy, as well as the author of different publications on radio.
After more than thirty years linked to Cadena SER, since 2018 Serra was director of SER Catalunya and Ràdio Barcelona. He has also been President at Unió Ràdio del Pirineu and Director of Contents at SER Catalunya, General Secretary of the Ondas Awards and Director of Ràdio Girona and Ràdio Lleida, among other positions. From now on, he will act as institutional representative of PRISA Media and will coordinate the media in Catalonia, which include EL PAÍS, SER and As, acting as a meeting point between business and editorial management needs.
The position that Serra held until now will be assumed by Jordi Finazzi (Girona, 1965), who currently served as director of the SER in Cantabria. Finazzi has a degree in Business Administration and Management and an EMBA from IE Business School. He has developed a large part of his professional career in the group, where he has been general director of PRISA Música, director of digital business and for almost 15 years he has worked as general director of radio in France and Central America; and has been responsible for the Music stations in Latin America for PRISA Radio.
Finazzi has also held various positions of responsibility in radio in Catalonia throughout his professional career. Now it will pilot the radio division with the most programmatic offerings in the Catalan market, made up of SER, SER Catalunya and the LOS40 and Dial channels. Miquel Noguer continues as the head of EL PAÍS in Catalonia and Santi Giménez as AS delegate.
This reorganization follows the restructuring undertaken by PRISA this year, with which all the media were integrated into a single business unit under the PRISA Media brand and under the executive chairmanship of Carlos Núñez. The company seeks to guarantee digital transformation and obtain a better benefit from its brands and businesses, in addition to implementing, with the creation of a more agile structure, a more transversal and collaborative work culture that enhances all its media. PRISA Media brands have a high penetration in Catalonia with more than 4.5 million digital users and 1.1 million daily listeners and readers. The company has physical headquarters in the four Catalan provinces: extensive newsrooms for its press and radio media and the largest commercial media advertising network.
The importance that Catalonia has for PRISA Media and the relevance of the work of its media as a backbone and disseminator of the Catalan reality, has led it to strengthen its organization to respond to new needs, in accordance with the general criteria of the company . In practice, it translates into reinforcing the institutional presence in order to increase dialogue with all the actors in Catalan society and to generate greater value from all the group's assets.
---