Welcome to American! This is the first installment of EL PAÍS América's new weekly newsletter on feminism. From our newsroom in Mexico City, we introduce ourselves: we are Sally Palomino and Lorena Arroyo. We will be coordinating this channel, but the ideas of many other journalists will pass through here. This history will be written with the milestones and struggles of the women of the region. We will be here to talk about when glass ceilings are broken or when in the streets "Not One Less!" Is heard again. We will not always agree on everything: we want this newsletter to be as diverse as possible (as much as feminism is) and to serve to fuel the debates that are shaping the feminist agenda across the continent.
(If someone has sent you this newsletter and you want to subscribe, you can do it here).
This week we want to talk about an investigation led by our colleagues Isabella Cota and Stephania Corpi that shows the new tactics of the extreme right against abortion in America. The revelations, to which the reporters arrived after more than a year of work, expose the tragedy that hundreds of women experience when they seek help to interrupt their pregnancies and end up being tricked into giving up their will. Centers affiliated with the US organization Heartbeat International in Argentina, Colombia, Costa Rica, El Salvador and Mexico use misleading advertising and false promises of adoption to convince women not to terminate their pregnancies. Five reporters and one reporter were in these places and witnessed what lies behind the supposed offers of help for women, almost always poor and vulnerable.
The onslaught of the far right against the violent abortion of women in America, but not only occurs here. This week we read a story written by our colleague Lucía Franco in which she tells how anti-abortionists in Spain organize to harass women who do not want to be mothers. For 40 days, from 9:00 a.m. to 8:00 p.m., volunteers in groups of between 3 and 10 people gathered to pray in front of an accredited abortion clinic in Madrid. The purpose was to interrupt the passage of women who came to the place and bombard them with questions: "What is your name?", "Are you going to have an abortion?", "What do you need to avoid abortion?", "Are you sure of what what are you going to do?" The marathon was organized by 40 Days for Life, a Spanish affiliate of 40 Days for life, an anti-abortion lobby created in 2004 in Texas. Women are persecuted by justice – in many countries abortion is still a crime – but also by religious groups that want to put their beliefs above human rights.
The fight for access to safe abortion is the permanent claim of women around the world and news like the one we recorded this week in Bolivia reminds us why it is important. In that country, the Church has prevented the termination of the pregnancy of an 11-year-old girl who was abused. Although the law allows abortion in cases of rape, religious Catholics have convinced their mother to disallow the procedure. Instead of warning about the urgency of protecting girls and guaranteeing their reproductive rights, her case has been reduced to the decision of the church. In 2020 alone, almost 40,000 pregnancies were registered in children under 18 years of age in that country.
Hopefully, in the next installments we can tell you how, despite the difficulties, women continue to score victories in the advance towards access to safe, free and free abortion. We hope that the stories of girls who are forced to be mothers do not continue to be news.
These are our recommended articles of the week:
Olimpia Coral Melo assures that feminism saved her life after three suicide attempts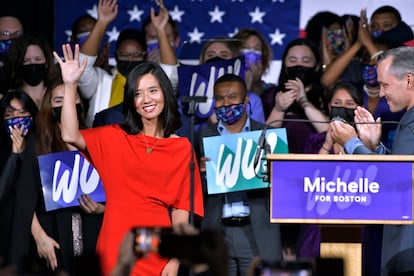 Michelle Wu, 36-year-old daughter of Taiwanese immigrants, is the first non-white person to win elections to rule the city in 200 years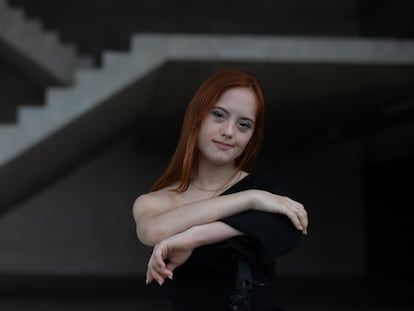 Maju de Araújo has become an ambassador for L'Oréal, has stepped on international catwalks and, at 19, supports her family by working in front of the cameras
And to say goodbye, some suggestions:
➡️ A woman to follow: Francia Márquez
The speech of the Colombian environmentalist who aspires to the presidency has become a chair for the country's feminists. The pollsters do not even include his name when they measure the electoral pulse, but his message awakens deep reflections. Márquez denounces violence against black people because he has been a victim of racism. She talks about the independence of women and the consequences of mistreatment because she has suffered from machismo. As a candidate for political office, she knows that the road is not easy, as nothing has ever been for her. "I think this country is never going to be prepared for a black woman like me to lead," Márquez said in an interview with the magazine. Bocas, in which she also remembers how difficult it was in childhood to accept her afro hair, far from the beauty standards imposed by television or the kingdoms.
📺 A series: Maid
Maid, translated in various countries as Things to clean. It is recommended to us by the journalist Almudena Barragán. It tells the story of Alex, a young single mother who flees from her partner's mistreatment and begins cleaning houses to support her three-year-old daughter. The story is based on the memoirs of Stephanie Land, Maid: Hard Work, Low Pay, and a Mother's Will to Survive (The maid: hard work, low salary and a mother's will to survive), and clearly exposes the cycle of violence experienced by thousands of mistreated women and the economic, social and legal difficulties they face in order to get away. of your attacker. Although the story takes place in the United States, the story of abuse and precariousness could happen in other countries. The series stars Margaret Qualley (Once upon a time in Hollywood …) y Andie McDowell (Four Weddings and a Funeral), is available on Netflix and has already become one of the most watched premieres of the platform in the last month.
📚 A book: Mugre Rosa, by Fernanda Trías
The recommendation is made by our Culture correspondent, Camila Osorio. The Uruguayan writer won the Sor Juana Inés de la Cruz prize this week for this novel in which she imagined a city besieged by a disease very similar to covid-19 before the pandemic: Frías takes advantage of her dystopia to push the protagonist to question motherhood with phrases like this: "I brought you into the world, my mother used to say, I gave you life, and immediately I saw myself with a gigantic debt in my hands, an invisible bag of coins that I should carry forever." In the novel there are different forms of motherhood, as Trías explained in this interview: "Motherhood as a possession versus motherhood as a weave of affective threads. There can be many maternal figures, and one could think of motherhood in a different way, and not as a possession, which in the end is such a patriarchal thing ".
🎨 An illustrator: Fernanda Castro
The author of the image of this newsletter is Fernanda Castro, who also illustrated this special we did in El País América on the occasion of Women's Day. Here we leave it to you in case you missed it: "The forgotten ones of America", a work that rescues the stories of six women ahead of their time and who broke new ground in different areas, but who were relegated in the official account for having broken the limits assigned to your gender.
📷 The photo: Greta Thunberg's in Glasgow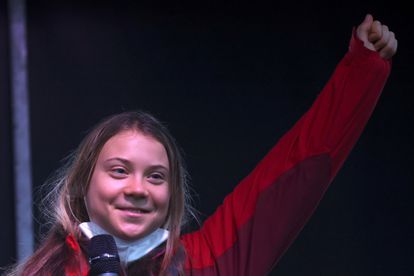 Greta Thunberg in Glasgow, where the climate summit is being held.YVES HERMAN (Reuters)
Greta Thunberg: "COP26 is a failure." The pandemic, among so many negative things, stopped the Fridays For Future movement for more than a year, the children and young people who took to the streets every Friday to demand from adults a real commitment to the environment. This week, in the framework of the Climate Summit, their voices have been heard again and Greta Thunberg has told world leaders that without concrete action her promises are pure "blah, blah, blah".
"How long will it take for politicians to wake up? The climate summit has become a two-week festival to wash your conscience, where everything remains the same and everything is blah, blah, blah, "he told thousands of protesters in Glasgow. The Swedish environmentalist is not only an example for young people, she is also a reference for feminism and its fight for climate justice and environmental protection.
Thank you very much for joining us and until next Sunday! (If you have been sent this newsletter and want to subscribe to receive it in your email, you can do it here).
---