The gates of the asylum seekers' shelter in the Harskamp barracks will remain closed on Saturday, due to two announced demonstrations near the location. A spokesperson for the Central Agency for the Reception of Asylum Seekers (COA) confirmed this on Thursday evening, after NRC learned that residents of the reception location received a letter in which the agency informs them of the precautionary measure.
Due to a protest by the right-wing extremist Dutch People's Union (NVU) and a counteraction by the organization Anti Fascist Aktie (AFA), the safety of residents and staff cannot be guaranteed, the spokesperson said by telephone. The NCE comes to the village under the title 'Happiness seekers not welcome'; AFA holds a "to warn of the presence" of them. "It is difficult to estimate what kind of situation the two demonstrations could lead to. There could be a pull effect of the demonstrations so that more people come, that is incalculable," she says. During the day, the gates therefore remain 'preventively' closed.
"The ideology of the two groups is so different that we cannot rule out the possibility that a dangerous situation could arise for the people who want to leave the camp on Saturday," the letter said in English. For safety reasons, residents cannot leave the site; third parties cannot enter.
Demonstration Permits
The decision was made with the previous large demonstration in front of the doors of the reception location in memory. When it became known at the end of August that COA would use the barracks as an emergency location for the reception of about eight hundred Afghan evacuees, residents of Harskamp took to the streets. Fireworks were set off in front of the barracks and car tires were set on fire, in the end the police charged to disperse the rioting crowd, including many young people. According to the COA spokesperson, that turbulent demonstration was "totally unexpected" at the time. This time, the agency wanted to inform and prepare residents in advance "personally".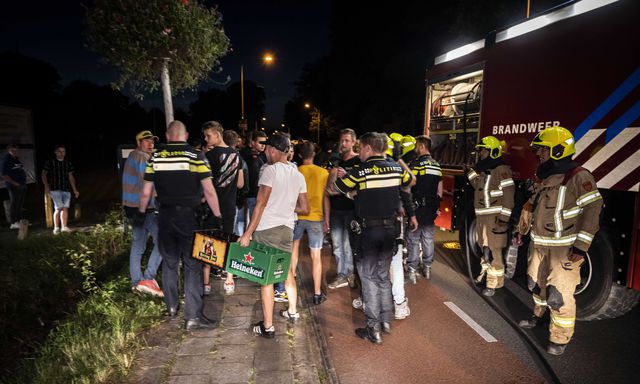 Also read this report about the the demonstration in Harskamp derailed because of the arrival of Afghans
The NVU and the AFA received permits from the municipality of Ede for their demonstrations, a spokesperson said: it concerns two static protest actions, for which different and separated locations have been designated. This is to prevent demonstrators who are diametrically opposed to each other actually encountering each other. Agreements have also been made with the organizations about permitted activities during the protests, both of which were announced for Saturday afternoon between 13:30 and 14:30. The organizations mainly write about banner campaigns in their own announcements. According to Ede's spokesperson, the permit applications concerned "relatively small" numbers of people.
With the collaboration of Chris Koenis.
---